Post by Luke Skywalker on Dec 18, 2011 7:37:40 GMT -5
After my unofficial troop with the 501st in May of 2011 at our local library I've caught the bug and and decided to join the Rebel Legion.
I thought it might be good idea to chronicle the process for anyone that is planning to join the Rebel Legion or 501st costuming groups.
KAMIN RESSIK
Generic New Republic Jedi
Since I don't resemble a character Jedi (there's only one bald unnamed Jedi that I know of and his tunic is dark brown) I will be joining as a generic Jedi.  
I have a love for STNG and especially for Jean-Luc Picard.  My favorite episode was "The Inner Light". Picard's name for that episode was Kamin and the town he lived in was Ressik.
I joined my first Star Wars forum on 2/7/2007 the week I purchased my graflex.  I did the conversion myself to ESB then added Yoda's DIY chassis kit.  Since then it has had several internal upgrades and currently houses Yoda's latest chassis.
Luke ESB vintage Graflex-  EBay
Conversion kit- Blastech
D-ring-  TFX studios
Crystal chamber with real quartz crystal drilled for the flashing fiber optics-  Yoda/FX-Sabers
Crystal focus soundboard v 4.3-  Plecter Labs
Episode V sound font-soon to be replaced with Hero and Bespin.
Luxeon V blue LED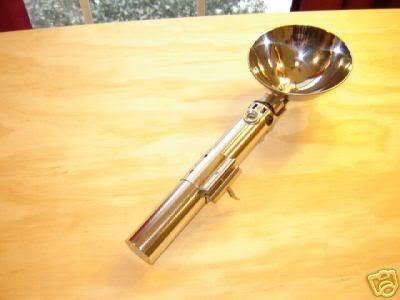 Just arrived.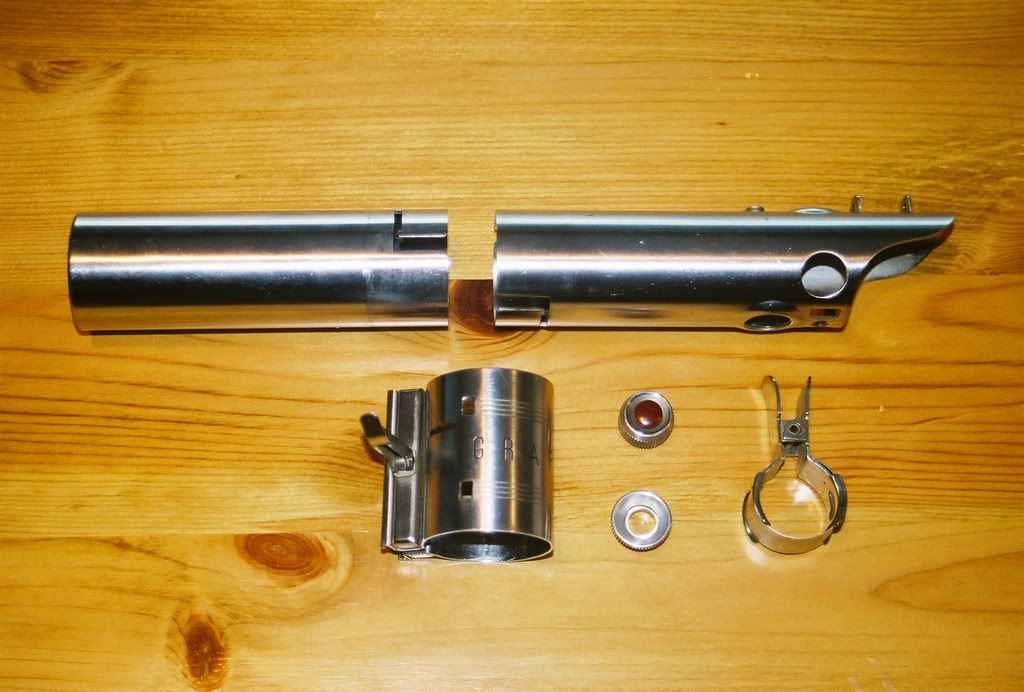 Gutted and prepped.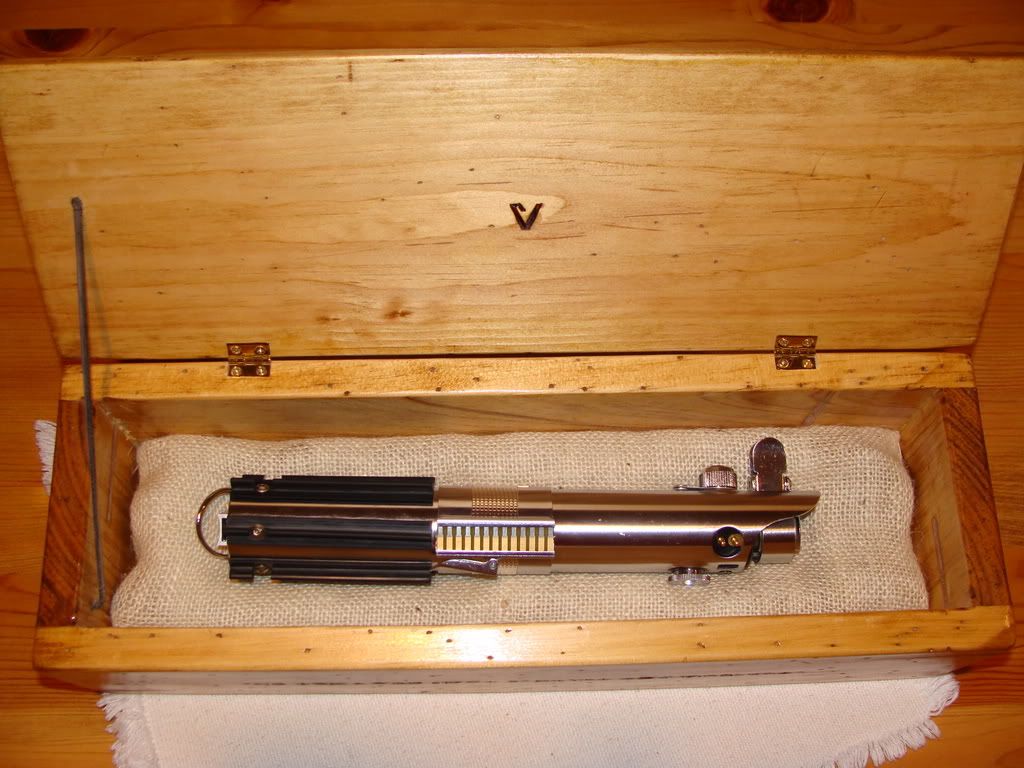 On display in my custom made saber chest given to FX-S member and moderator Ben Kenobi.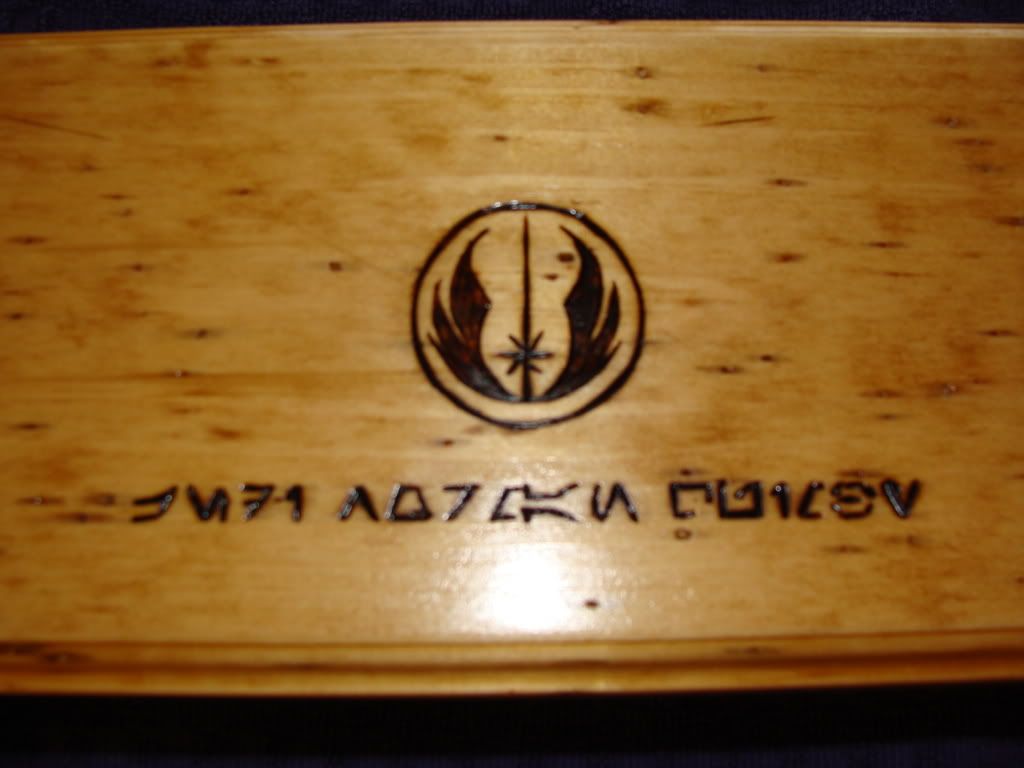 My homemade saber chest with Aurebesh and Jedi symbol wood burned into the chest.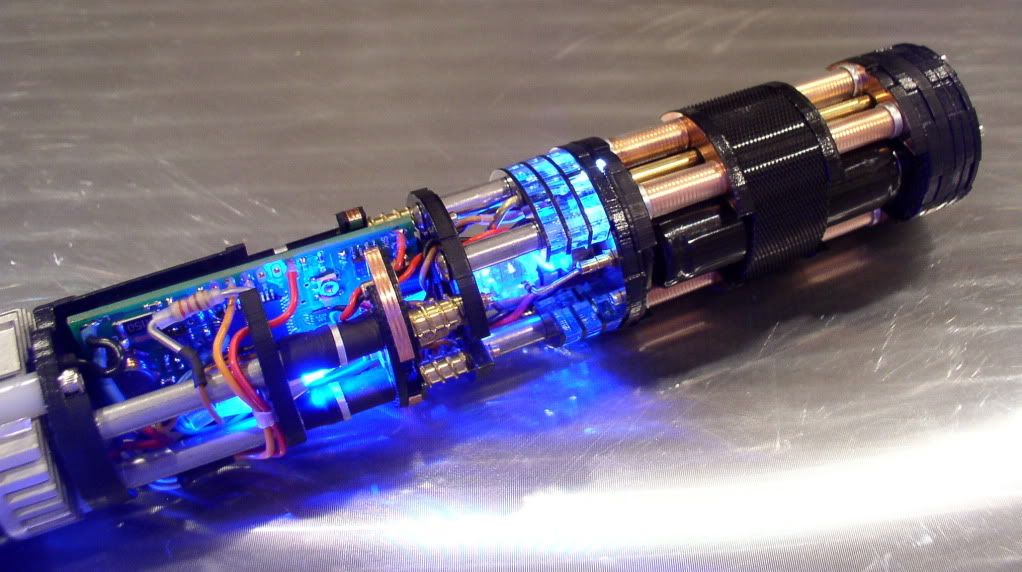 Yoda's latest drilled quartz crystal camber/chassis prior to installation.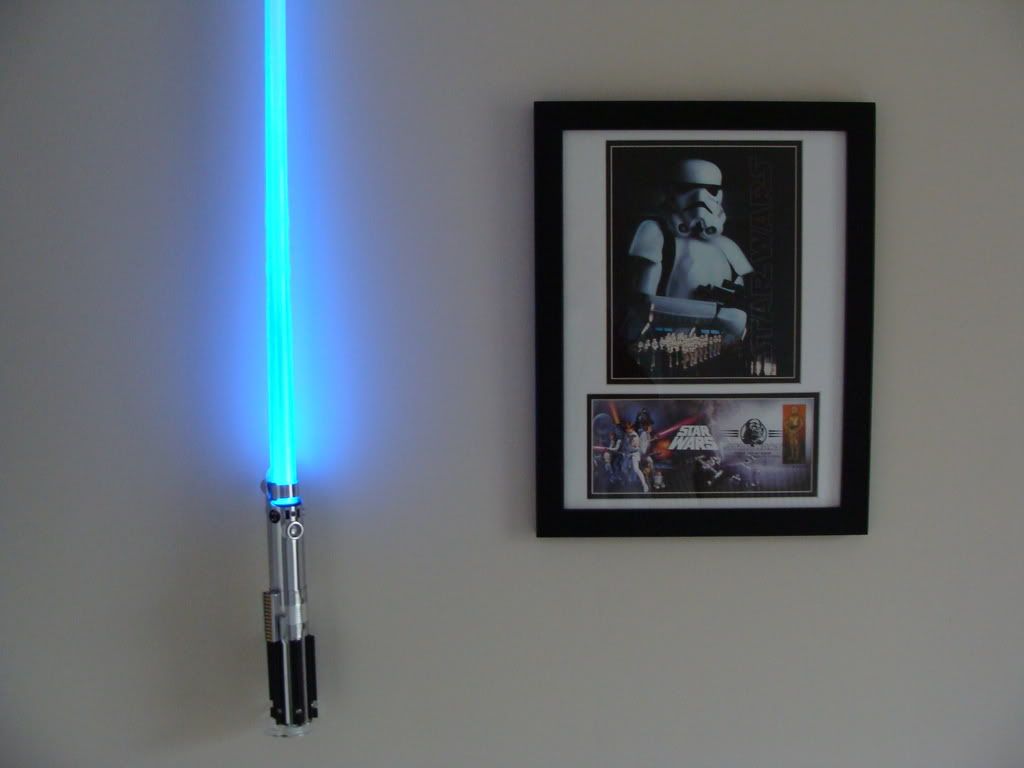 Comparison pic with stock MR Obi Wan saber.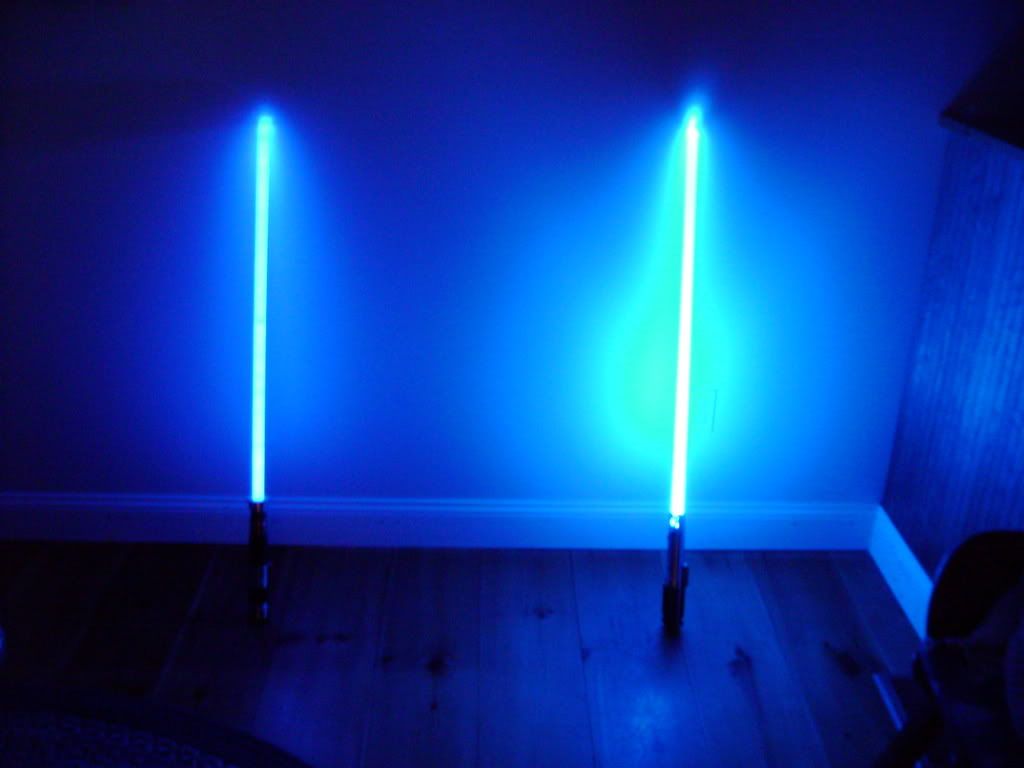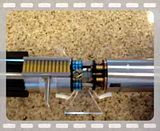 Custom made belt.  
Supplies from tandy leather.
www.tandyleatherfactory.com/en-usd/home/home.aspx
Wide and narrow belt blank
Sam Browne studs
Industrial Velcro found at Michael's crafts.
Tandy's Eco-flo stain in acorn.
For the saber clip I went a bit OT a bit custom.  I used a stainless steel shackle and snap clip off my Hobie Cat.   They were "found" parts that IMHO turned out way better than your standard OT saber clip.  They look awesome and there is no way your saber will come off that clip.
Buckle- ejoyce.com
www.ejoyce.com/pmain?cmd=e_view&num=6958&acode=000100250035
For my first attempt at a belt I am very pleased with the results.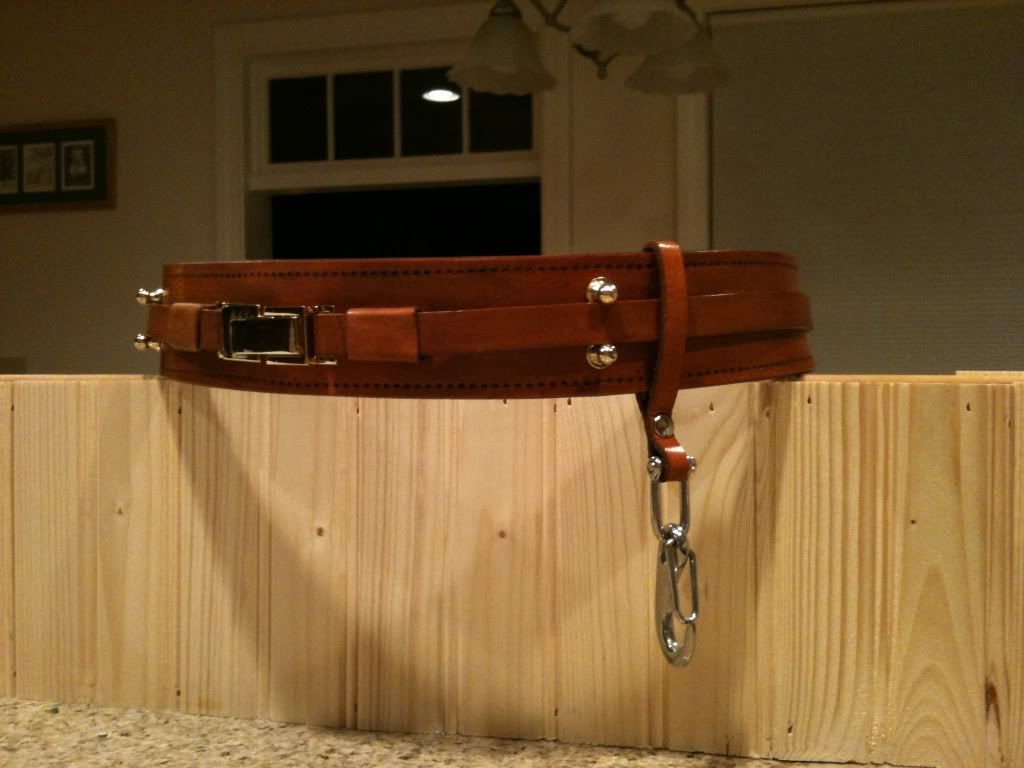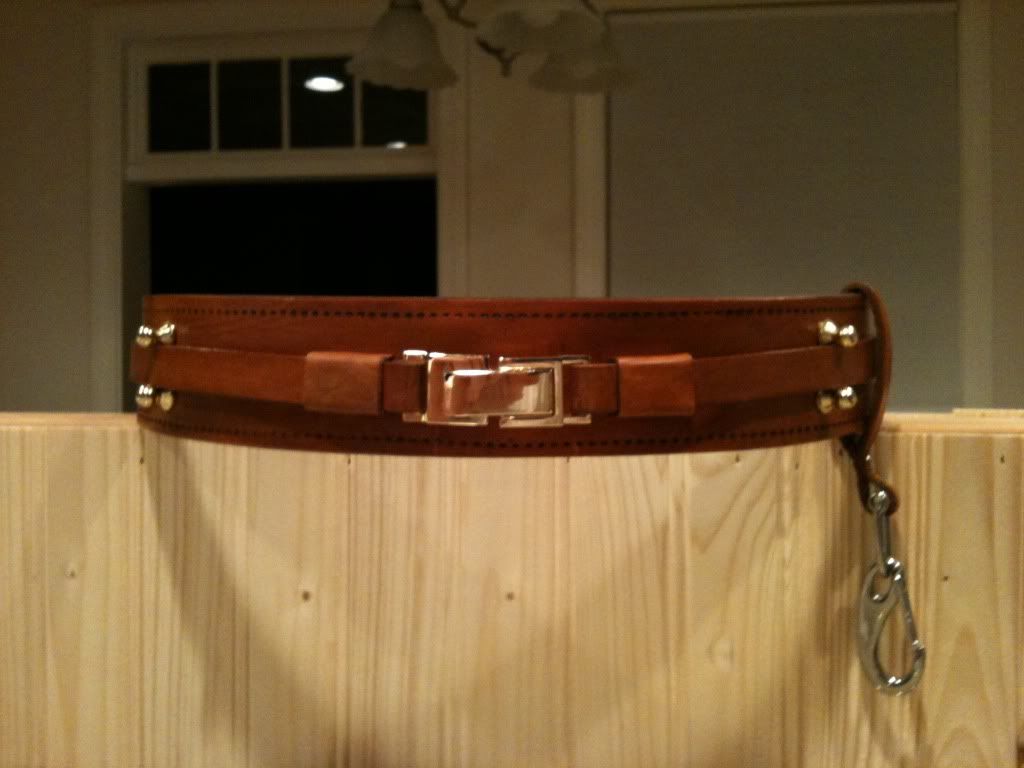 Leather wrap attaches by velcro to hide the adjustable Velcro closure on rear of belt.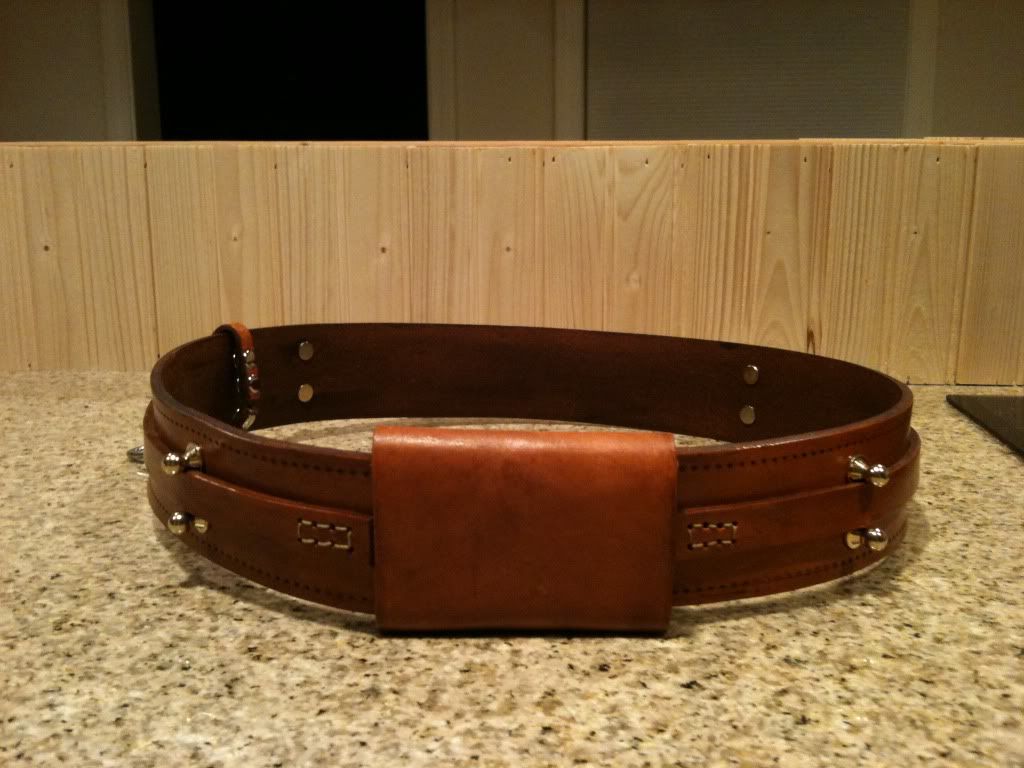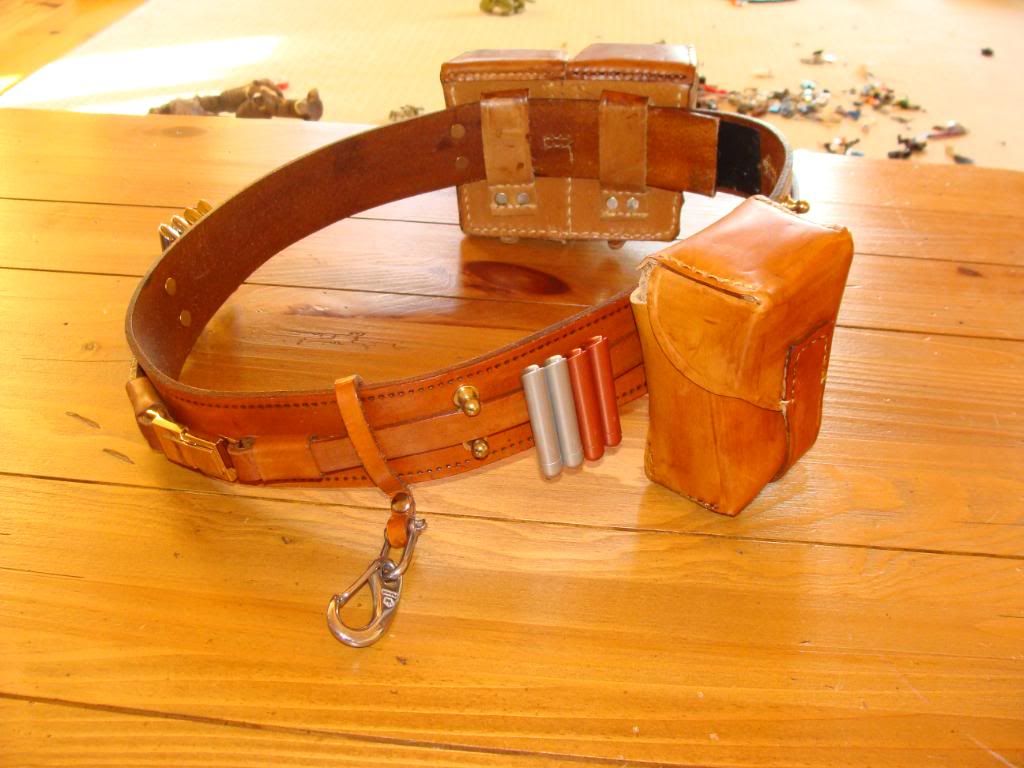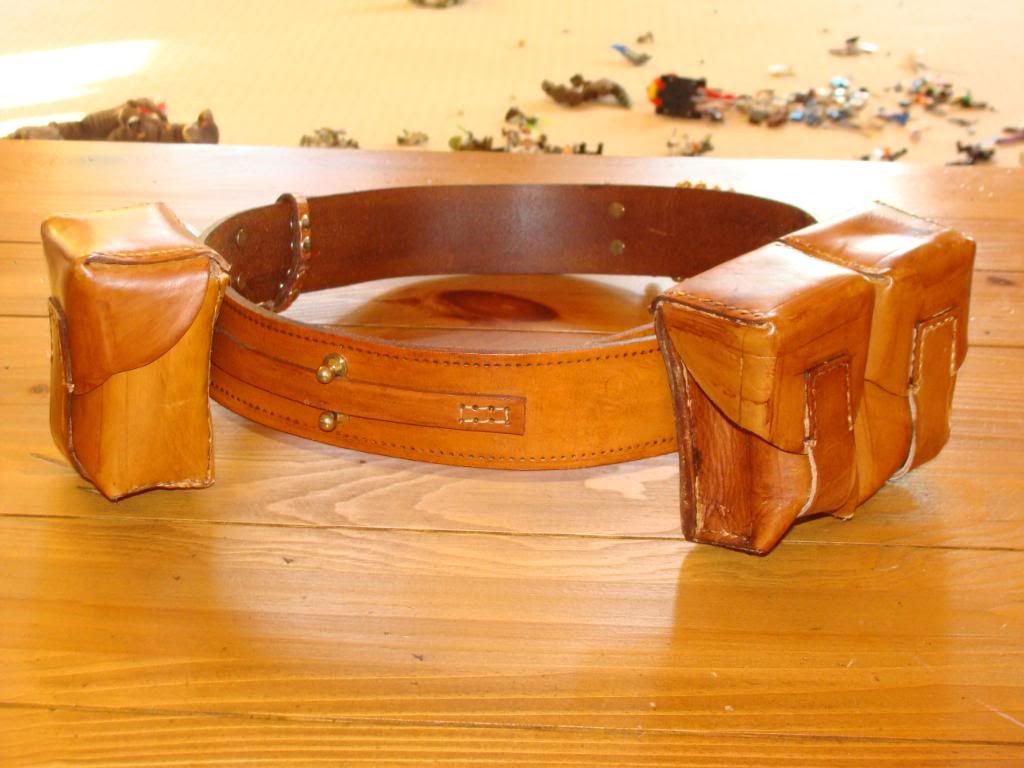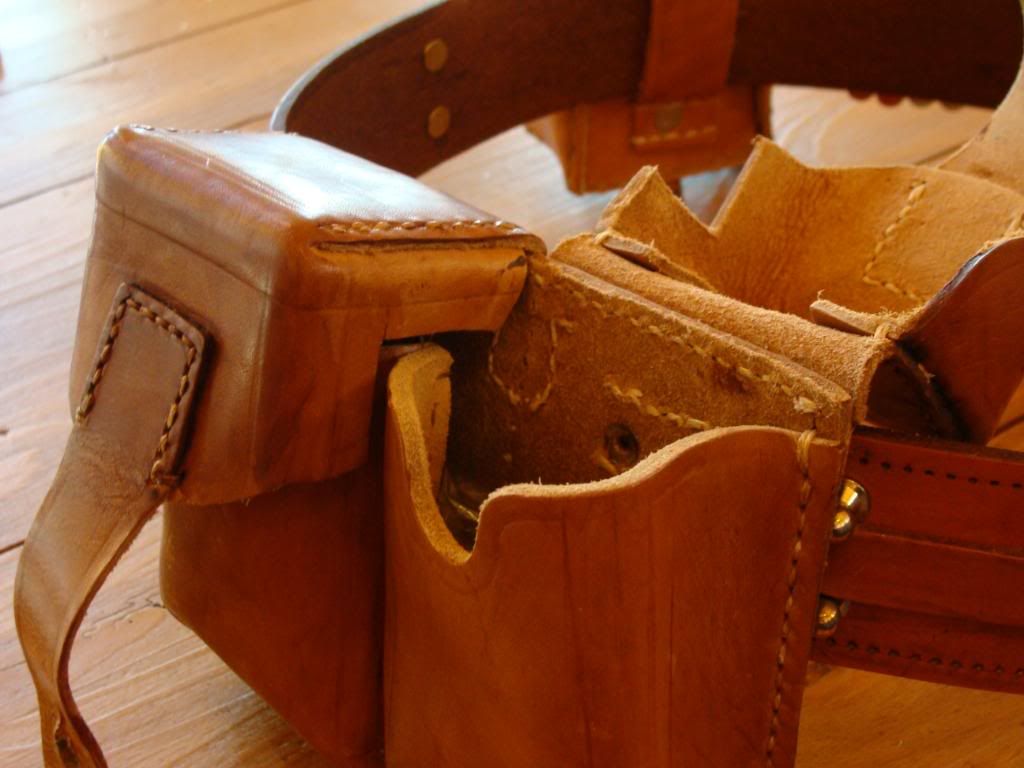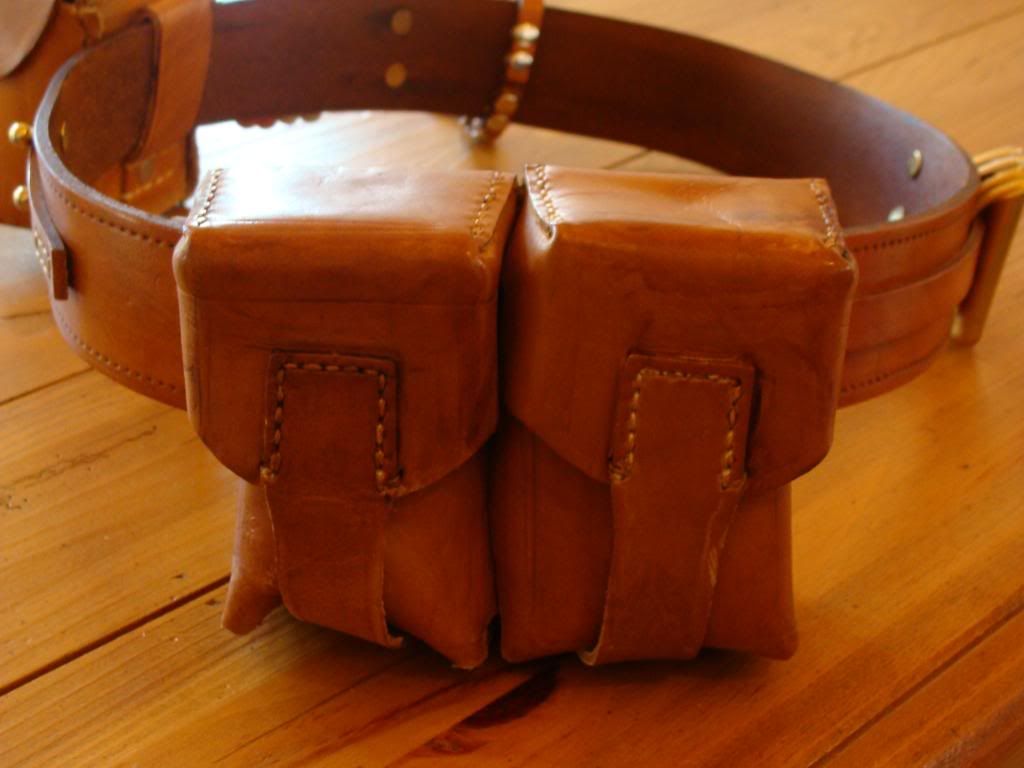 Unofficial troop with the 501st CT Garrison and our very own FX-S moderator and Rebel Legion member Princess Leia.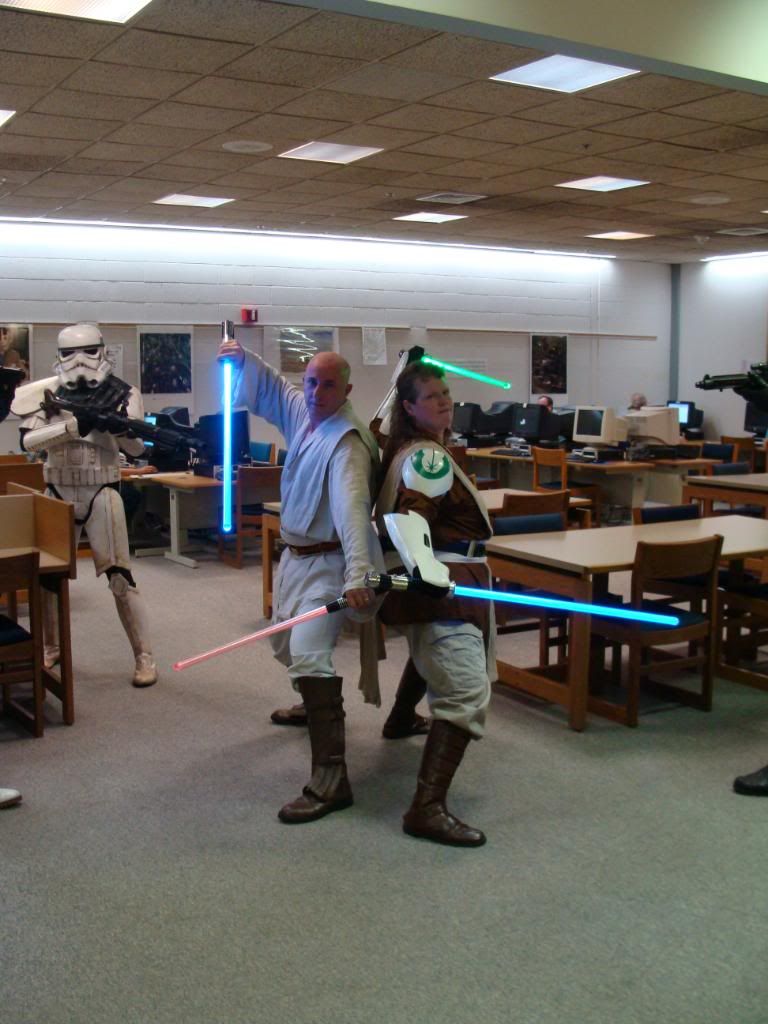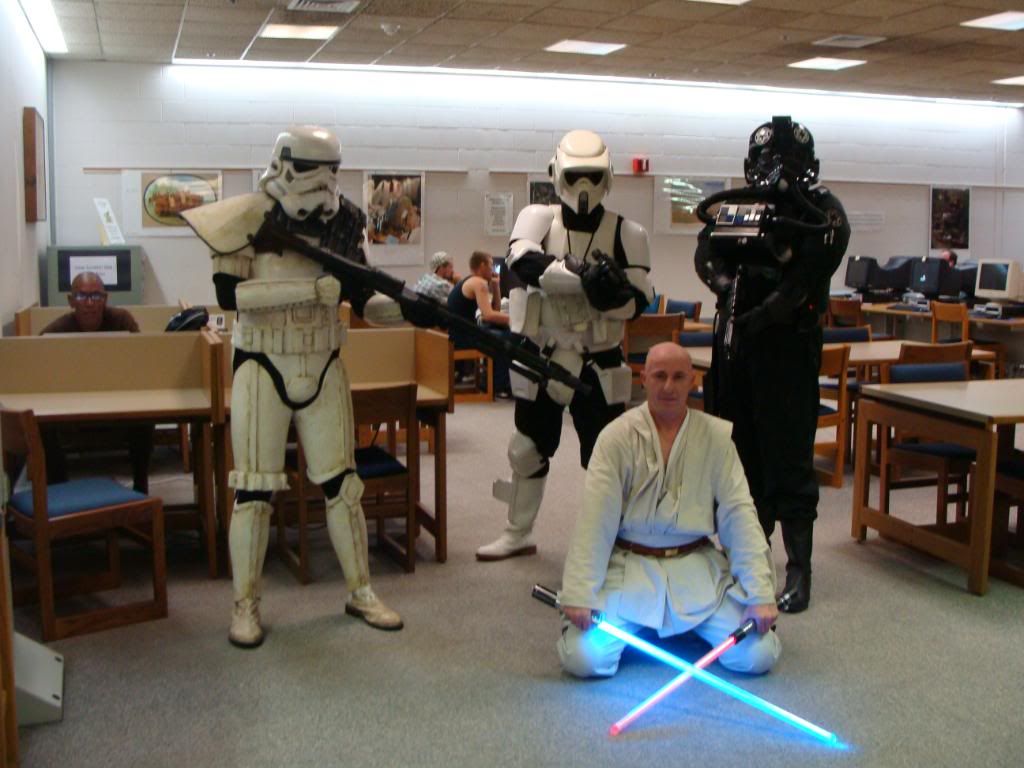 Jedi outfit-  TwinRoses Designs  
www.twinrosesdesigns.com/Mens%20Clothing%20for%20Sale.html#Jedi_Style_Tunics_Obis_and_Tabards
Outer tunic, tabards and obi-  fabric osnaburg, color oatmeal
Inner tunic- fabric, white linen
Robe- brown wool
Pants- khaki dockers
Boots- Daniel/jdos productions from Peru. Obi wan ep. I/II with removable straps that allow for the ep. III version.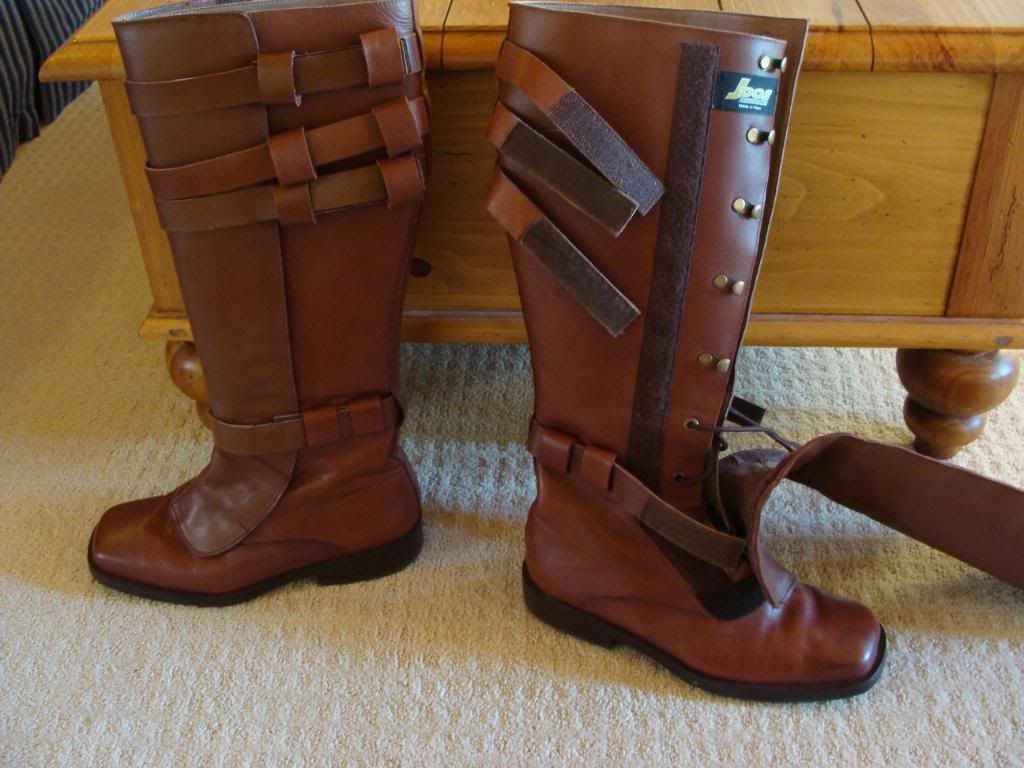 Jedi food capsules/plastic from costume base.  I am pleased with the capsules.  They look accurate, have removable threaded end caps that can actually hold some energy powder etc., I'm thinking some grape Nerds.  ;D I plan on upgrading to metal ones as soon as Corellian imports has a new manufacturer.  
www.corellianimports.com/jedi-food-capsules.html
Pouches-  Modified vintage leather army pouches.
I stripped the leather dye, in order to redye them to match my custom made belt.
I also separated one of the double pouches and made it into two small pouches.  That way I have two small pouches on my belt sides with one double pouch on the back.  The pouches are in mint condition and look fantastic.
I modified the double pouch by cutting the centers and sewing it back up making it appear to be two pouches but actually it's one large pouch allowing me to carry larger items like an iPhone or camera. The large pouch goes on the back and covers the belt adjustment seem perfectly.
The only thing I plan to do in the future is to build my own pouches.  I've been studying the technique of molding leather and will soon tackle some more screen accurate yet unique pouches.
Winter build will be a new custom MHS based Graflex style trooping saber.  
Specs:
MHS Graflex style saber.
CF 5.0
Madcow Bespin and Hero fonts
Custom boot by Alex Gordon
Lux V green led overdriven
2x18650 lith-ion
Hon Rev blingstrip on a custom made control box.
November 16, 2011
"It's AWAY!!!"
Application is in.  Old Republic formal generic Jedi, Kamin Ressik.
Just in time for Boston's Supermegafest.  Too bad I'm working.  :P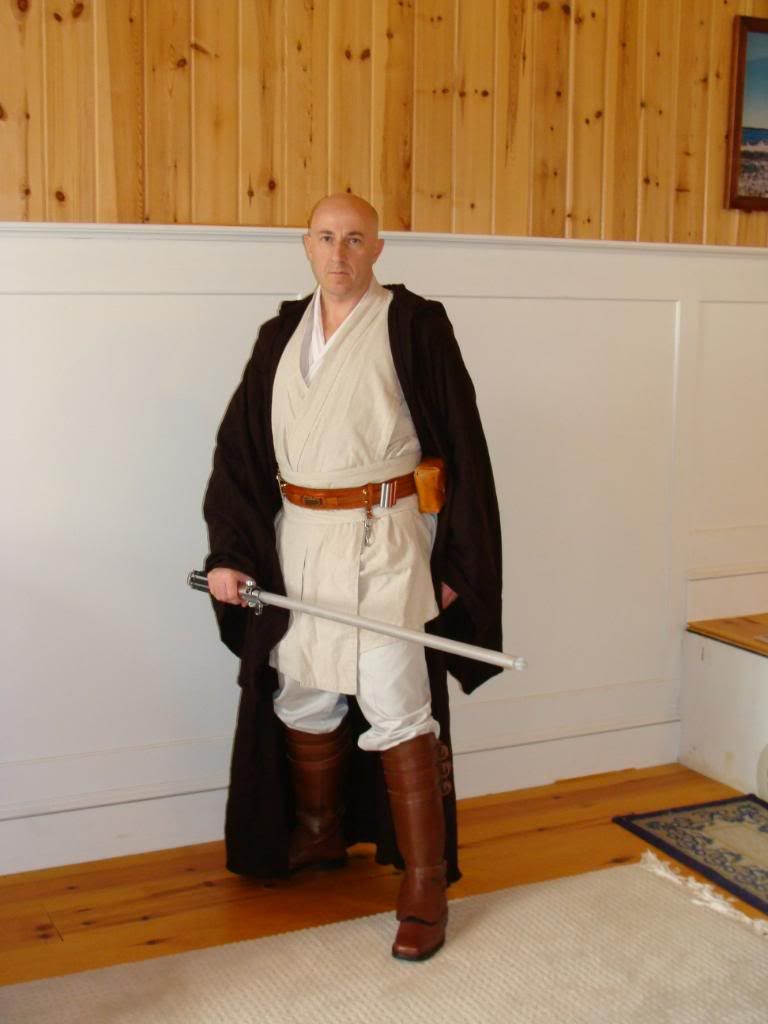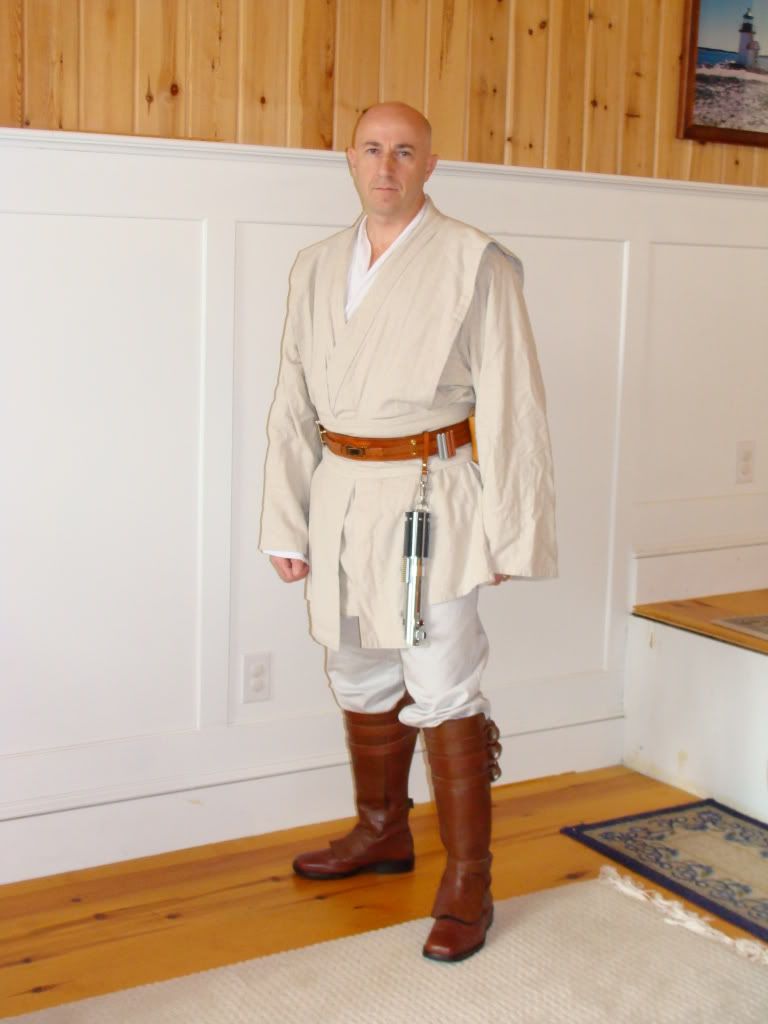 I had one minor issue. I applied as Old Jedi since my belt had an inner belt and outer belt. But, I also had the d-ring. I thought my belt looked more old Jedi. The costume judges said the belt could go either way but the RL standards state d-rings must be New Jedi. I didn't want a covertec so they moved me to New Republic Jedi instead. That's fine for me since I prefer the OT anyway.
November 18, 2011
Way sooner than expected.
"Congratulations Kamin Ressik!
The Rebel Legion is happy to announce that the costume you
submitted
("Kamin Ressik") has been accepted as "formal".
A "formal" costume is an accurate reproduction of a costume
from one of the six Star wars
films, Expanded Universe or Lucasfilm Licensed Media (TV,
books, games, etc) as it would
appear in those materials."
Wow that was fast.  :o   I am now a part of the RL tribe.  ;D
Here's the link to my Rebel Legion profile.
www.rebellegion.com/forum/costume.php?mode=view&c=6138&bu=%2Fbase.php%3Fb%3D48&bl=Kamino+Base+members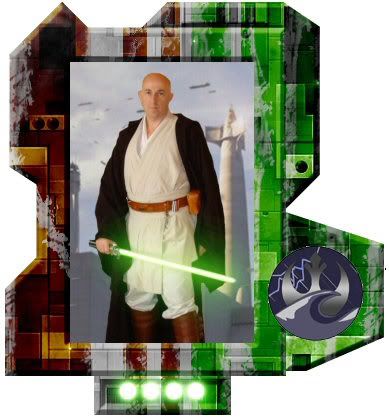 Here's a newspaper article about my first troop on 12/17/2011.
www.southingtonobserver.com/12_09_11/full.pdf