Post by Keiran Halcyon on Nov 14, 2012 9:09:02 GMT -5
Well there should be more than a few pictures in here, a couple weekends ago, the LED saber club i started back in april was asked to do a demonstration at C4 (Central Canadian Comic Con)
And we were given a table to promote our club, we managed to get probably close to 10 new members because of it (hehe im good at making saber addicts)
We had a lot of fun with it, met a bunch of other jedi costumers, and got in good with the local branch of the Mando Mercs (even converted a couple)
My costume i had a friend custom make, based on a custom corran horn action figure ive seen pictures floating around the web.
For my saber im using a Genesis Custom Sabers Ascend with the dark side powdercoating, because i felt it looked as close as i could get to a speeder bike handle, and madcow was kind enough to upgrade the led to the same blue/white colourmix he uses with 10w led engines for his corran horn sabers.
My spare saber is a Vaders Vault Fury, with a WW/RB tri rebel, that i weathered to look like it had been through the clone wars, i chose it because it was a duelable saber, and i felt it fit the description of Neeja Halcyon's saber that corran finds when he escapes from the Lusankya.
Okay no more reading, picture time.
This one was fun, an old airsoft fireteam partner caught this shot as my oppenent was coming down from a running jump, and i was rising up with the hanging parry.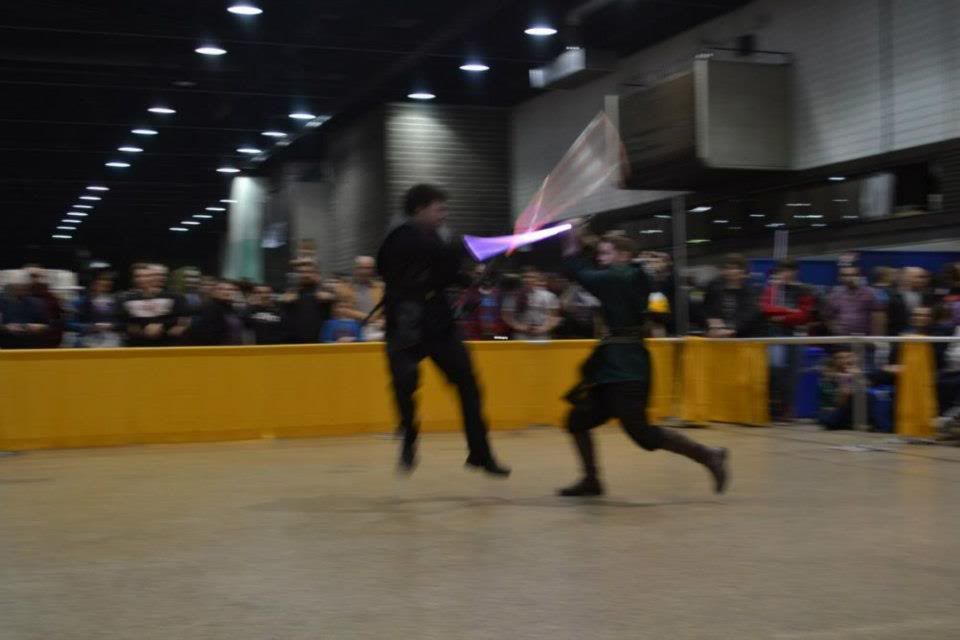 Mini captain solo!!!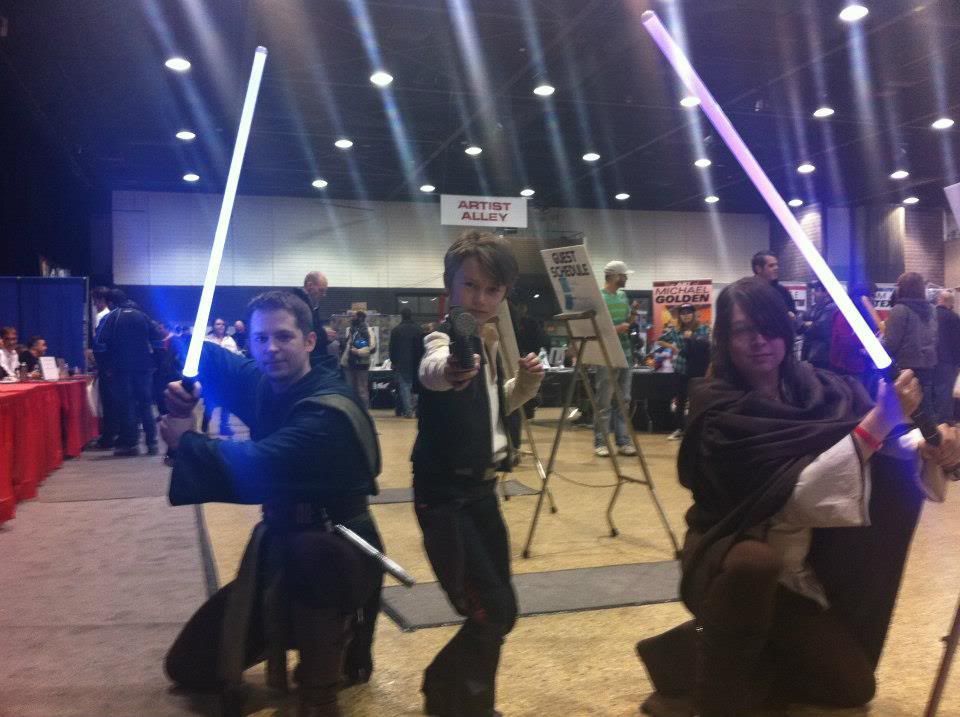 Mando Family....they start so young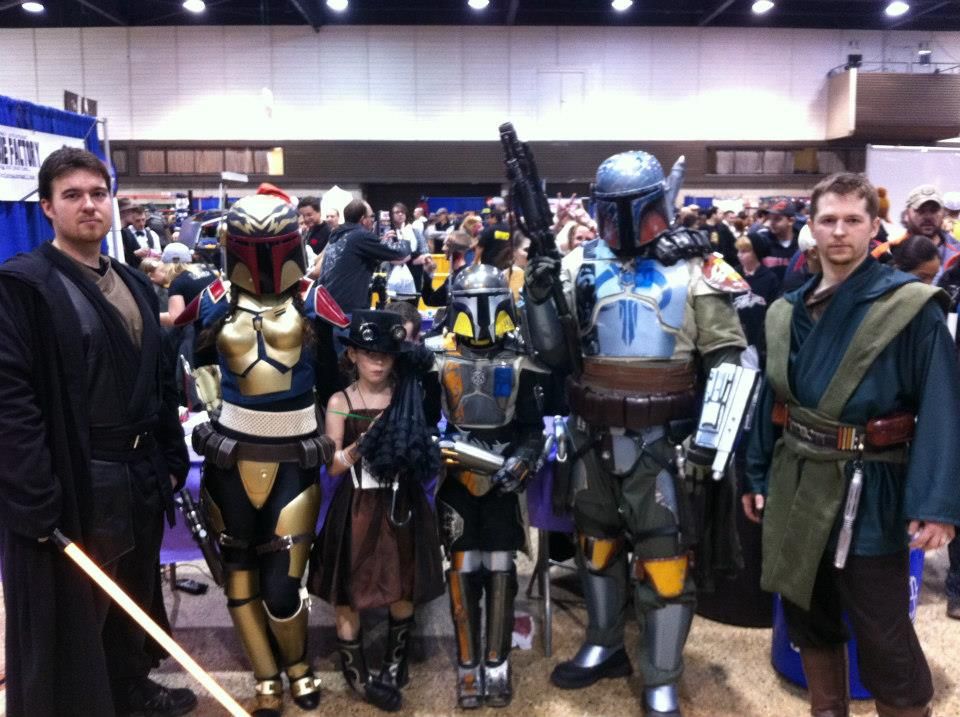 One of our boys playing with a former airsoft teammate of ours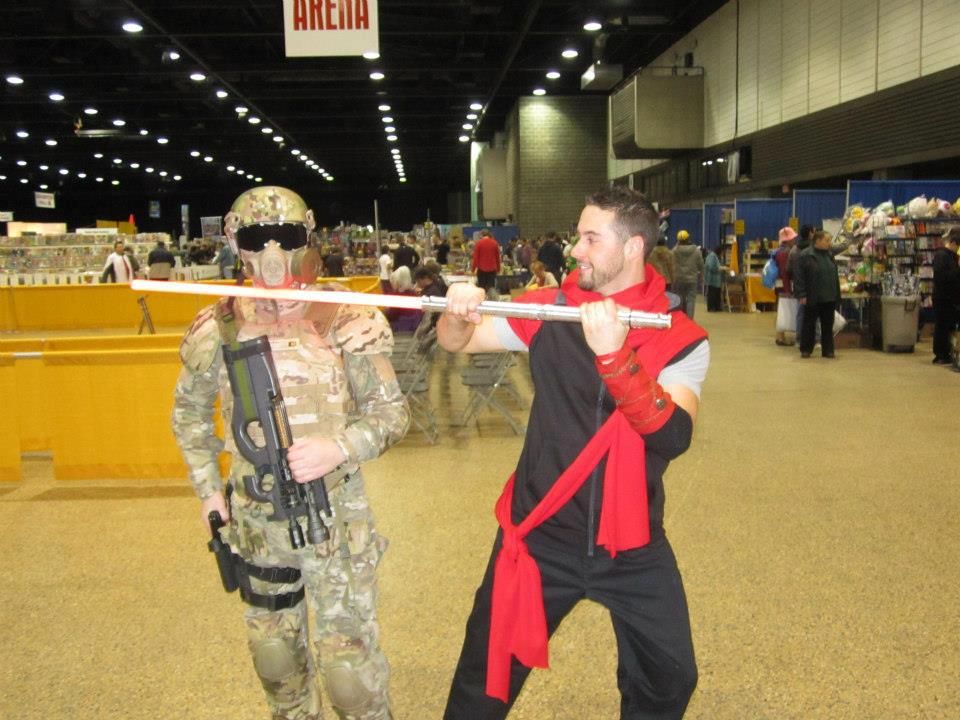 Part of my demonstration of soresu, going through the moon-guards and showing how soresu tends to keep the blade in close to the body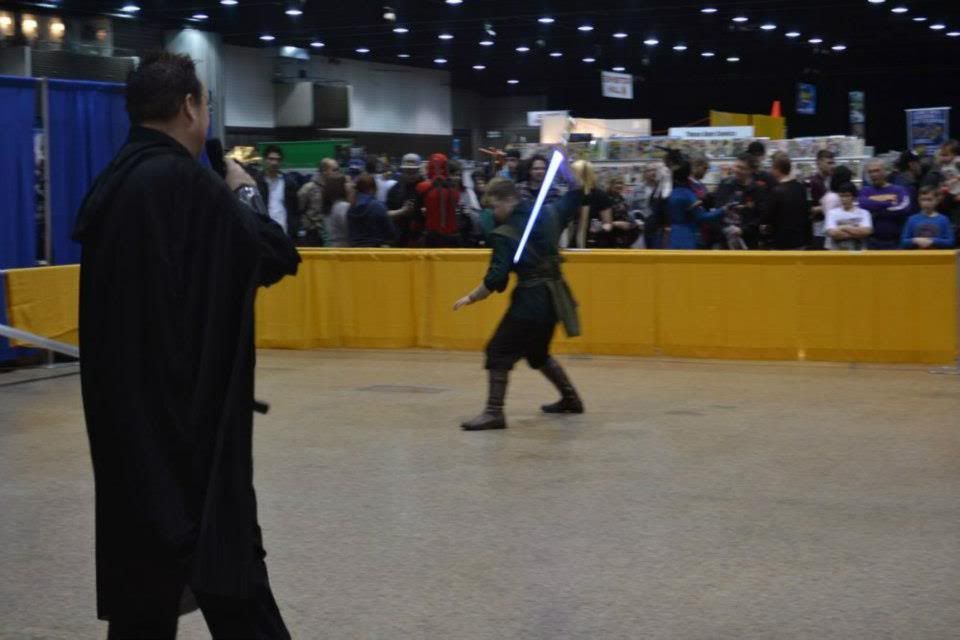 stopping a fight between nick fury and a fellow jedi is difficult, i had to resort to mind tricks in the end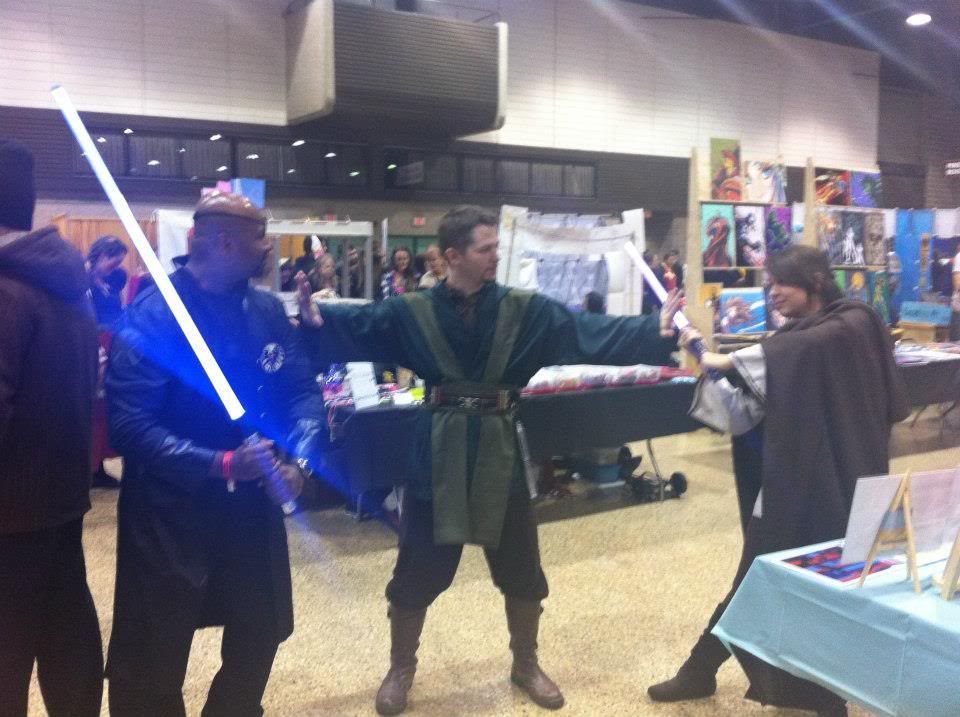 One of these things is not like the others....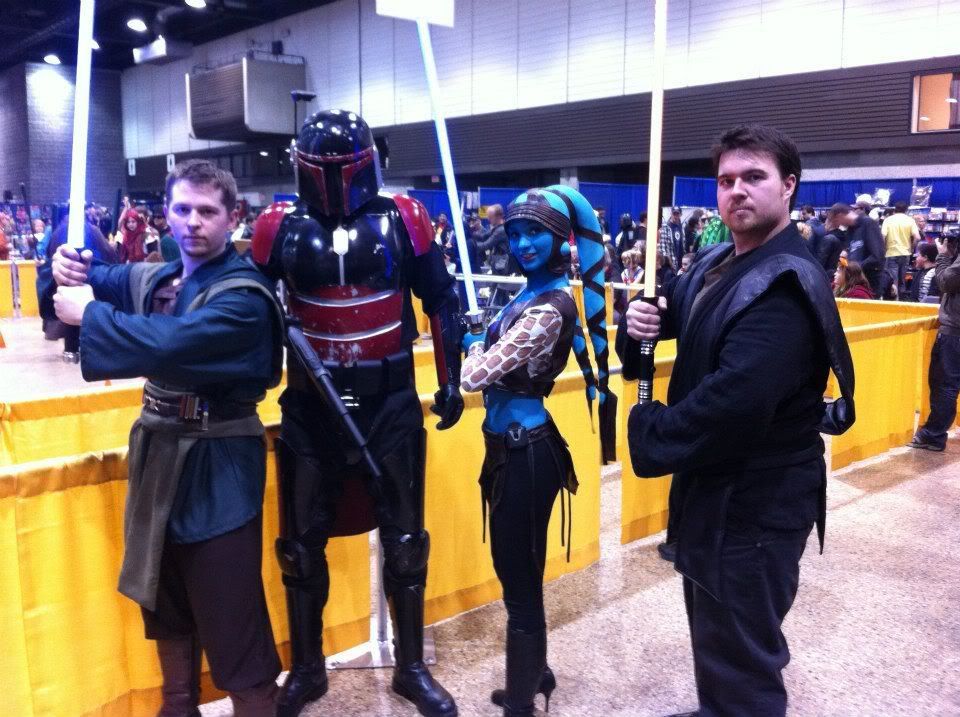 These guys fell in love with the sabers, and actually commissioned me to build them some....regardless
anyone else think letting these characters have lightsabers is a bad idea?????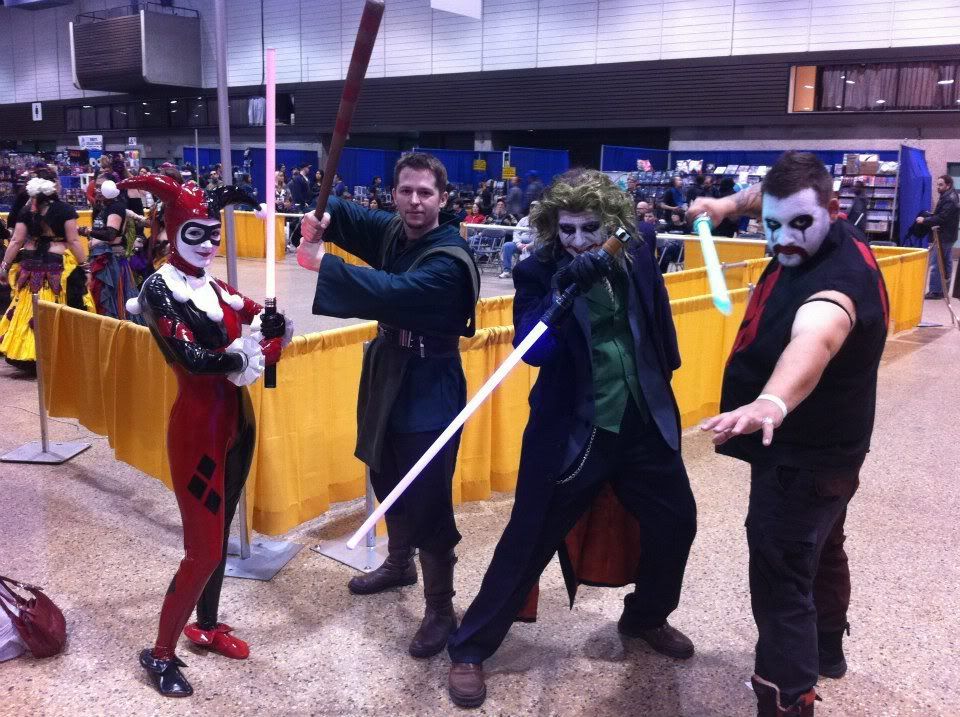 More of our choreographed duel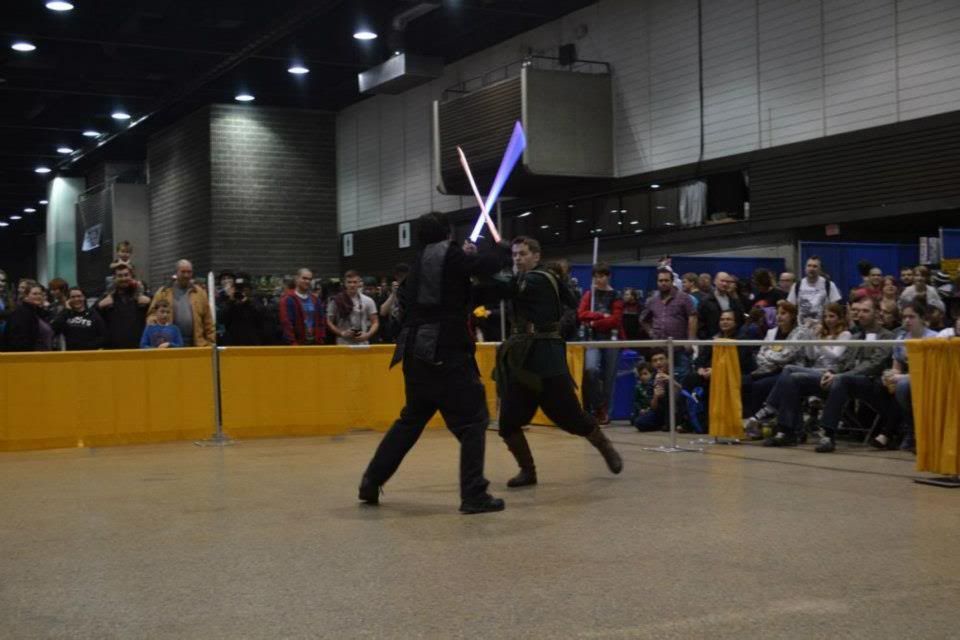 Thats how we finished our duel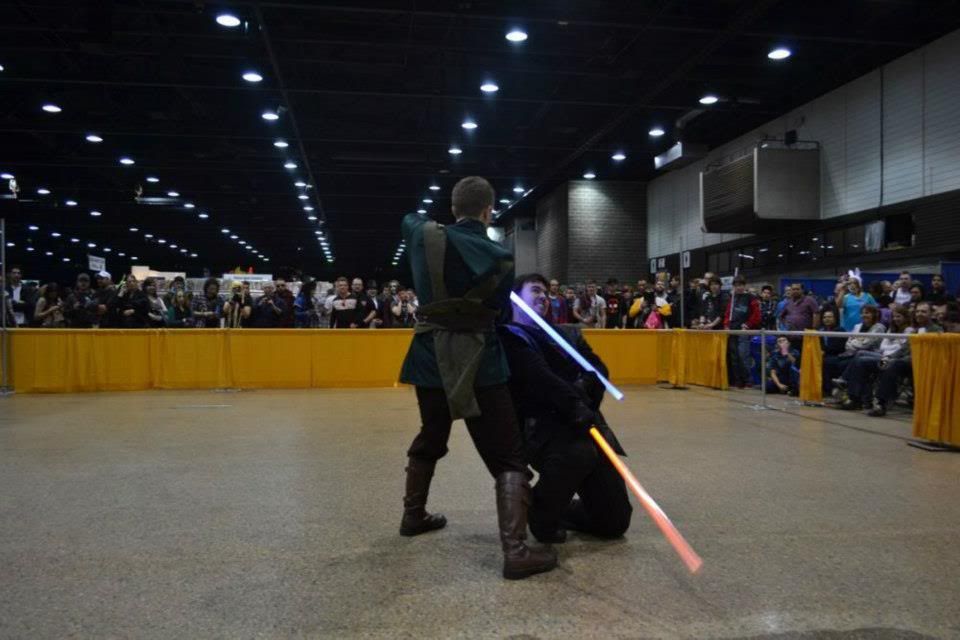 more dueling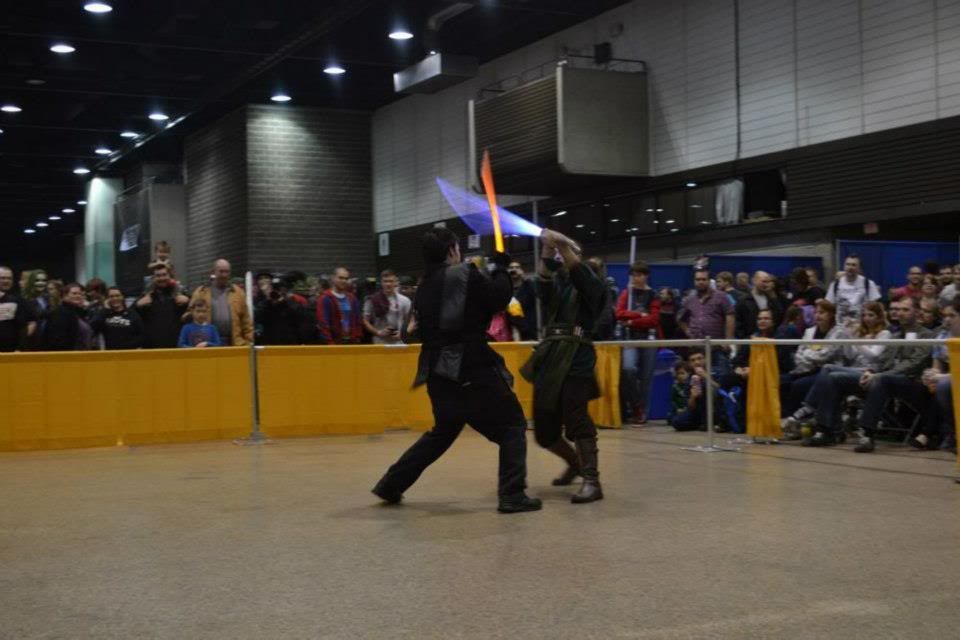 our local football mascots, Buzz and Boomer, from the winnipeg blue bombers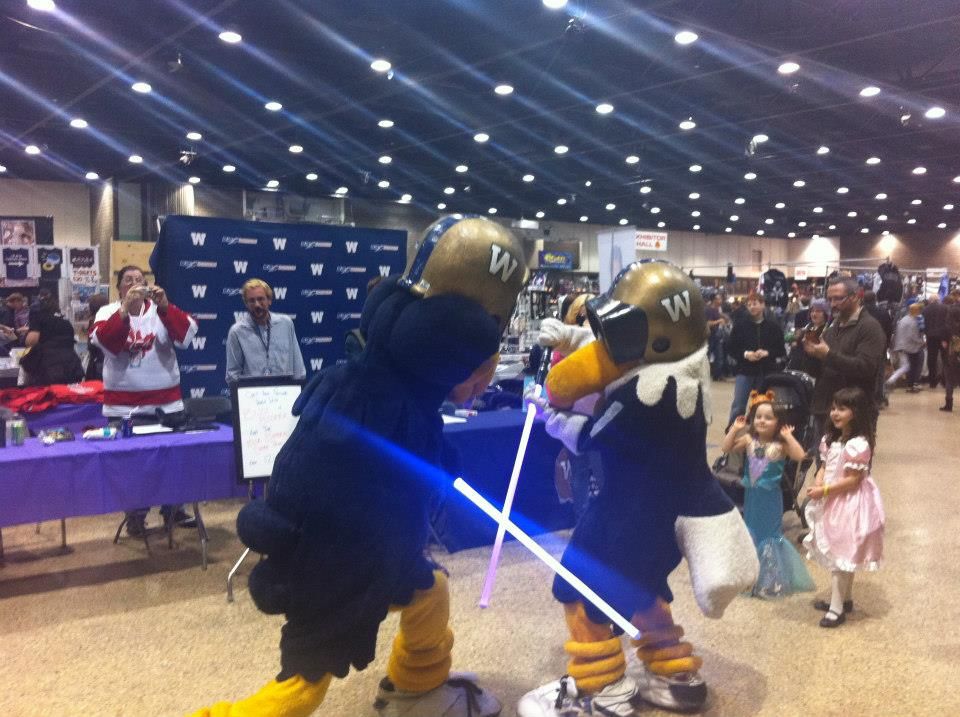 One of my Babies (we tried to promote other sabersmiths as we could from our booth)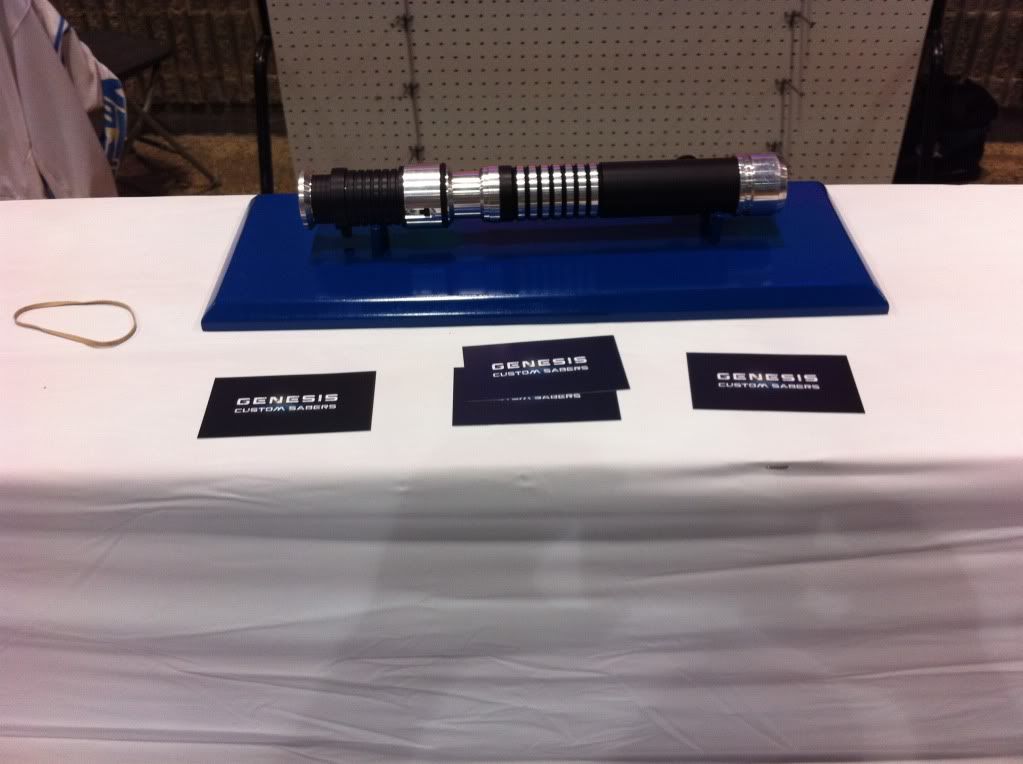 A custom MHS build i did about 4 months ago. Archon v2 body from ultrasabers, graflex style emitter from tcss, and then a malice round pommel also from ultrasabers. Inside is a p4 white and novasound 3.0 dark. The weathering/carbon scoring effect was done with a combination of wet sandpaper, a dremel, black satin krylon, and krylon acrylic clearcoat. And then some buffing compound.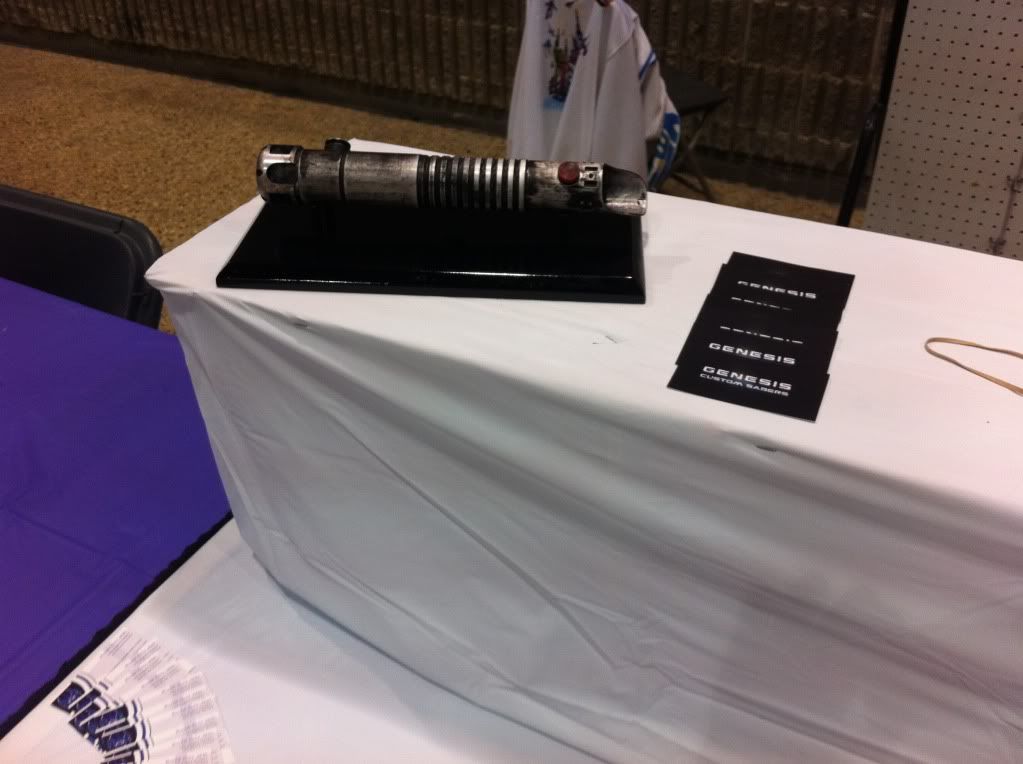 It was really easy for people to find the jedi booth. Man we went through so many batteries... we go pretty heavy with a more martial aspect than stage combat, actually basing everything on our various martial arts backrounds. So a lot of the stuff we use are ultrasabers just because they are durable and inexpensive.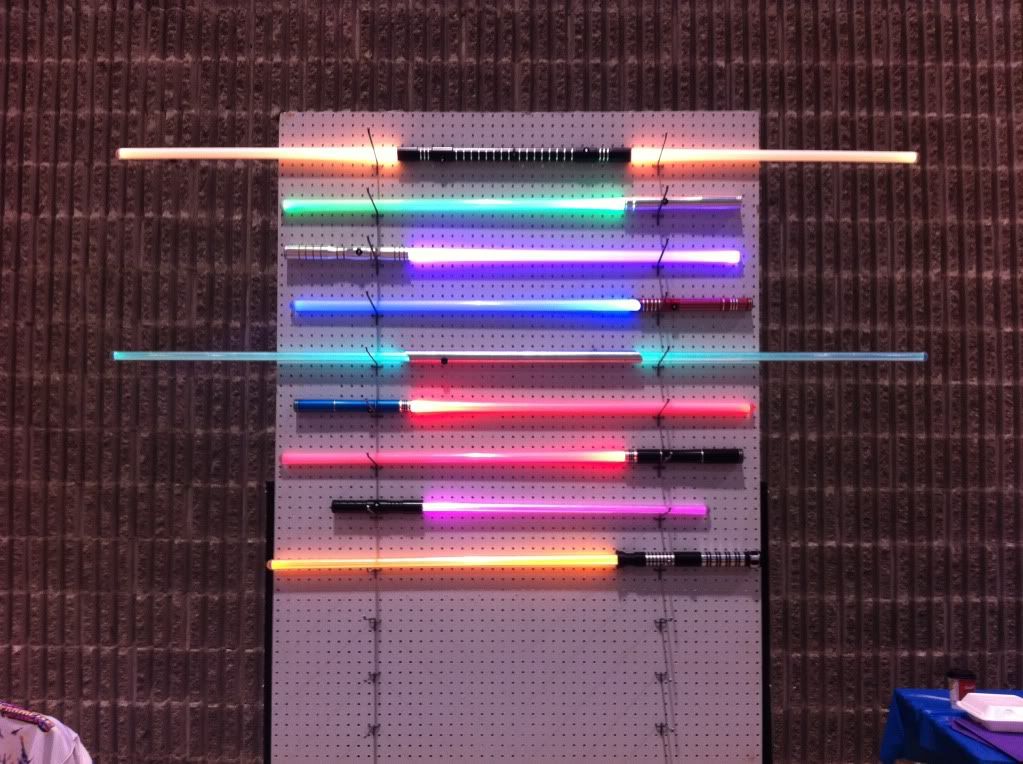 a better shot of our table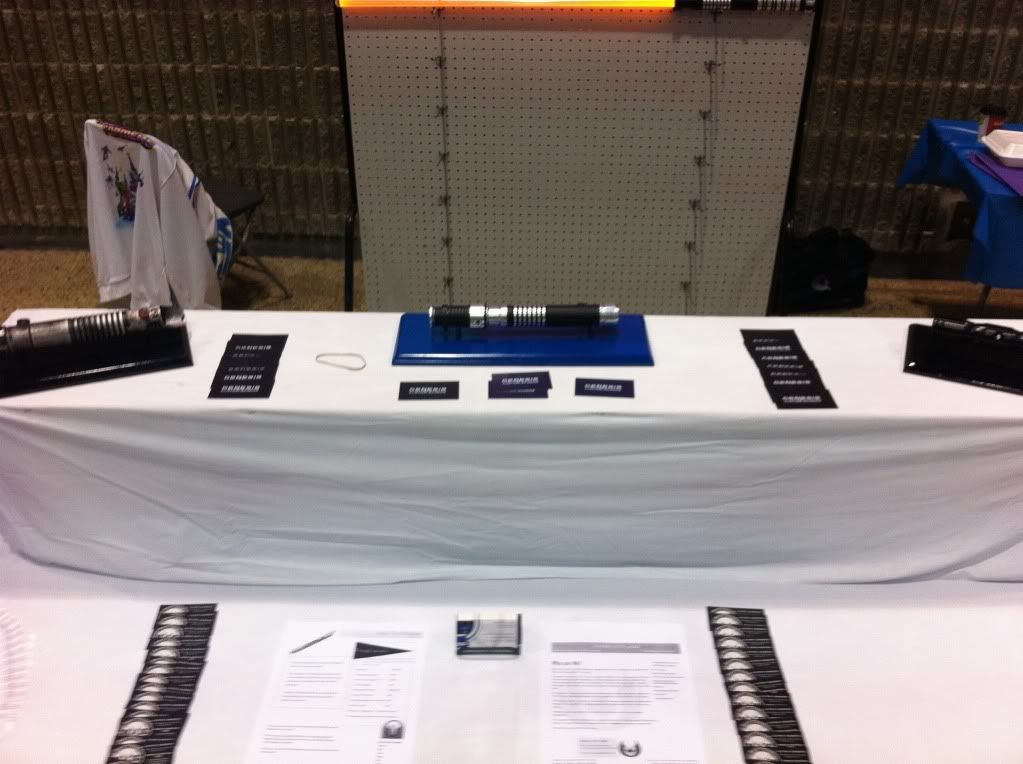 i asked, we werent allowed to use it and remove jarjar and hayden christiansen from the prequels...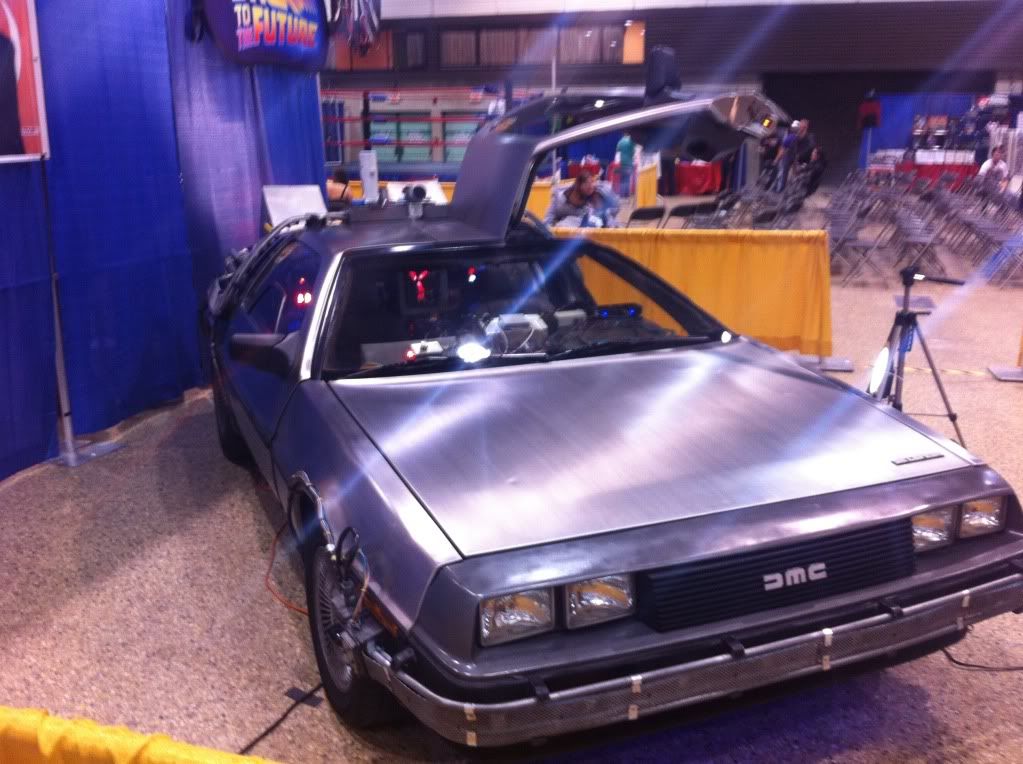 MASTER!!!!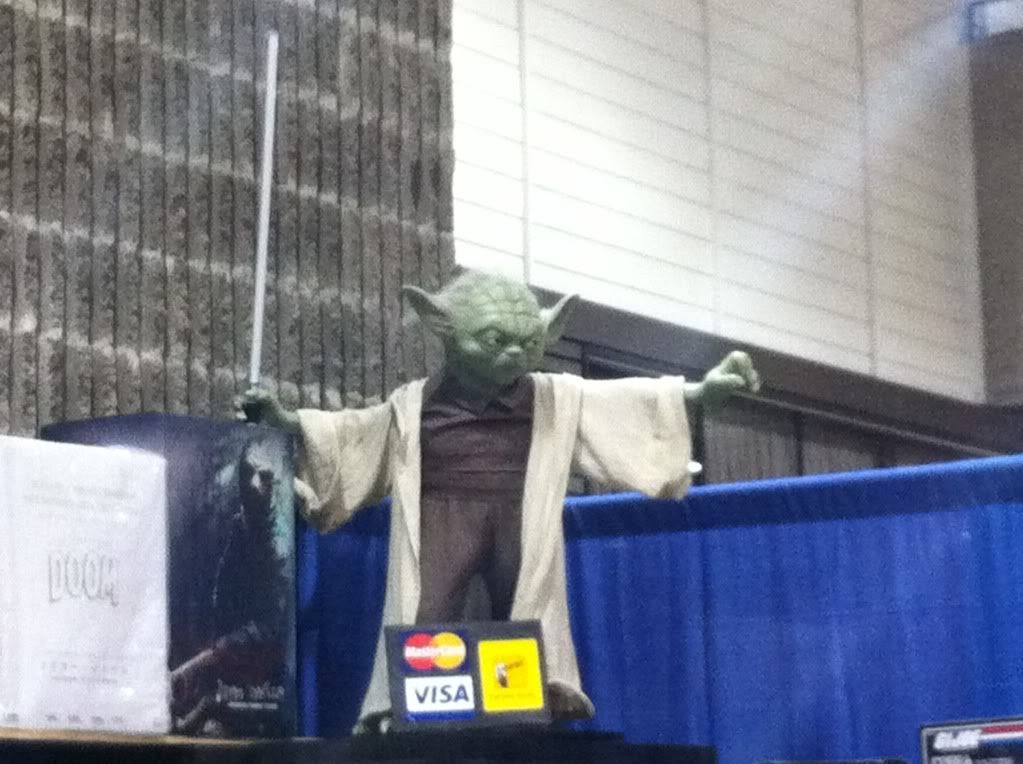 Iphone camera makes this sucker look a lot brighter than it is in person, not that im complaining
last one, close up of my vv fury so you can see the weathering on it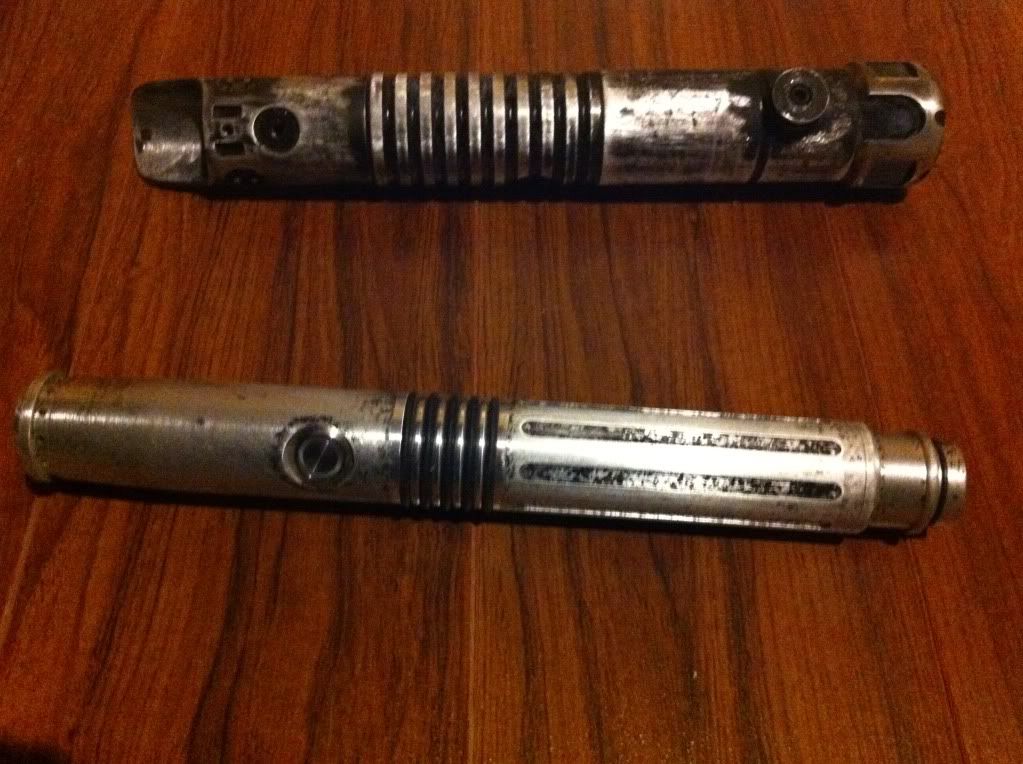 and lastly, video of our demo from the con