Post by Obi-Shane on Jun 2, 2013 4:42:57 GMT -5
A few weeks ago I was approached a very close friend's wife. She had seen some of the lightsabers I've made and would really love it if I could make one for her friend's son. He had a birthday coming up soon and was a huge star wars fan. He's turning 6. She asked how much it would cost and was wondering if I could make one for less than 50 bucks. I didn't have the heart to tell her that might be hard but said I would try my best. As soon as I got home I threw up a wanted add on the forum to see if anyone has some cheap second hand stuff to make this build possible. I knew, even though it was a little more expensive, that I wanted to have a recharge port and internal battery system. The less taking things apart the better and longer the saber would last. Changing out the recharge port in the future is an easy fix. First thing I had to do was to see what people had available.
Original wanted thread...
www.imperialroyalarms.com/thread/1980/wtb-cheap-soundboard
I was approached by Vektor who sympathized with my cause and said he would machine a hilt from scratch free of charge. I was floored. I think we both know how awesome something like this is for a 6 year old. We talked about design for the next couple of days and settled on this one..
About 4 days later he had it finished and in the mail. The deadline for the kid's birthday is June 16th. The design is elegant and simple. The pieces slide together, emitter, heat sink, body and pommel. I told him I would do the drilling and tapping, anything to make it simpler for him as he was doing the hilt for free (yeah, I love this hobby).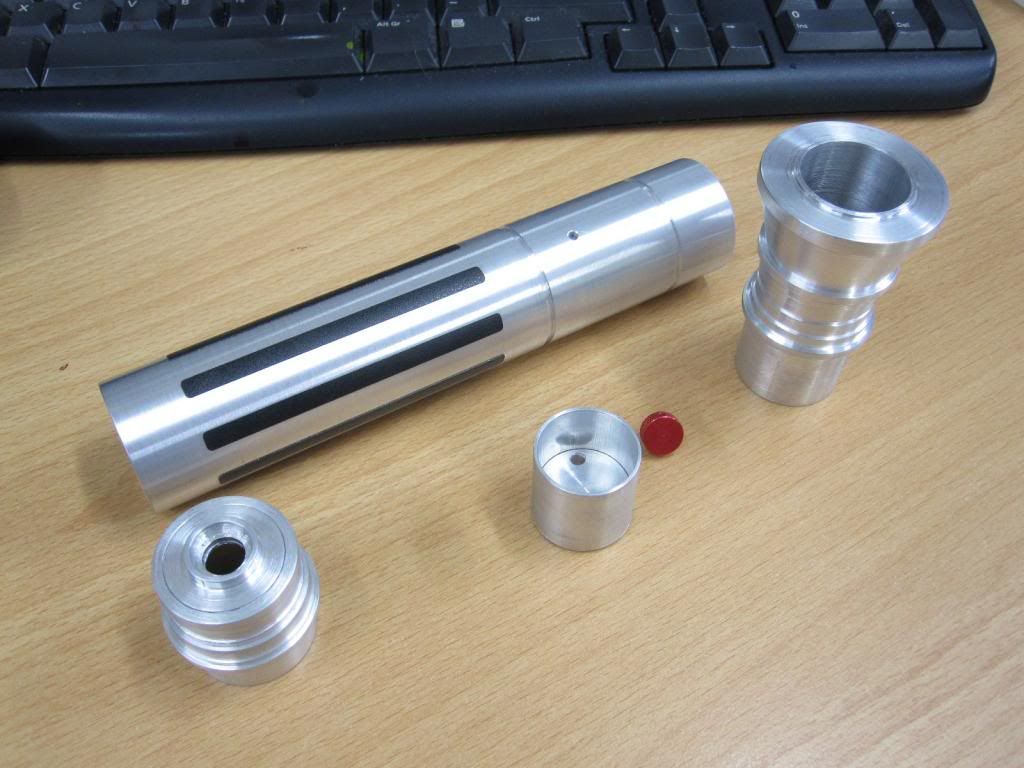 Oh… and before he sent the hilt he mentioned he had a couple of HFX boards that needed some TLC he could throw in. One had a wire or two ripped out and they both needed clash sensors. About a week later everything arrived.
I FINALLY had time to get to work last night and more today. I decided on going with some meaty screws, 8-32 to assemble the saber with. Two in the emitter, and two in the pommel. One screw in the pommel will also serve as the covertech mount. Time to drill and tap, I didn't bother with taking pics of the drilling. Let's get down to the tapping…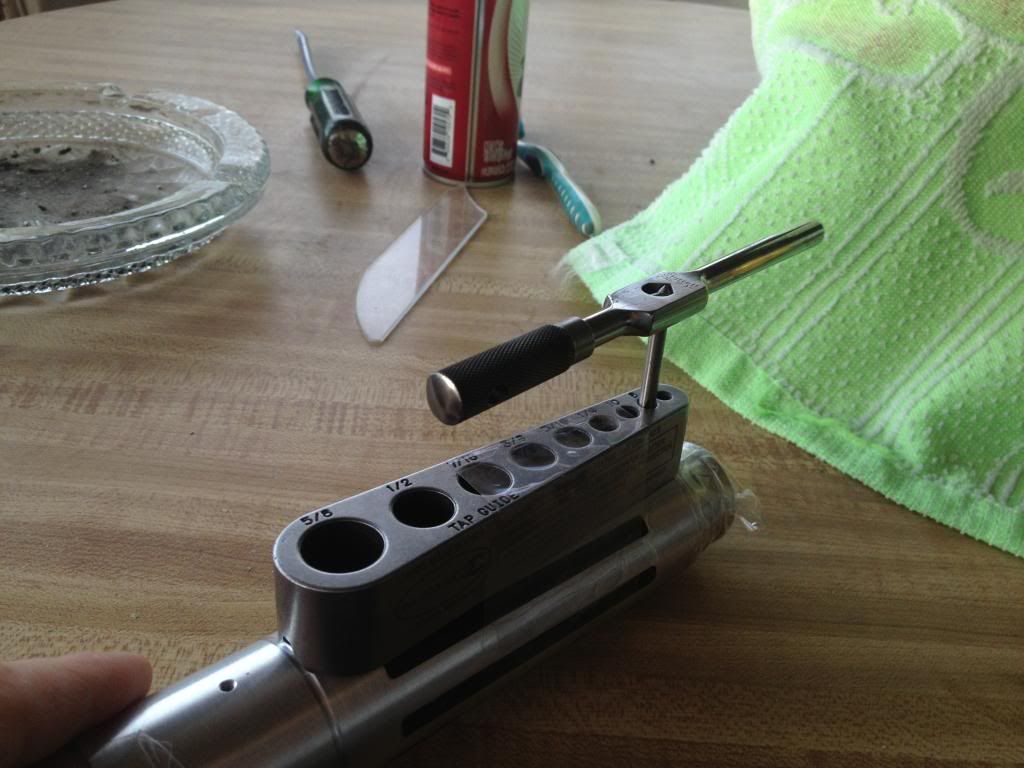 I use a tap guide when tapping. It keeps everything square and prevents the tap from rocking from a bad rotation as you're tapping. Also, see the lighter fluid in the background. Tapping should always be done with some sort of cutting fluid. Since we are using aluminum, a relatively soft metal, lighter fluid works just fine. The cuts are cleaner, there is less stress on the tap, and the fluid helps remove swarf and keeps it from sticking to your tap. Also, clean the tap with an old toothbrush after ever hole you thread.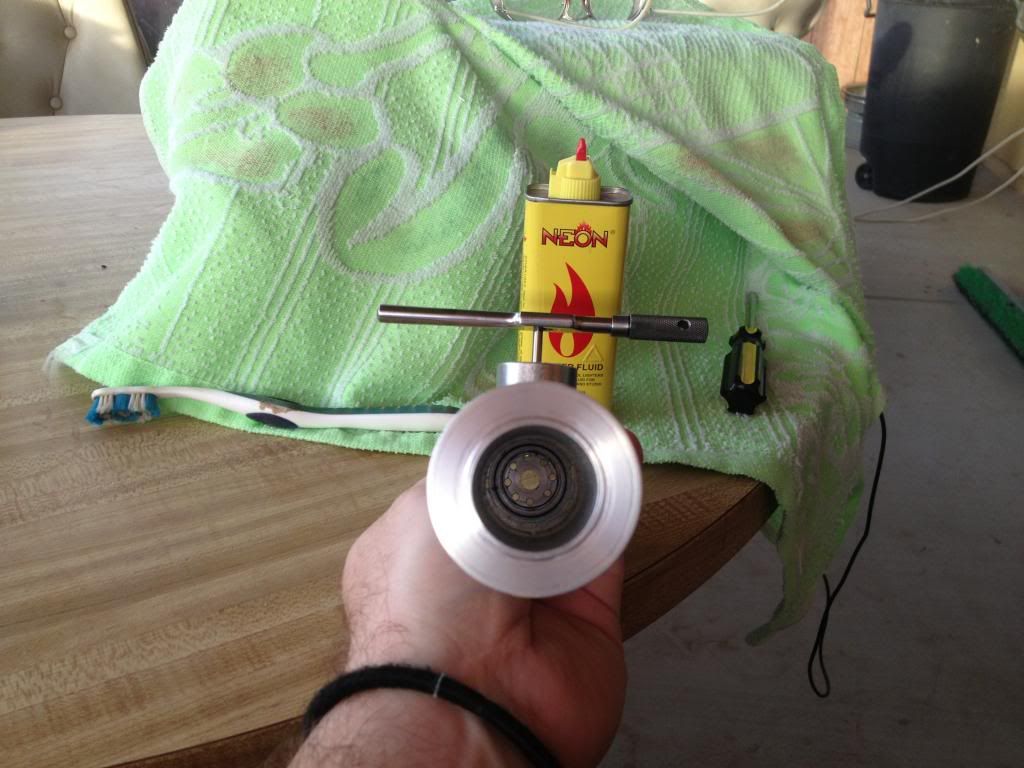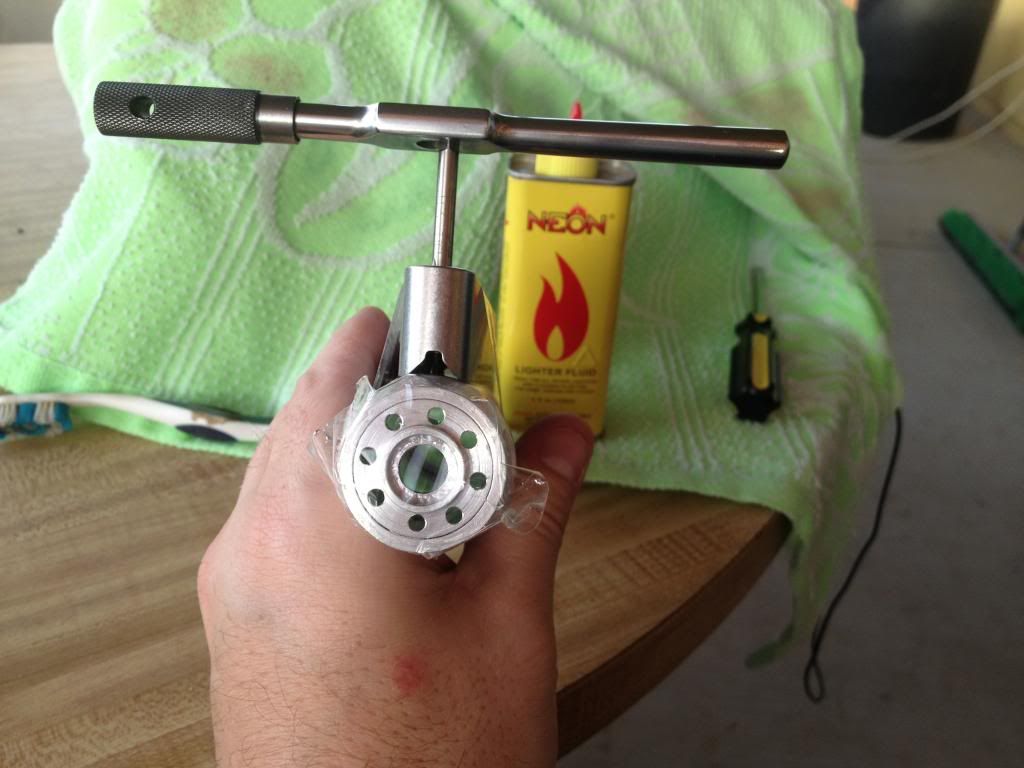 Note: Also, notice the vintage Starrett tap handle, buy quality tools . the investment pays for itself in the long run.
After I shortened the screws and assembled her I decided to do some polishing. Since the hilt was pretty much the same from tip to end, I decide to polish the emitter and upper hilt, and the pommel only. This way there is some contrast. I'm pretty happy with how it turned out.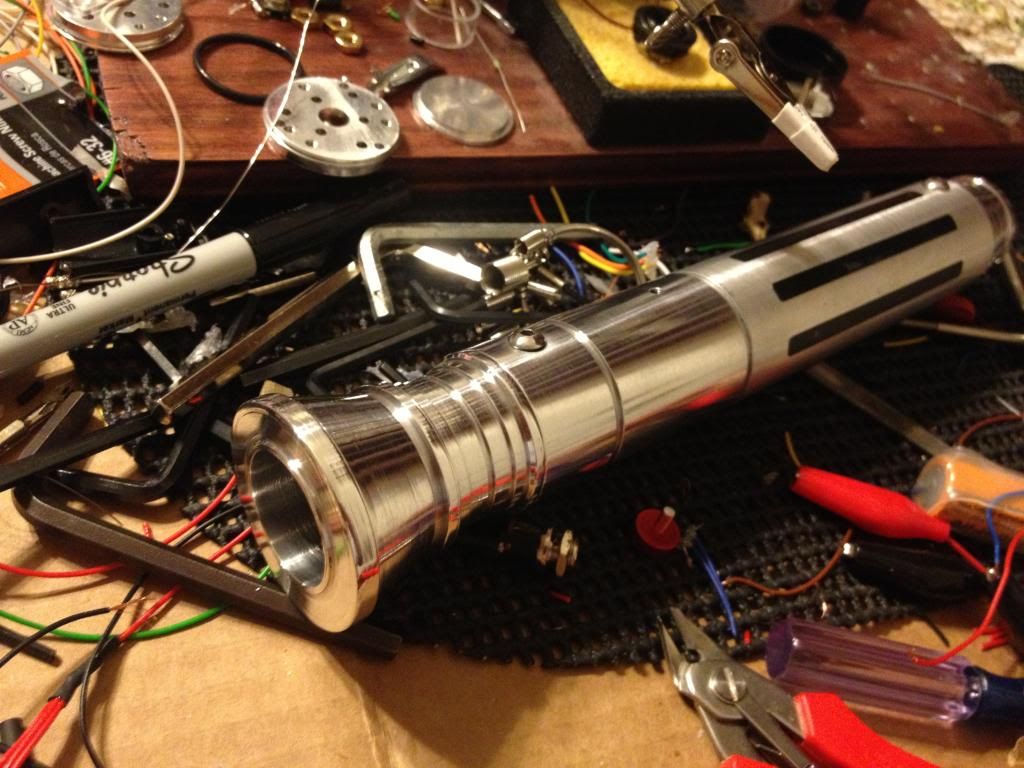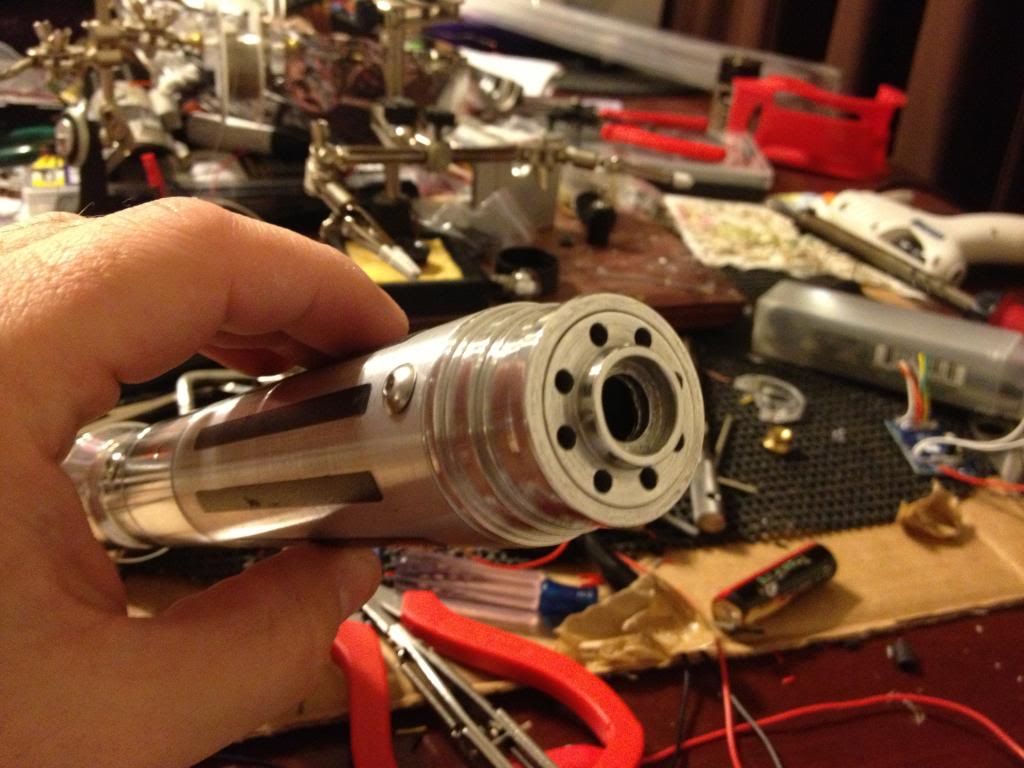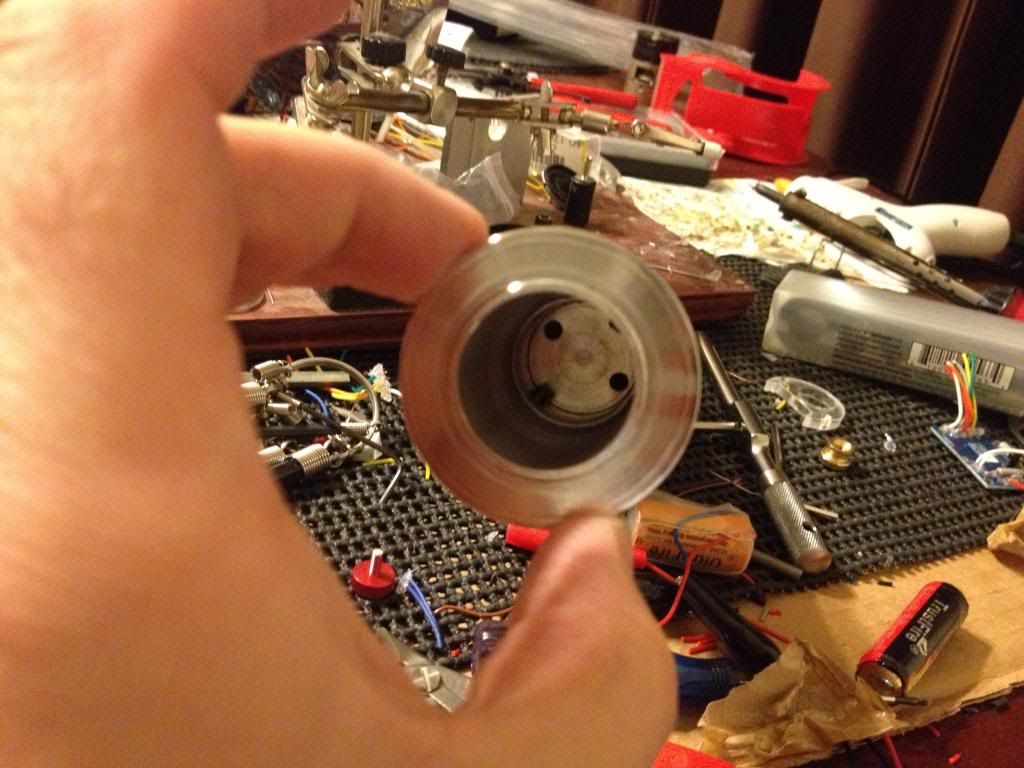 Time to get to work on the emitter, as you can see I tapped into the body, blade holder AND Led module. There is no risk of the led module getting sandwiched inside the saber now if our little padawan decides to go jousting with the saber. This way it's as solid as I can make it. Time to mount the led (soldered a few minutes before) double sided thermal tape is a must.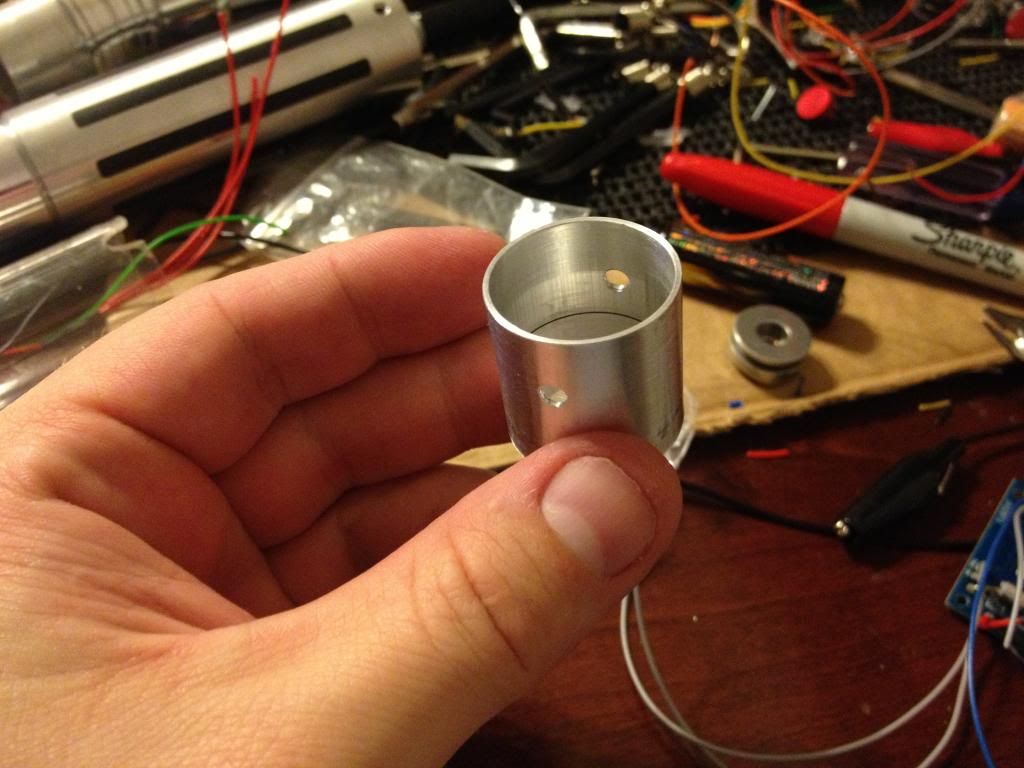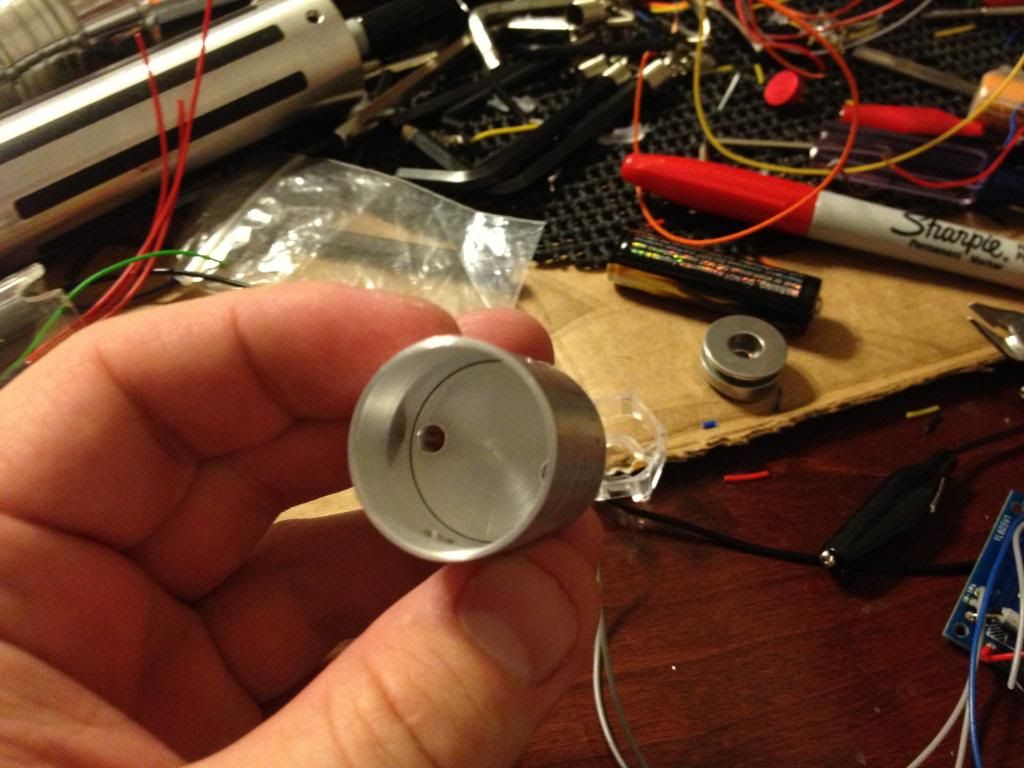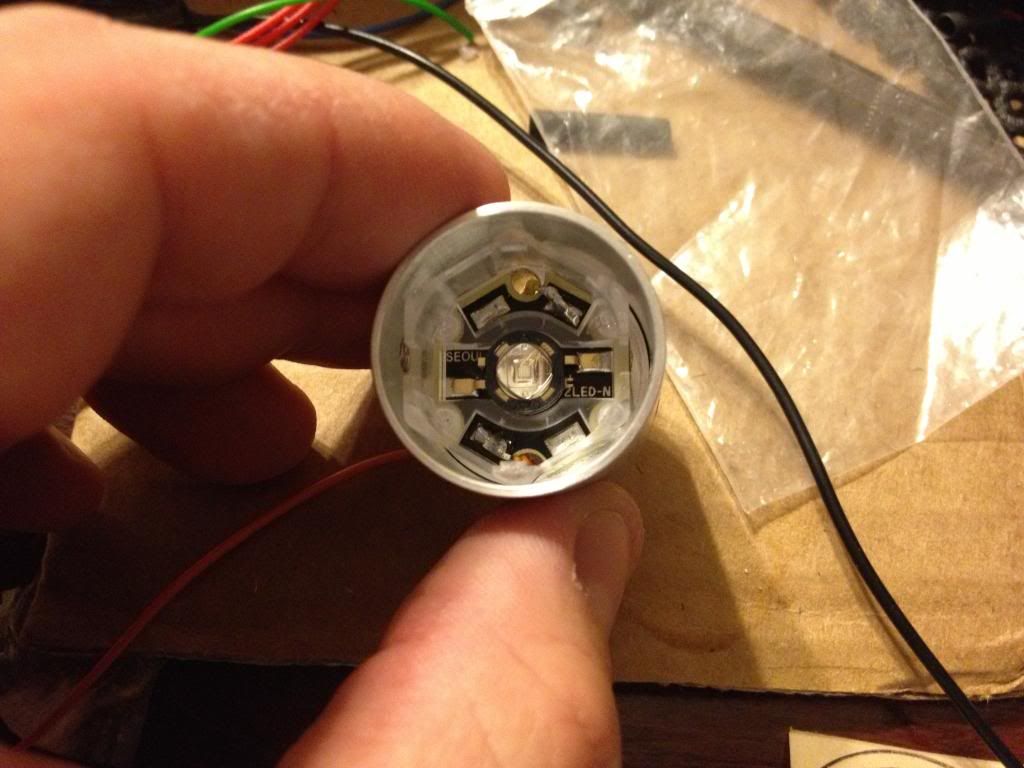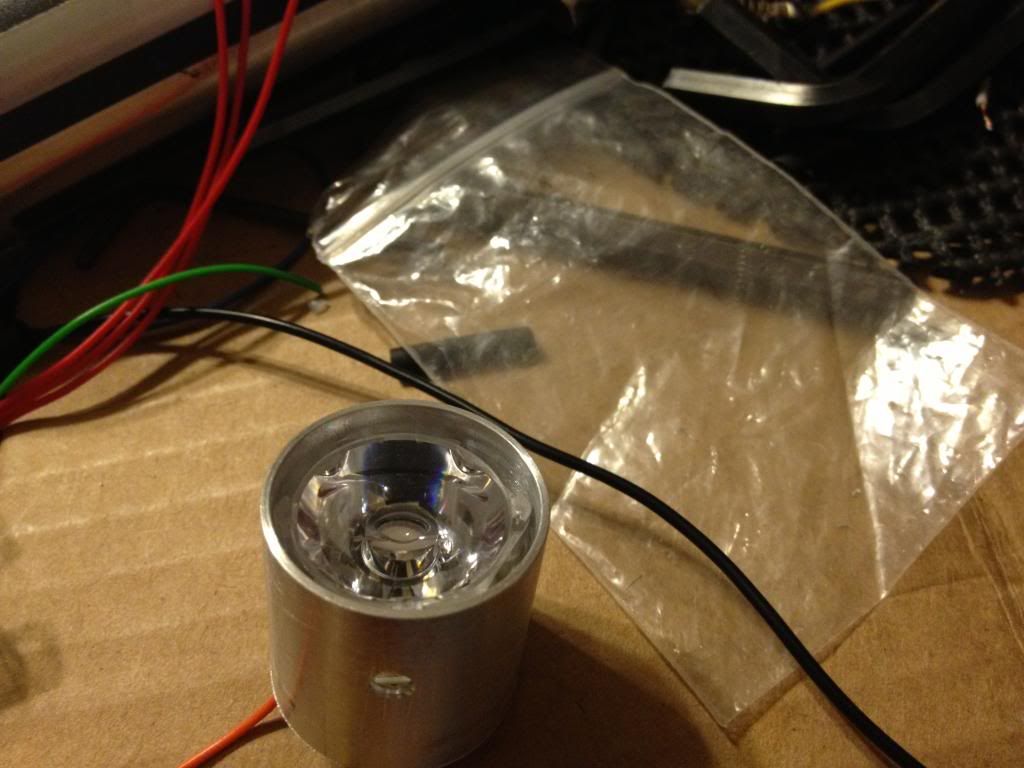 Centering of it looks good. Time to mount the Lens and this is where things get…. Ugly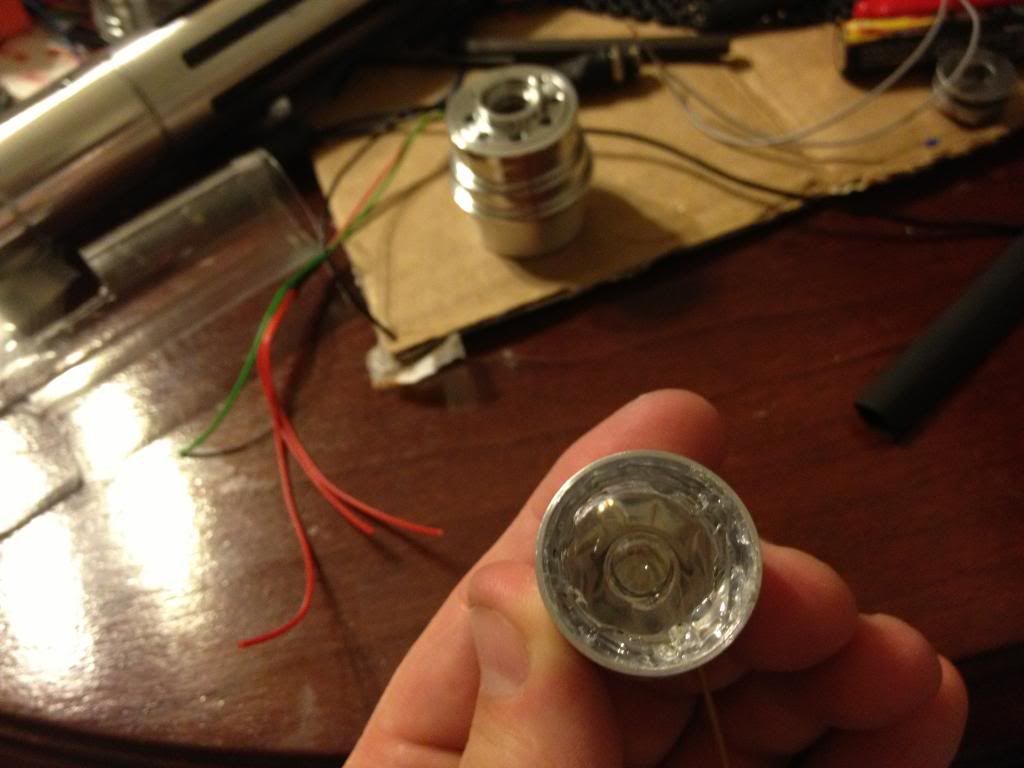 HOT GLUE!
nooooooooooooooo.com/
There was little choice though, as this was the only way I can see how to secure the lens and not risk it falling out over time.
Moving along….
Time to wire the recharge port, I thought it was best to double shrink wrap everything. Don't want to take any chances on this. Note the strip of heat shrink on the threads, this makes the fit snugger and provides a little friction as I tighten the nut on the outside (kind of acting like a lock washer). As you can see the design is nice, and when the padawan drops the saber the recharge port should not suffer the impact.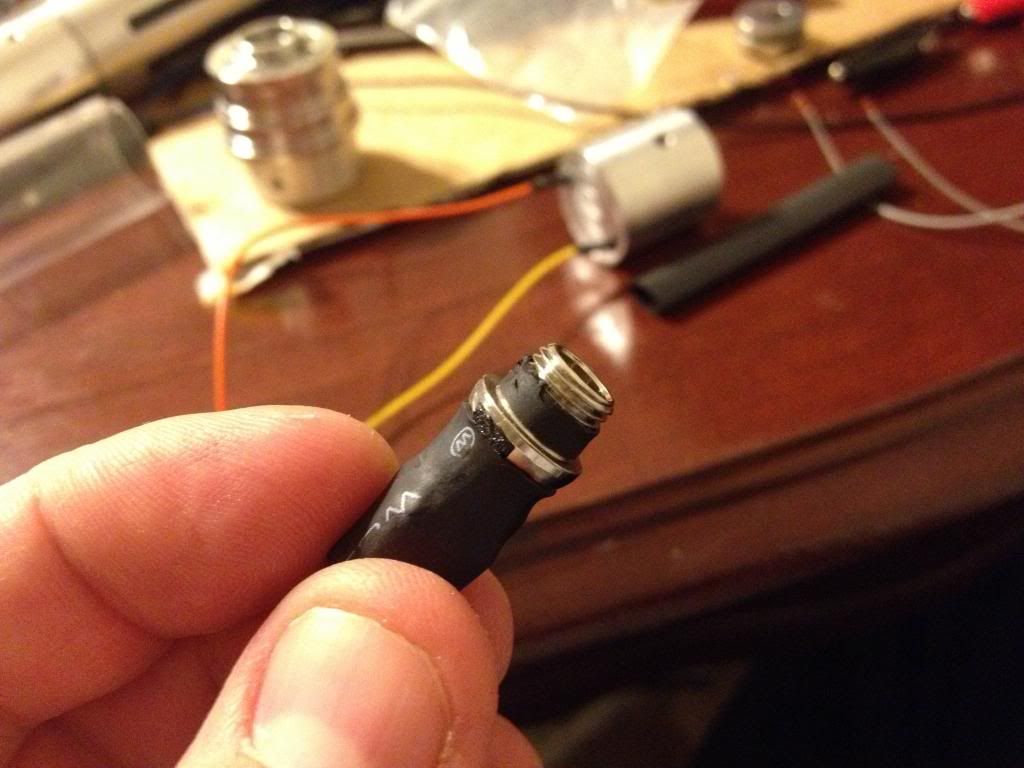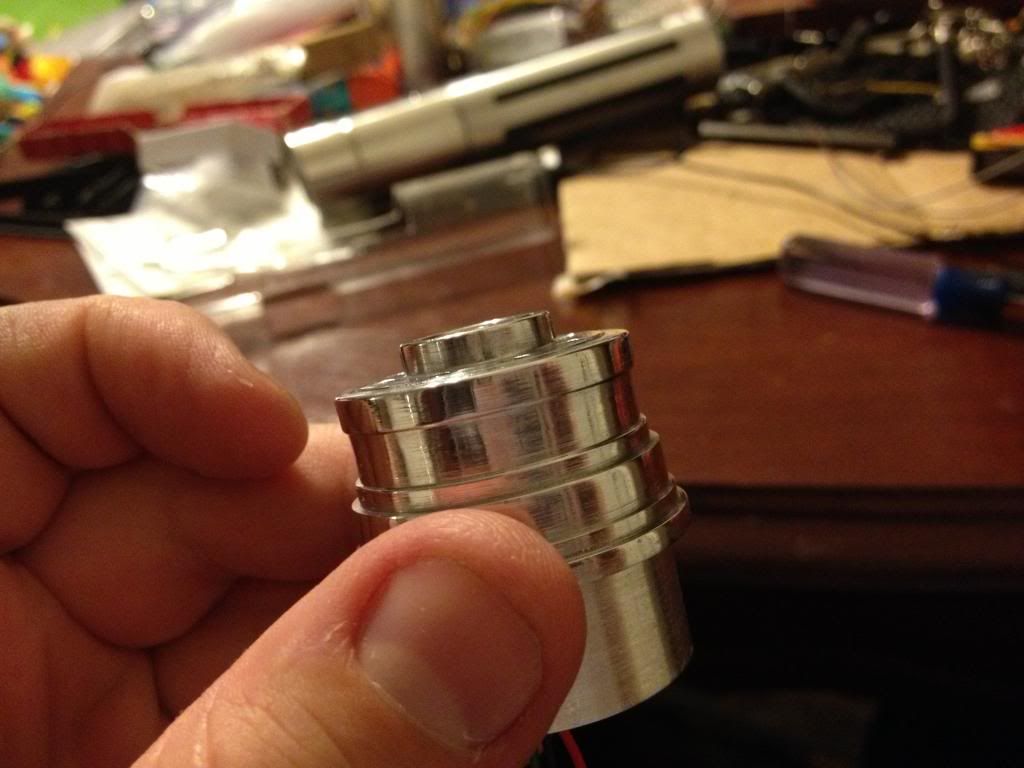 Emitter and pommel are done!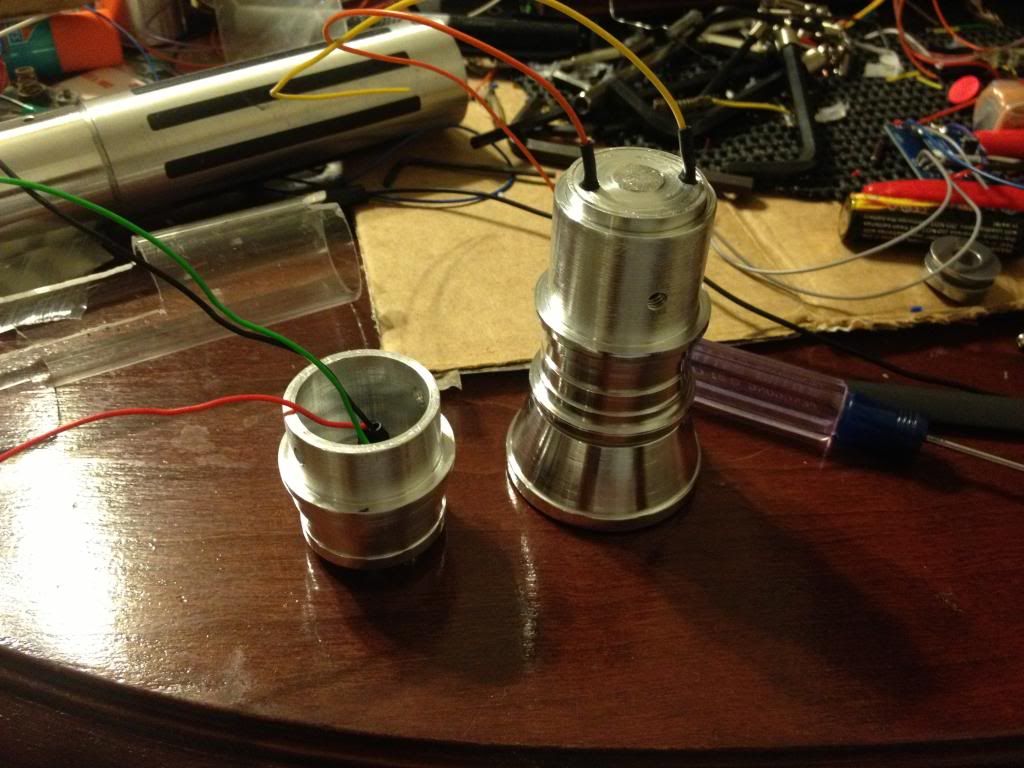 The board on the left is the one I will be using. To simplify things I removed a lot of wires and bridged the led string lead pads.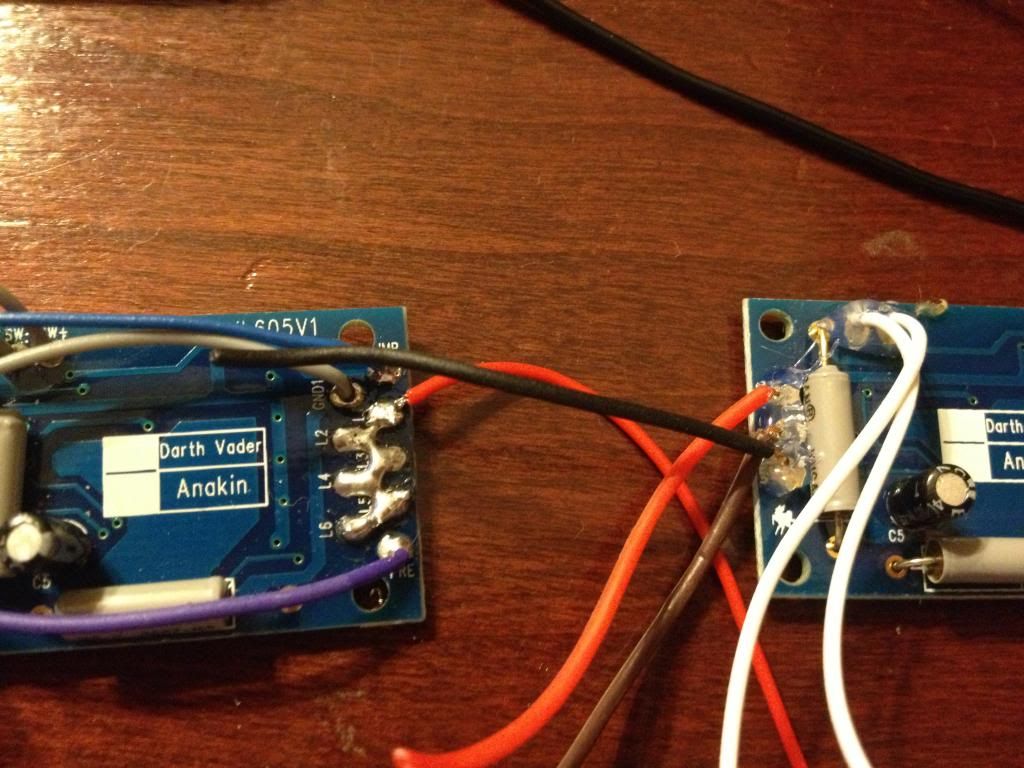 The "missing blade" detection lead is returned to ground. These are removable blade FX boards, they give a error click upon ignition if you do not have the blade inserted. This is how to bypass all that jazz. I removed the hot glue and messy wiring of the stock wires and re-wired the entire board. Things look good, moving along.
A couple of quick pics on wiring up the battery pack.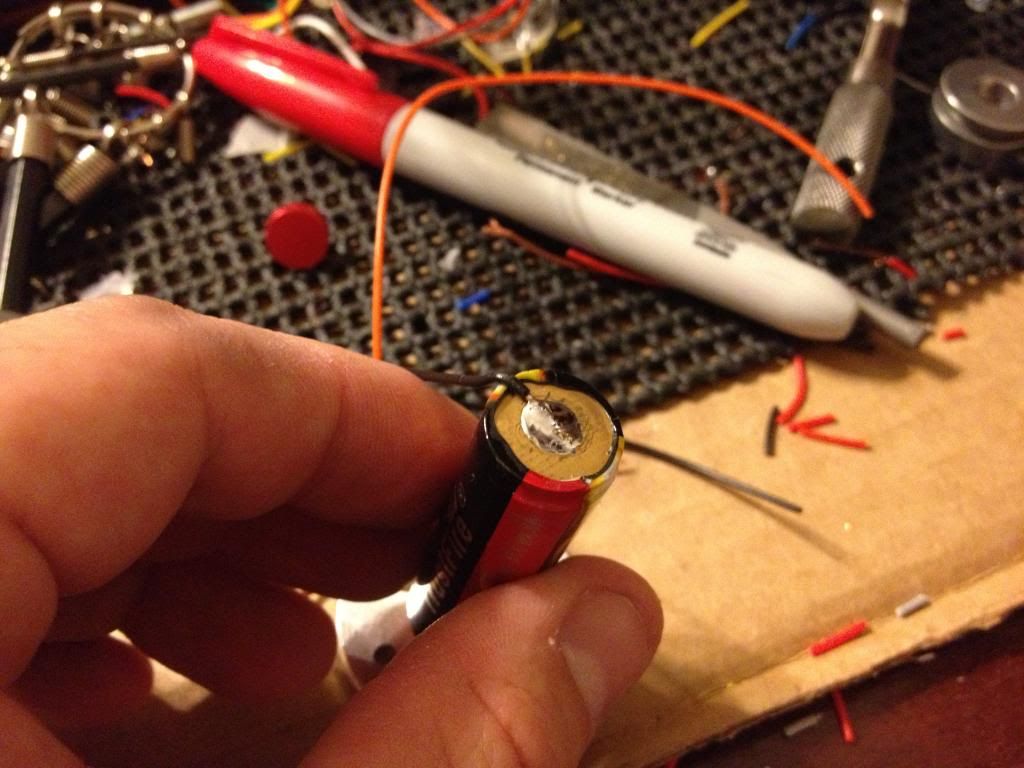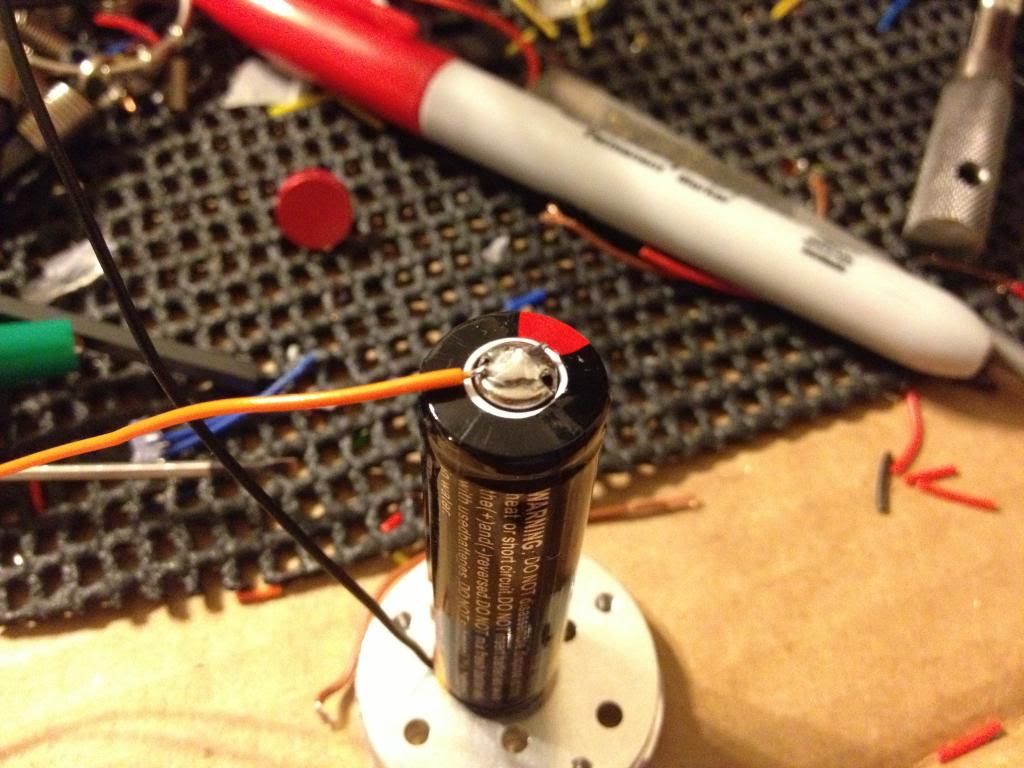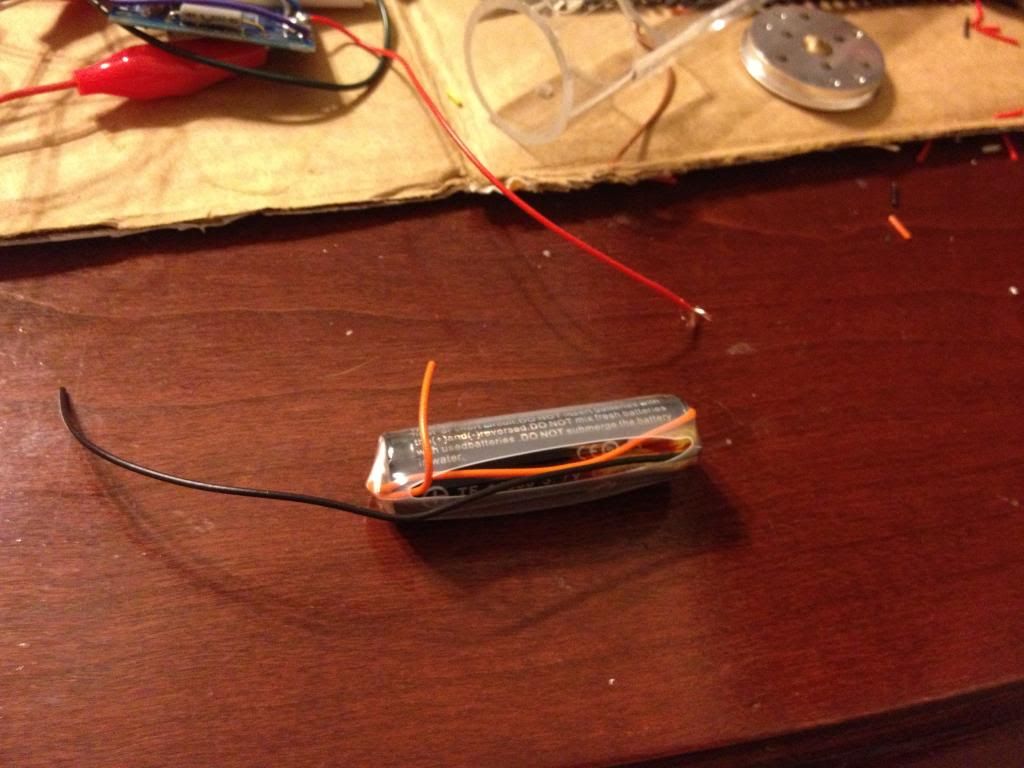 I'm making my own on this one and piggy backing the board on the battery.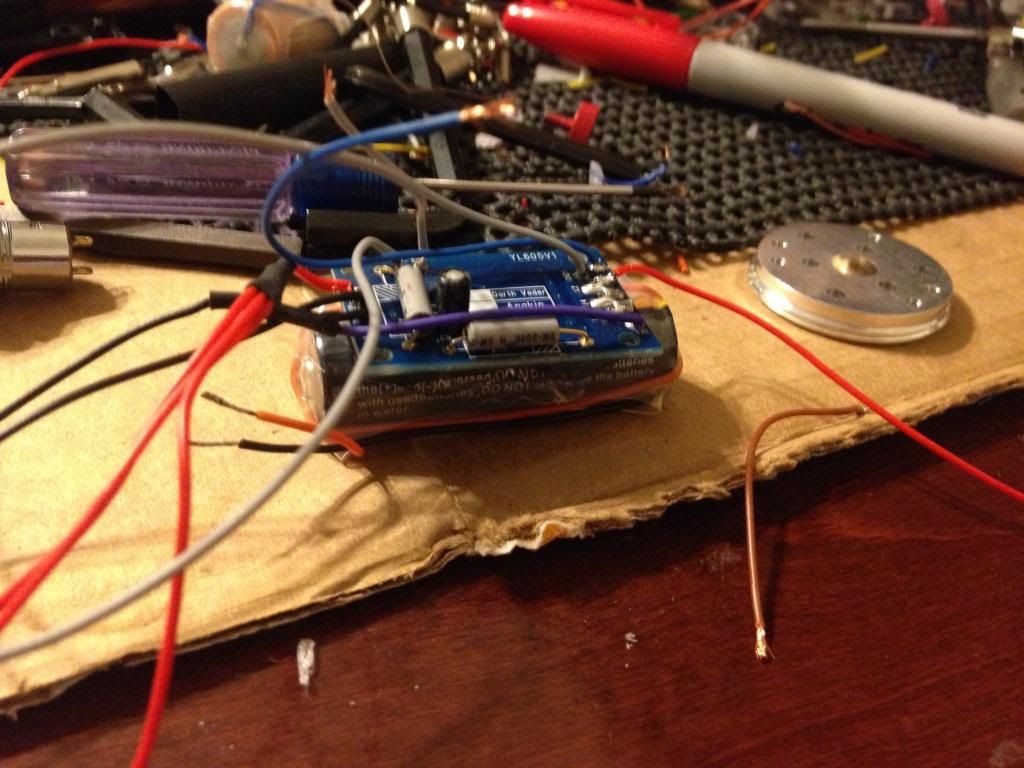 Progress June 4th
SO I ended up working out the problem with my latching switch and got it working. Next step was to drill the main activation switch hole. Easy enough, but I had to use my unibit to bore it out to size.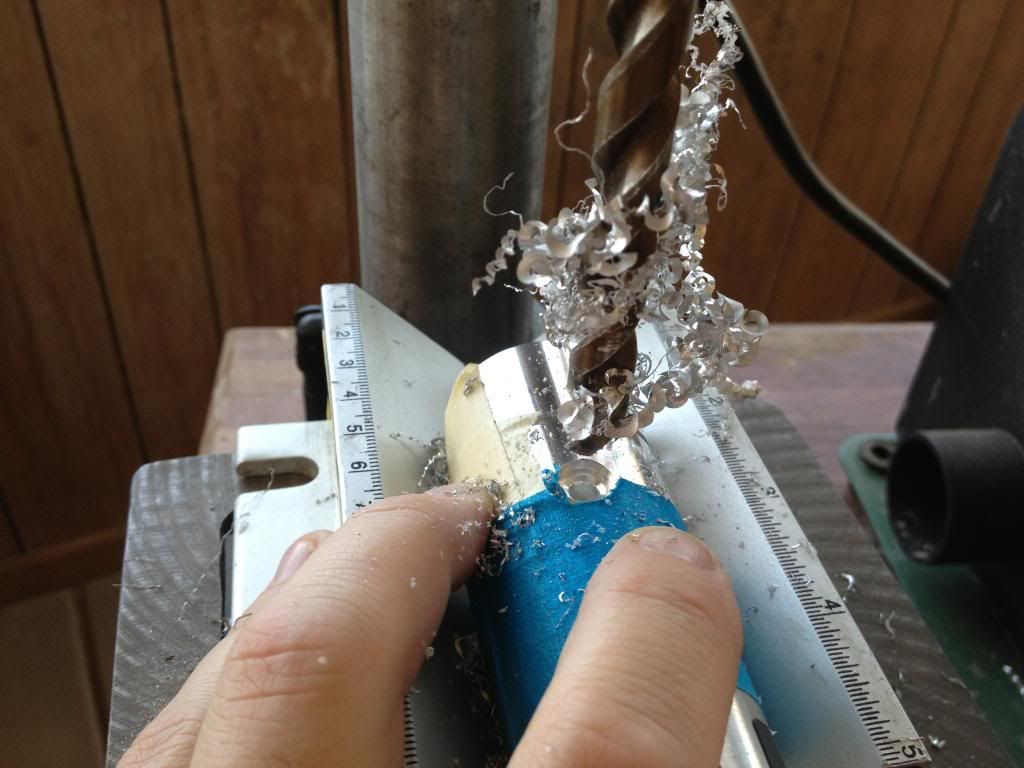 After some deliberation I decided to make a switch bevel out of some scrap aluminum I had lying around.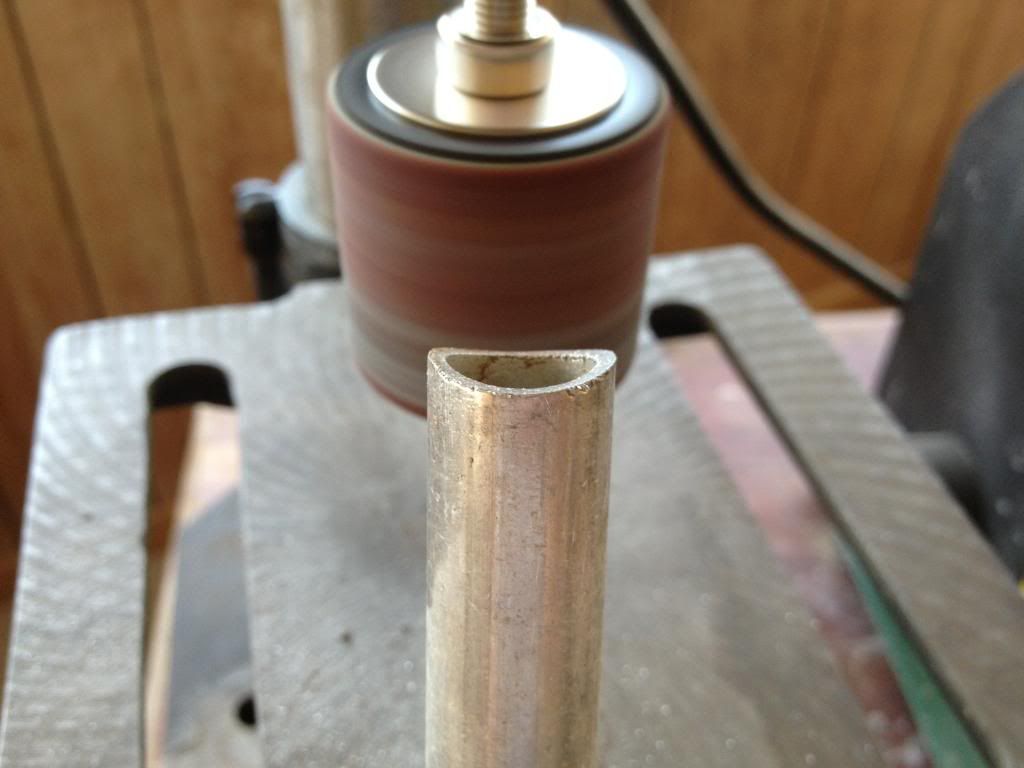 This was the most time consuming part of the install process today, as it took me a while to get it just right, and I had to go as thin as possible so the switch nut would grab the threads on the inside of the saber.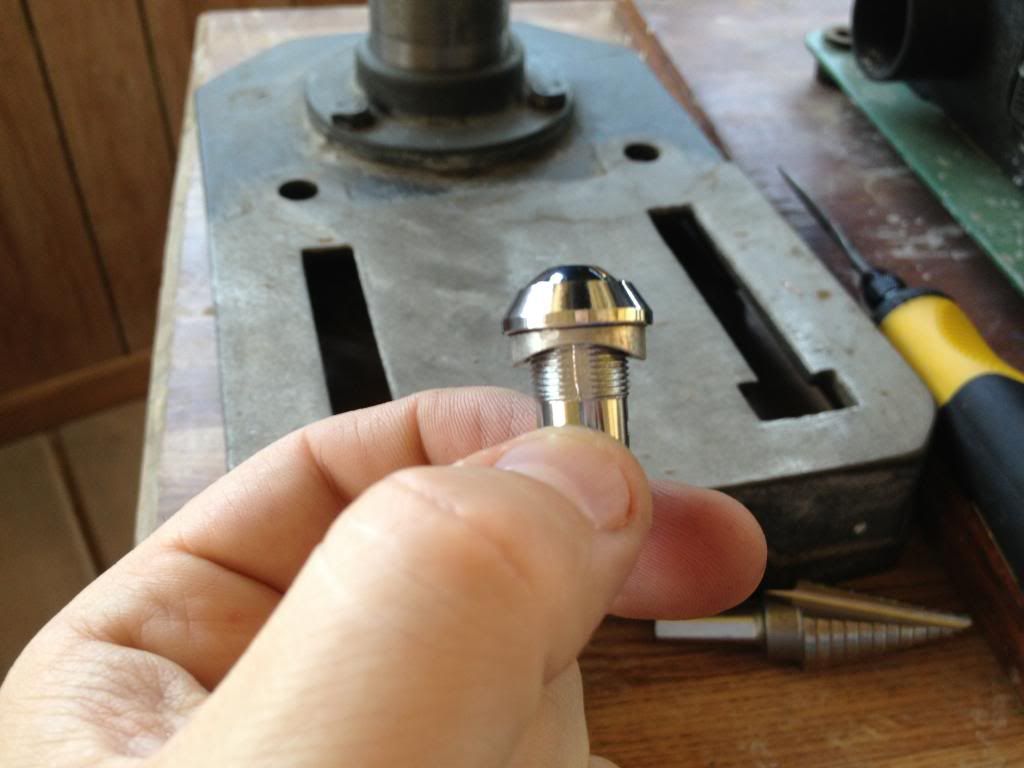 Fun to turn scrap into something.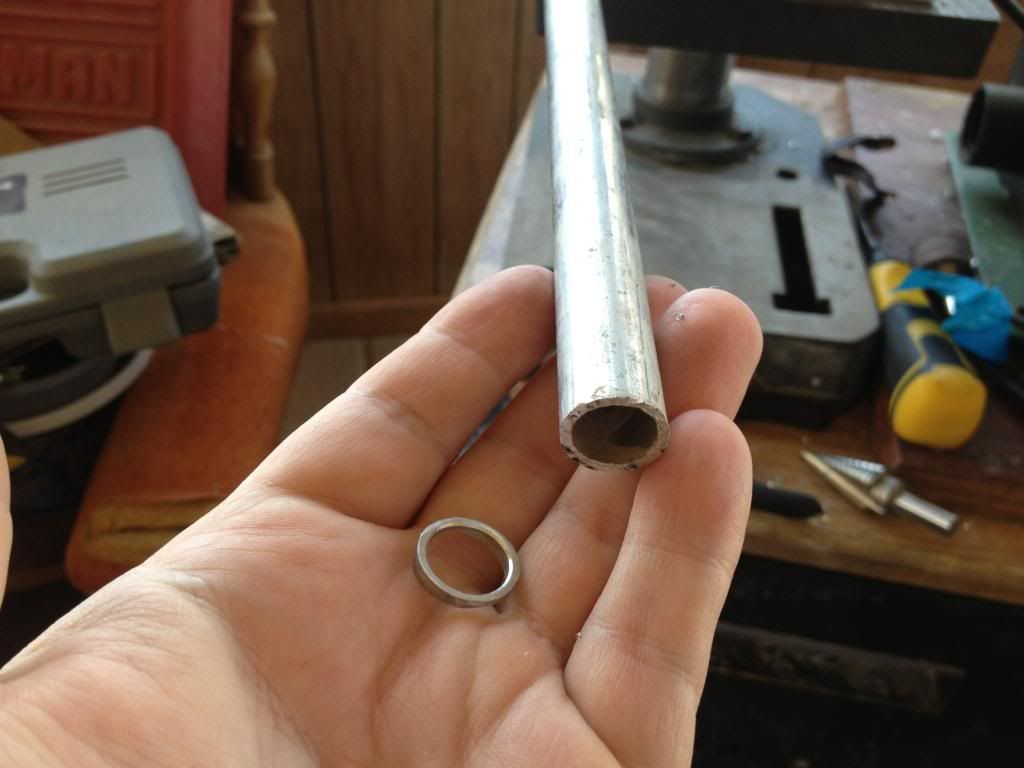 Still some work to do before it looks good enough, Here she is after polishing in the final stages.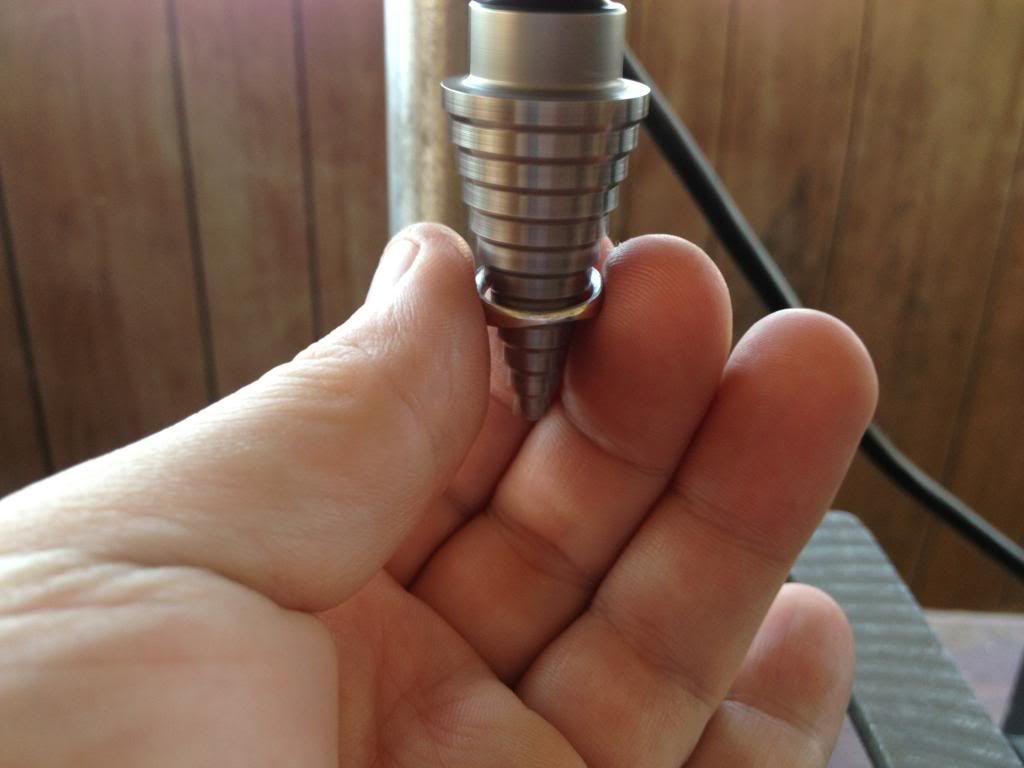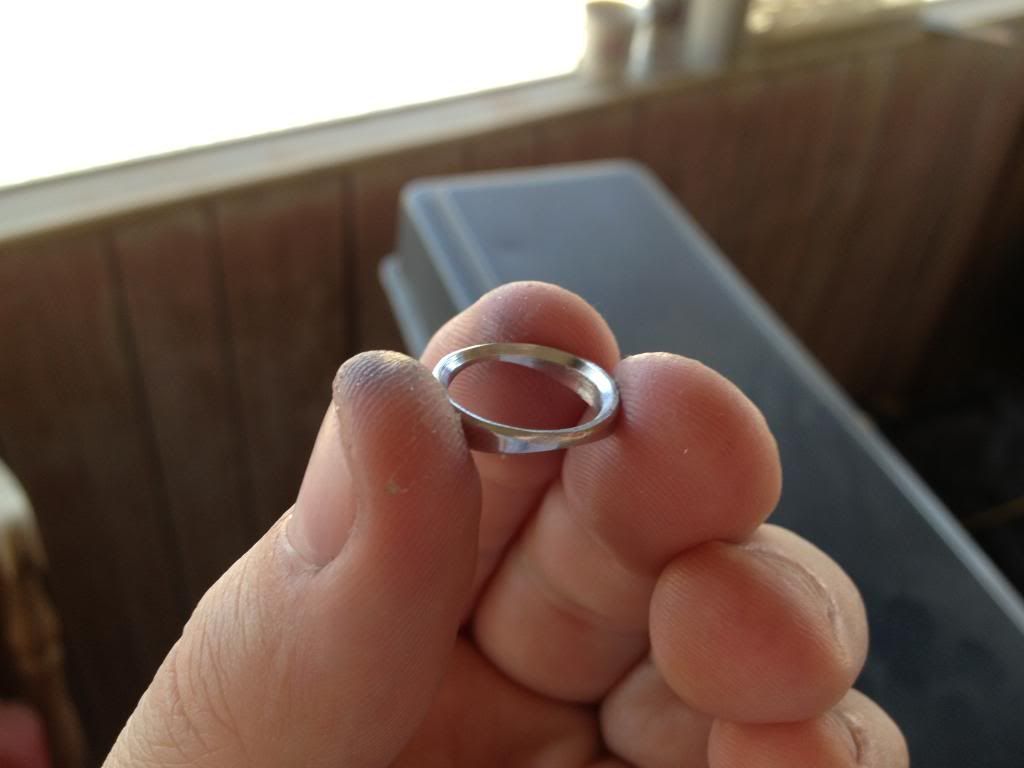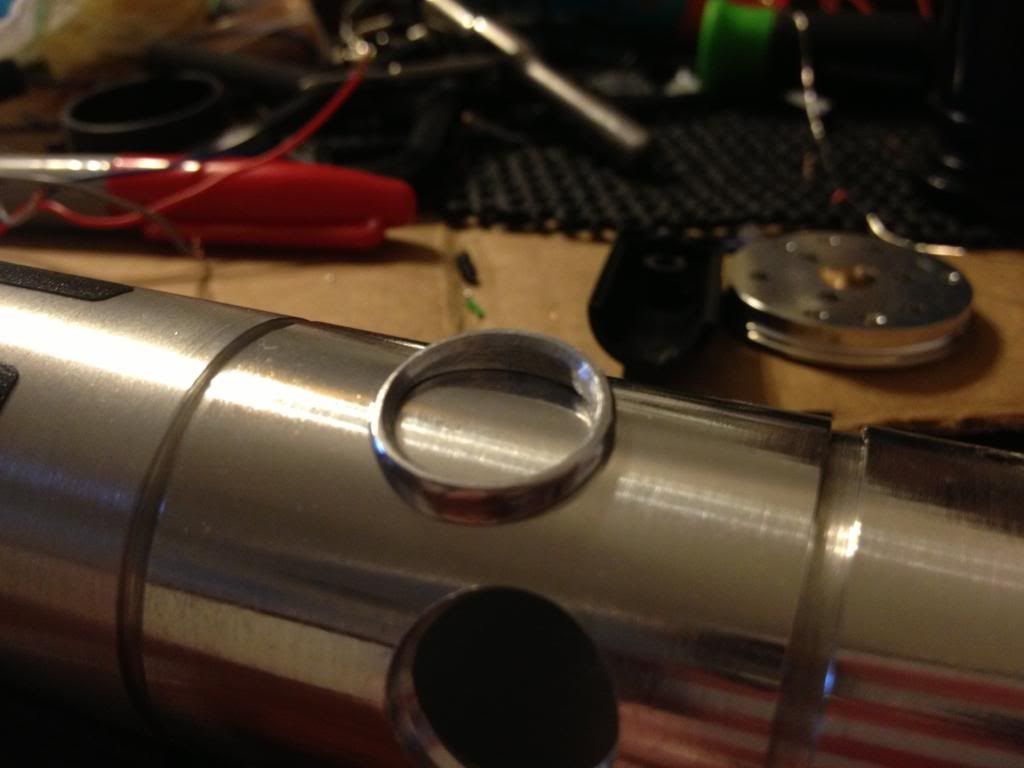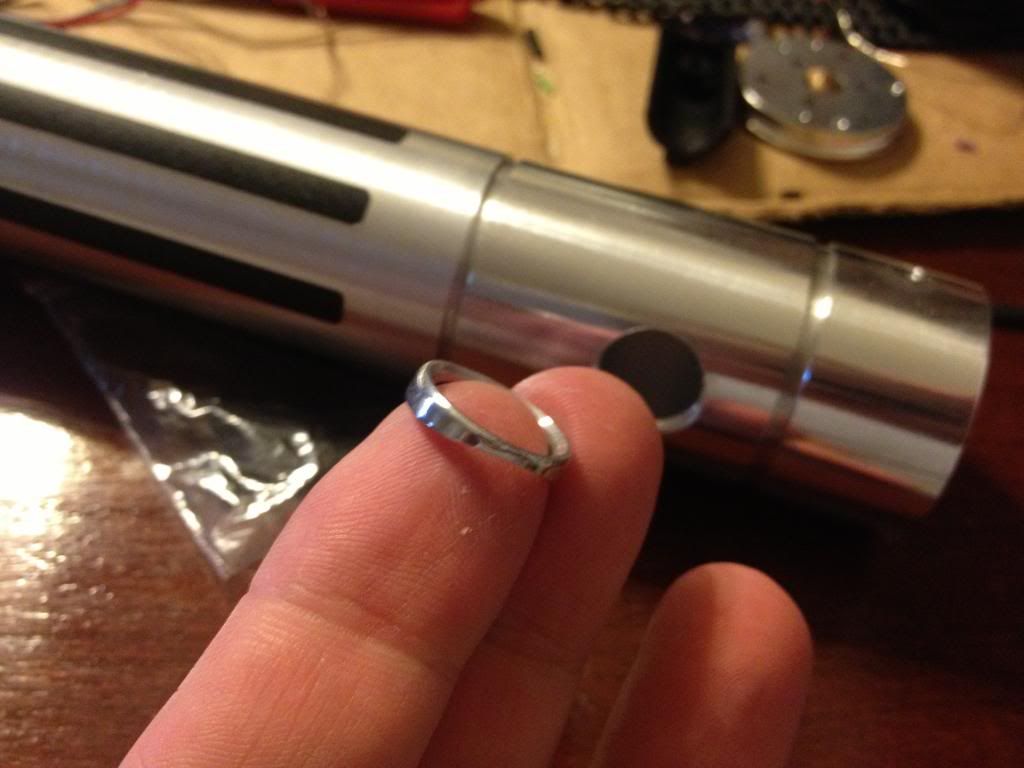 Fit looks good. Switch secured with the nut using some needle nose to get it as tight as possible. A layer of sealant added since this is a kid's saber. I expect it to be dropped a few dozen times and want the switch to last as long as possible.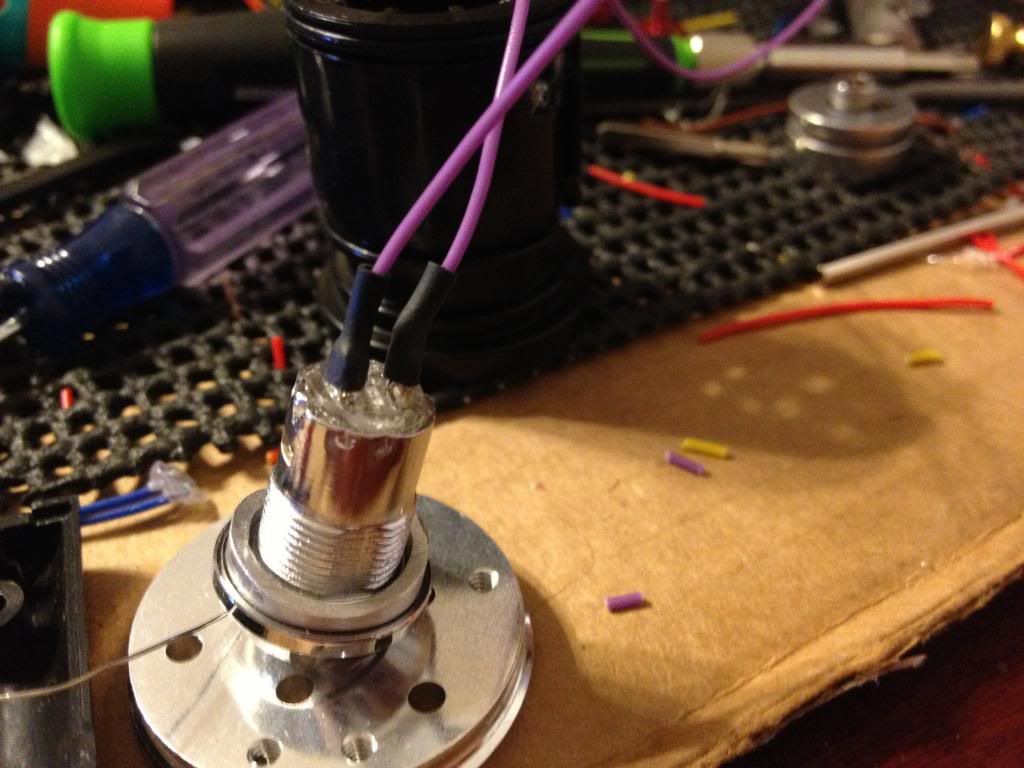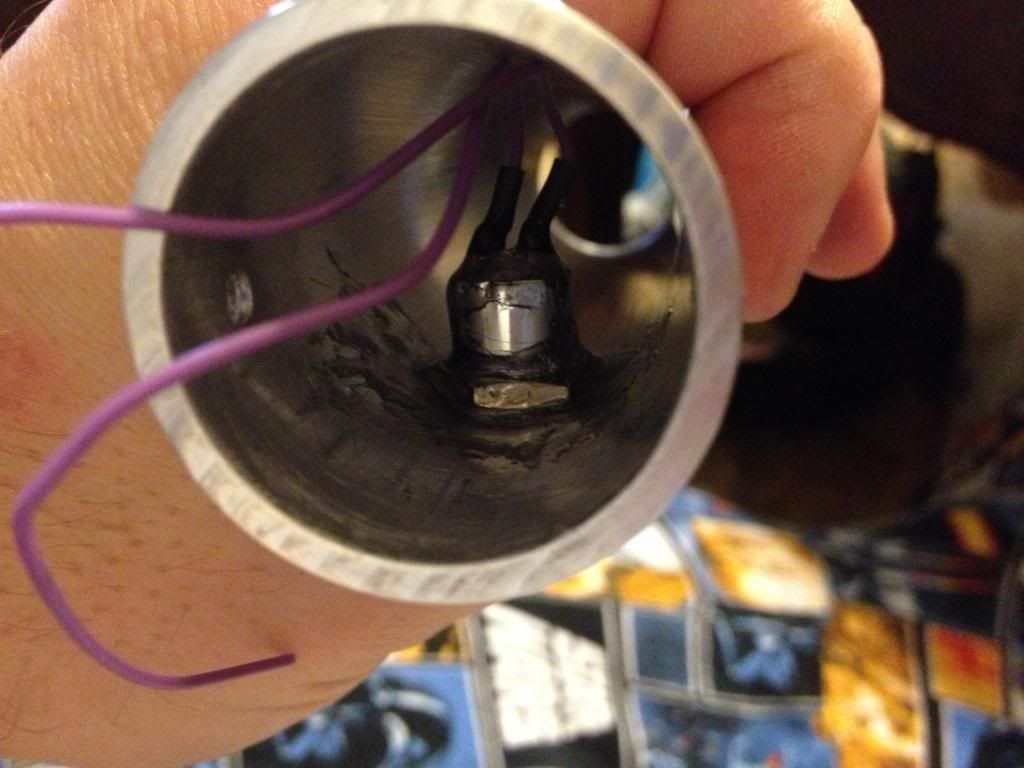 Time to button her up, all the hard work is done. Some misc pics here, Vector included some polyC stock that fit perfect in his hilt.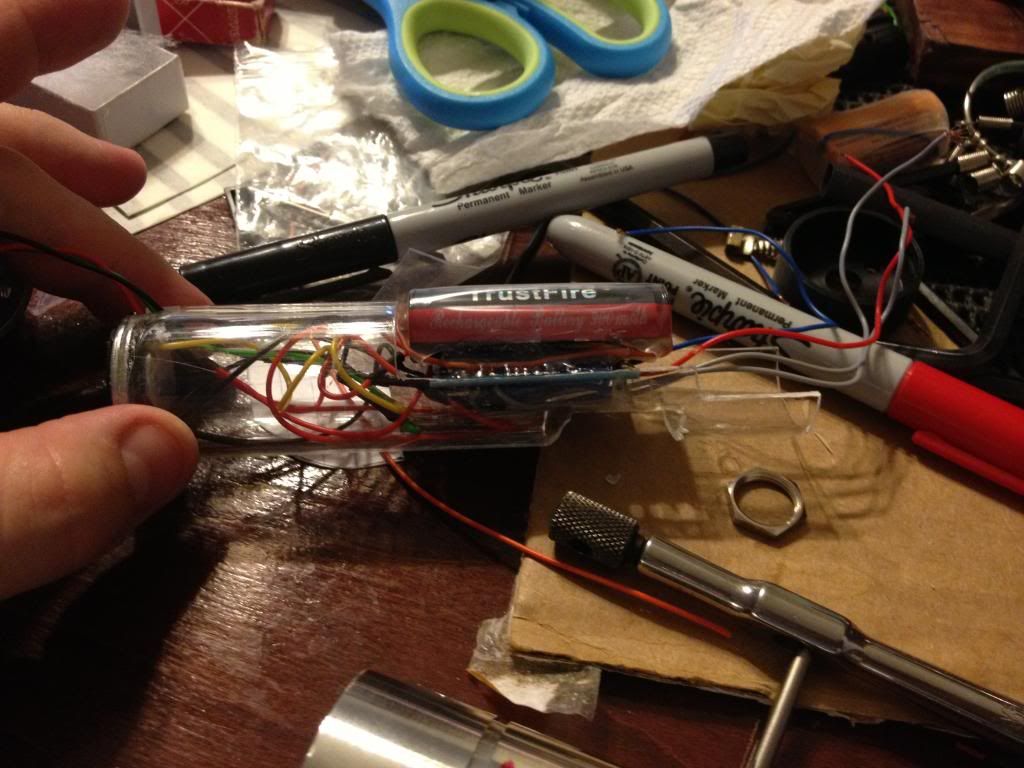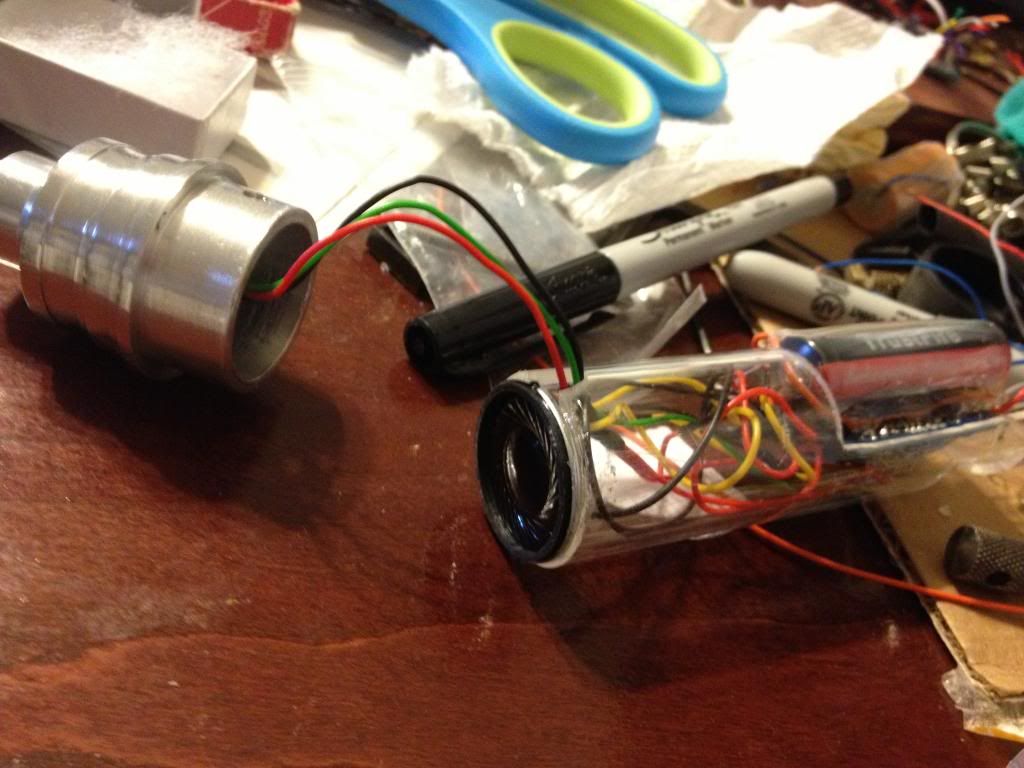 Everything fits nicely, it's a tight fit, but there is no stress on the wires, they are not being pinched at all. Note the fanboy pajama pants!
One final test to make sure everything works ,I tested the switch the night before after fixing it with vise grips and epoxy to make sure it worked properly and everything was ok. This time however, was a different story. CAUTION, GRAPHIC EXPRESSION OF DISAPPOINTMENT.
VIDEO---->
s1127.photobucket.com/user/Obi-Shane/media/Padawan%20Birthday%20saber/IMG_0066.mp4.html
After doing the famous Hitler rant everyone's seen on youtube I decided to do what any respectable sabersmith would do, I beat it with a wrench until it worked. No seriously, after pushing it in a couple times firmly it started working as normal. I kept doing it for about 5 minutes with no "miss fires". guess it needed to be broken in

.
Next was to make a blade for the little guy, I donated one of my own blades and shortened it. It was a rounded tip (I've moved to bullet tips). Rounded tips are better for the little ones anyways.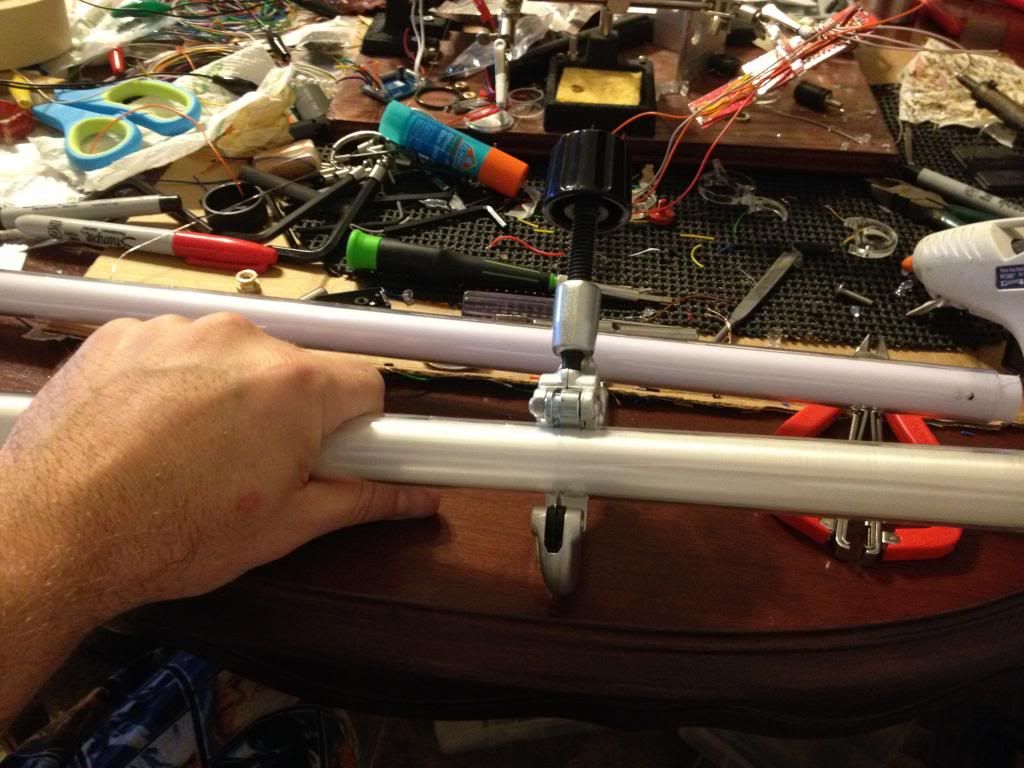 Some Glams of the finished saber. The retention screw is an 8-32 brass thumb screw. I think the brass sets it off nicely, and there are
brass
BRONZE lock washers under the button head hex screws. A nice touch I thought as well as making the screws less likely to loosen over time.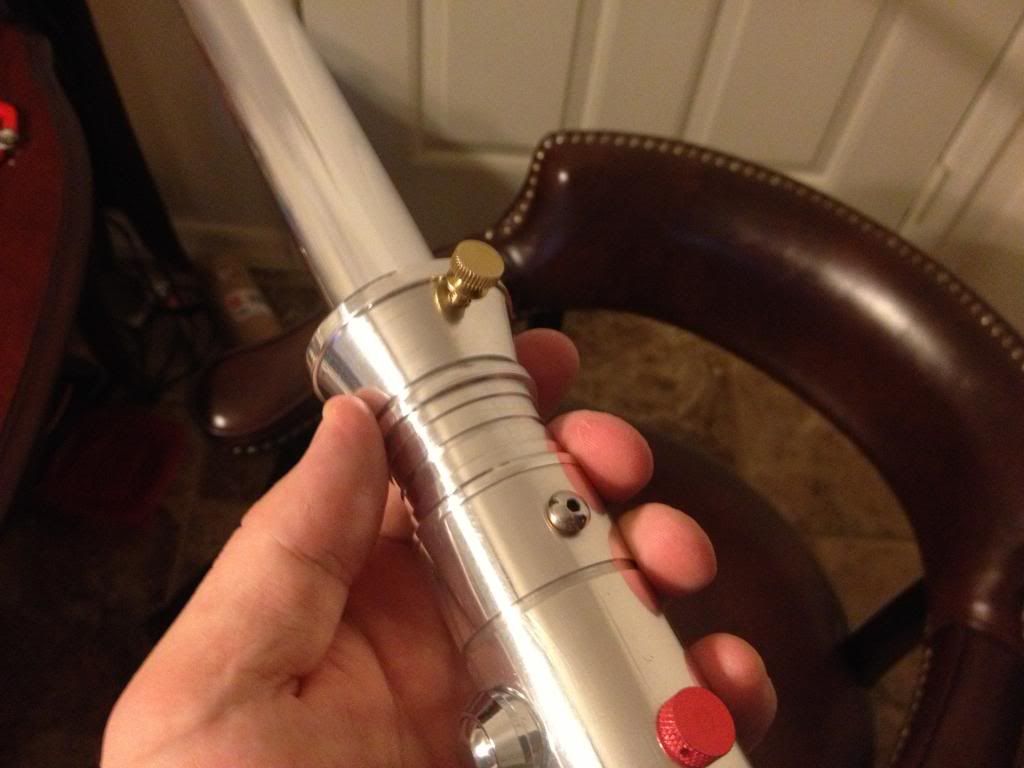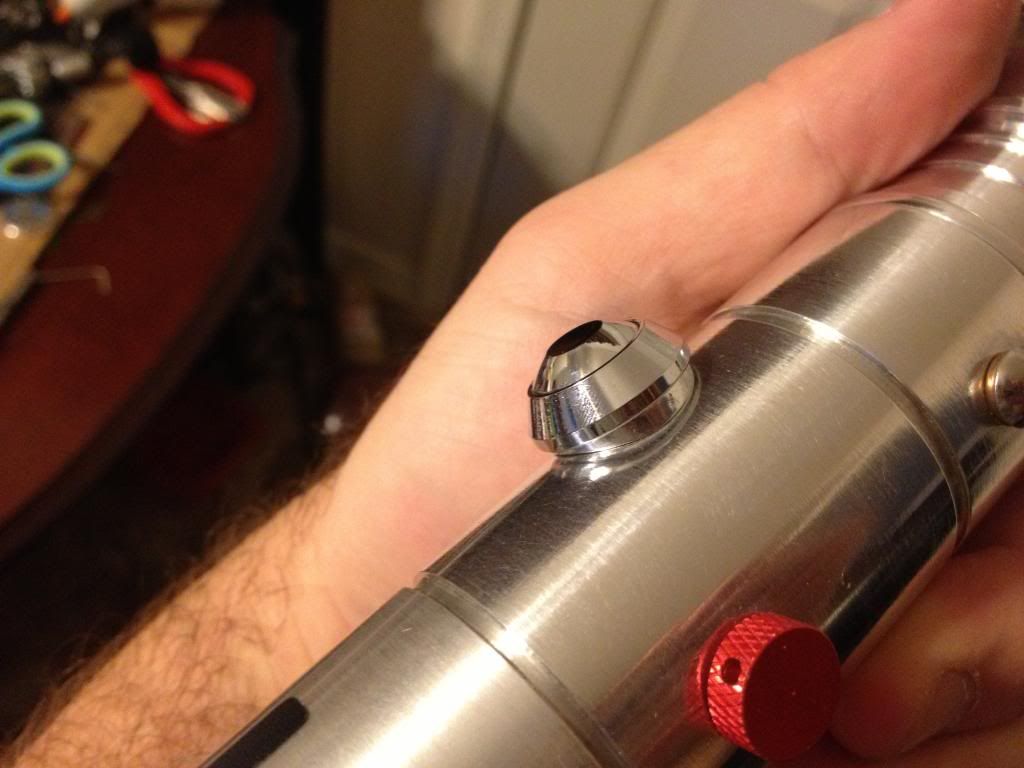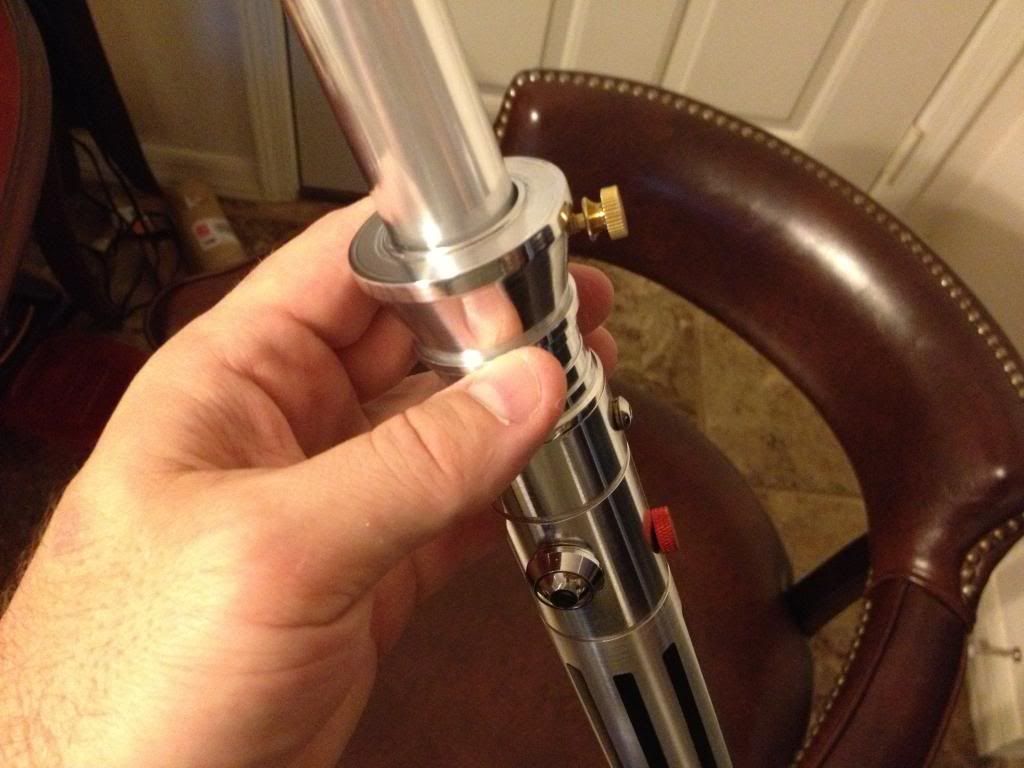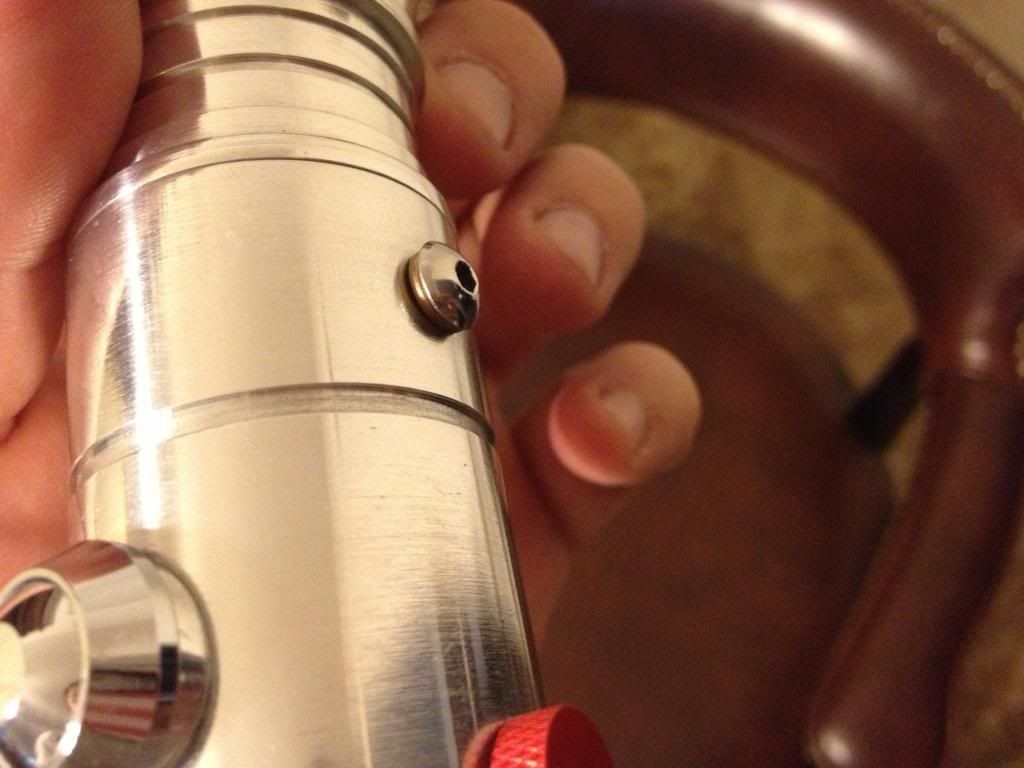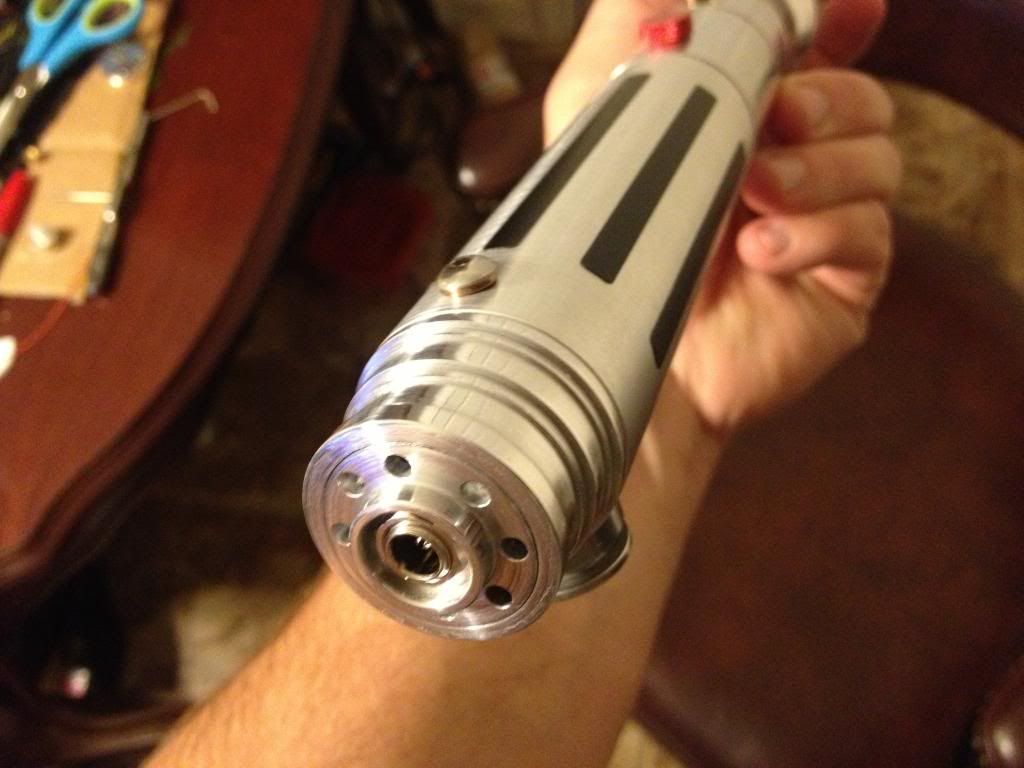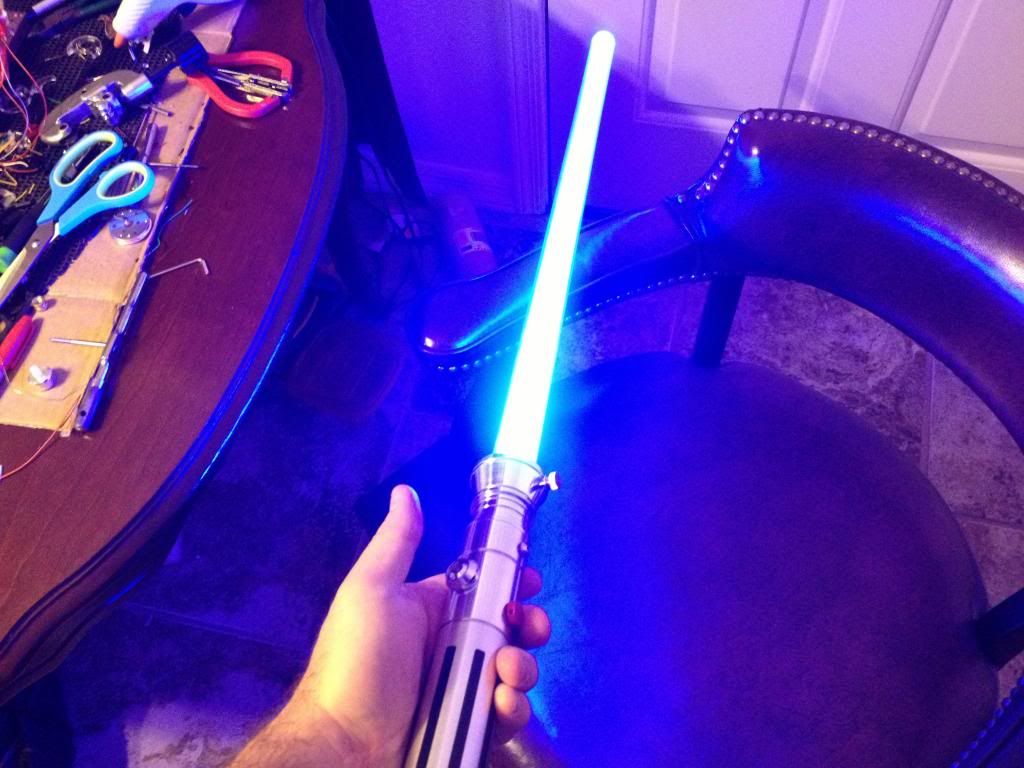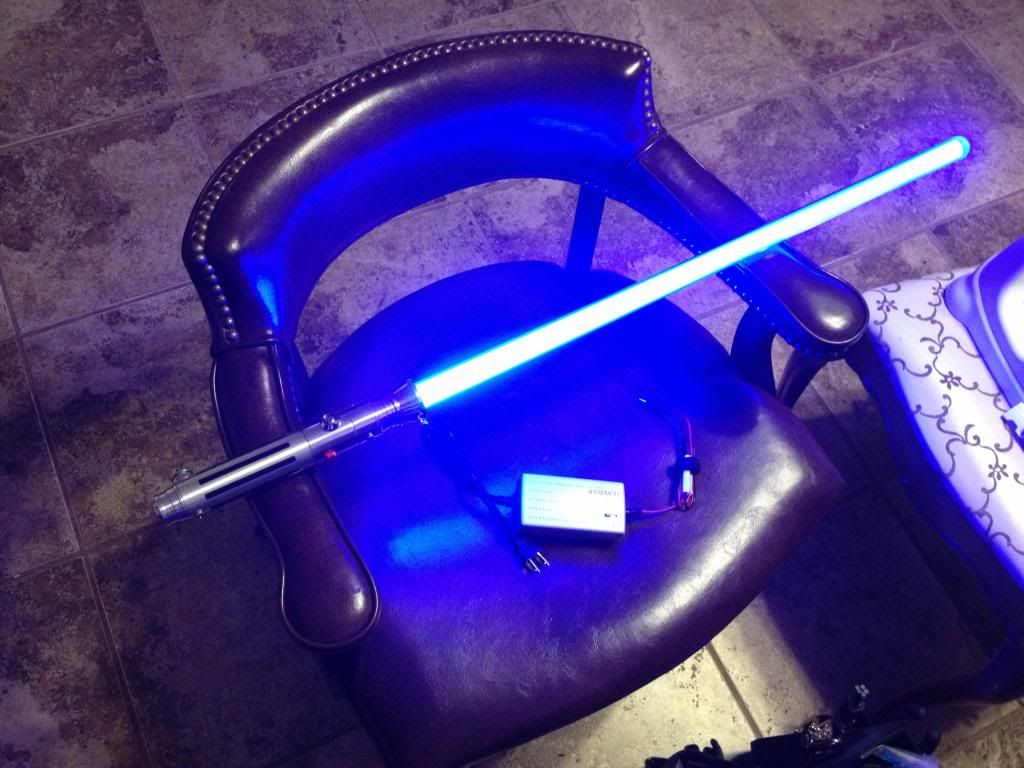 VIDEO----->
s1127.photobucket.com/user/Obi-Shane/media/Padawan%20Birthday%20saber/IMG_0077.mp4.html
I thought it would be fun to link the overall cost of this build since I had a very low budget to work with.
Hilt=free
soundboard=free
switch= $4
speaker= free ( I have a few lying around)
screws= (have em lying around)
bronze washers 3x = $0.45
Brass blade retention screw = $1.00
LED+Lens+holder = $12 ( lens ordered from ledsupply and a free shipping voucher)
Charger= $21
battery= $2.50
I'm currently hovering around the 40 dollar mark, and was wanting to complete the gift with a covertech belt clip, bringing the cost to her max of $50. A stellar project that would not have been possible on this level of quality if it where not for Vektor, a massive shot out goes to him. I'll be working with him in the future I have no doubt.
I delivered the saber today to show it to my friend's wife and she was extremely excited. I haven't seen her like that before. I'm glad I went the extra mile on this saber for her. Also, I found out today that the birthday party is going to be completely Star Wars themed! He's going to have a costume and everything, this birthday gift should really blow him away