Post by DarthAlice on Nov 2, 2015 7:42:44 GMT -5
Ok folks,
It looks like I have enough of this mini run filled up for it to make sense for me to build these for those interested. As mentioned in the 1st thread, I have already pre-maid some of the emitters and pommel sections to keep the timeframes on the build short. For a deposit, as mentioned, I ask only for %30 to start.
On a top model with high end board (which seems that most of you guys have chosen) the saber with blade plug, ray skin and tsuka, comes out to $1005.00, which at 30% = $335.00
For those on the run, please choose the color combinations you would like. I have a build sheet set up and will document each choice and details of your saber.
My PayPal address is Waterfordcompassion@yahoo.com, please include 3% for transactions fees from Paypal, along with your full shipping address. Please send me a PM with any questions, and once again options chosen. Thank you all once again!
Price ranges: clean or weathered model as shown with Spark2, standard leather wrap, 23mm railmaster base speaker, 2 hidden tact switches, 3d printed rail, Tri-cree,or Z6, 18650 Solos Hold battery, teflon Mil. Spec. wiring, and wood topped kill-key...........................................................$685.00
Igniter2 or Prizm version...........................................................................................................................$755.00
add full tsuka-ito wrap, with milled insets for real Sea-ray skin.................................................................Add $210.00
Optional bladeplug: Motor winding and copper/brass cone, and polycarb. Rod . Add..................................................$40.00
#1 Pfockerchief: Igniter2, Ray skin tsuka-ito 12" saber. colors wrap: Red ray skin, black leather Ito. "Dead-Pool" Color Scheme( paid in full- Delivered )

#2 Solo's Hold: 12" RH ((Hand Delivered)

#3 Drahcir:10-1/2" Spark 2, Weathered, Black Ray skin, Dark Brown leather tsuka-ito RH with d-ring and blade plug ( paid in full, delivered)

#4 CynnonWyn: 12",Igniter2 weathered, rayskin, tsuka, RH, blade plug, no belt hanger( saber finished))

#5 Wingattackplanr: 10-1/2 inch Igniter2, Z6, weathered, rayskin, tsuka, Right Hand, blade plug, , D-ring ( paid in full-delivered )

#6 Shadycanuck : 12" weathered version,Spark2, Black Ray Skin, Dark Brown Leather,covertec, , kill-key(Paid in full, saber delivered))

#7 Tncaveman PRIZM 3.5, 10-5" weathered version, brown ray skin, black leather ito, d-ring (paid in full -Delivered)

#8 Jhooud (late entry), Igniter2 10.5" weathered dark brown base wrap (deposit paid) machining nearly done.

#9 Albh4077 12" weathered, Prizm 3.5, tricree, Red ray skin, black leather ito, D-ring (Deposit paid)

#10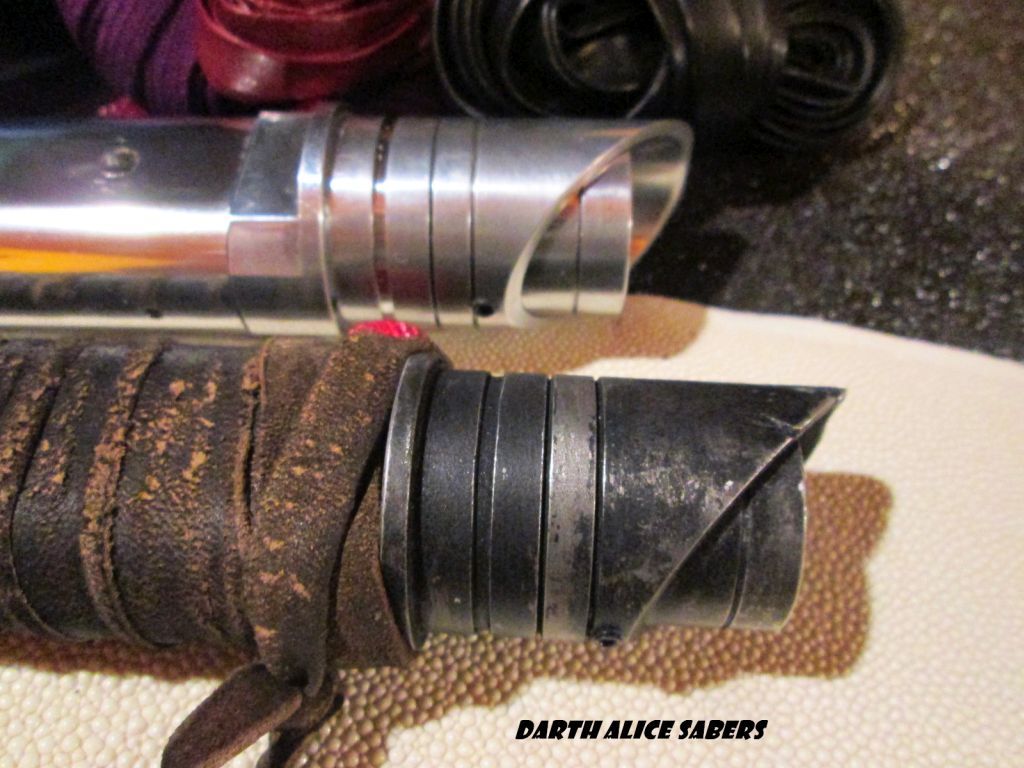 [/URL
]