Post by Corran Horn on Dec 19, 2015 20:06:59 GMT -5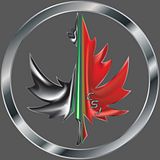 CSJ Props™
Ok folks,
After pouring over screencaps from the original disks of the Jedi Knight Dark Forces II video game, I am finally ready to present the saber I have dreamt about owning since 1997....
JKDFII
This is a high quality aluminum CNC machined hilt, with anodized black accents, custom control box, real brass bar, real copper neck sleeve, and media blasted shroud.
This saber is 100% machined in Scarborough, Ontario, Canada.
It comes sound vented, but does not include the D-Ring or switch holes, as I wished to keep it as close to canon as possible while still allowing people the option for using a covertec instead of a D-ring.
If enough people wish it, the pommel could be left without sound venting, but we figured this would make your lives easier.
These will be offered as EMPTY
hilts, and I will update this thread with a list of recommended installers (of course anyone in the Imperial Armory or Consortium can handle this simple install, but I myself will not be taking them on, as I just don't have the time.)
In order to keep this pricing and allow thist run to go forward, I will be looking to fill 50 spots.

If the spots do not fill all deposits will be refunded.
The price for the saber will be $349 USD + shipping
(Please add 4% for PayPal fees)
There will be a non-refundable deposit of $182 to get on the run. Deposits are NOT due immediately, I can add you to the list before you pay, and due to the Christmas season I know a lot of people are strapped for cash. Just remember that the longer it takes for all of the deposits to come in, the longer production will be delayed.


UPDATE:


Every time I consider closing this, a few more folks come forward asking for one, so this is staying open for now.
Hopefully we can fill the last spots and start machining.


Stay tuned for more updates.


In the notes please include:
Forum Name
Real Name
Shipping Address
Phone Number (International shipping from Canada requires a valid phone number)
Whether or not you would like the pommel predrilled for a d-ring


The d-ring holes will be determined by popular demand. Which means that if more than 50% indicate that they want one, it will be added to ALL of them. If the requests do not account for more than 50% then they will not be predrilled, and you will be able to fairly easily add a d-ring to the saber yourself.
If you need to sell your spot at any point, please contact me with updated contact and shipping information.
SPECS:
6061 CNC Machined aluminum hilt and control box
1" blade holder
1.15" ID
Black anodized accents
Real brass bar
Real copper neck sleeve
Media blasted shroud
Predrilled blade retention screw
Modular threaded parts allowing for 7 individual pieces that will make installs simple to complete.
This saber will hold any size board (using the current tech) that you want to put in it.
PICS: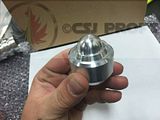 THE LIST:
johannes

d-r (IRA) DEPOSIT PAID

lgtsbr

d-r (IRA) DEPOSIT PAID
Tom Leech d-r (FX) DEPOSIT PAID


Darth Ryô

d-r (IRA) DEPOSIT PAID

Ben H. d-r (FB) DEPOSIT PAID
Robert M. d-r (FB) DEPOSIT PENDING
Matt2 d-r (FX) DEPOSIT PAID
Mace Windu d-r (FX) DEPOSIT PENDING
Jango Fett d-r (FX) DEPOSIT PAID

Thonolan

d-r (IRA) DEPOSIT PENDING

jedicri

d-r (IRA) DEPOSIT PAID
Darth PJs d-r (FX) DEPOSIT PAID
04eblue d-r (FX) DEPOSIT PENDING

Mewgen d-r (FX) DEPOSIT PENDING
Sean L. d-r (FB) DEPOSIT PENDING
Cinci d-r (FX) DEPOSIT PAID
Bruce S. d-r (FB) DEPOSIT PENDING
Maccusvell d-r (FX) DEPOSIT PAID

Sini Star d-r (FX) DEPOSIT PENDING

Derrick B. d-r (FB) DEPOSIT PAID
Joe C. d-r (FB) DEPOSIT PAID

Pfockerchief

d-r (IRA) DEPOSIT PAID

JK-Sabers d-r (Email) DEPOSIT PAID
JK-Sabers d-r (Email) DEPOSIT PAID


arcana

d-r (IRA) DEPOSIT PAID
Sithilus d-r (FX) DEPOSIT PAID
Steven C. d-r (FB) DEPOSIT PAID
darthvix d-r (FX) DEPOSIT PAID

markgarcia10

d-r (IRA) DEPOSIT PAID