Post by Obi-Shane on Mar 10, 2016 17:00:59 GMT -5
Here is the list of the first wave of V2's I will be installing. I'm doing this for my own convenience as well as everyone else. Keep in mind, this list does not reflect the order in which they will be completed. The ones who's parts I have on hand will get priority, clamps being the hold up now, and availability of soundobards.
WAVE 1
1. Cavjo PAID IN FULL ( SHIPPED)
2. Cavjo PAID IN FULL ( SHIPPED)
3. Pfockerchief (SHIPPED)
4. Nick C. PAID IN FULL (SHIPPED)
5. Paul R. aka Warayn (SHIPPED)
6. Lazid aka Randolph ( SHIPPED)
7. Raymond M. PAID IN FULL ( SHIPPED )
8. Broc (SHIPPED)
9. 97Acolyte ( SHIPPED )
10. Zanetroop aka Bruce W. (SHIPPED)
11. OldBen ( get a hold of me sometime)
12. Punchit aka Martin H. PAID IN FULL ( Shipped )
13. Sandpeople ( SHIPPED)
14. Bcbishop (Personal Home delivery scheduled, and DELIVERED)
15. rydiddy ( SHIPPED)
16. Modernjedi (SHIPPED)
17. Matt C. ( SHIPPED 6/24/2017)
18. rickyricer ( SHIPPED )
19. Zane Troup (SHIPPED)
20. James E. ( SHIPPED)
Wave 2 TBA ( Hilts are on the way as I type this 3/10/2016 EDIT: hilts have arrived, stand by while I do inventory)
1. Jake T. ( SHIPPED )
2. Eric R. ( SHIPPED )
3. Vince S. ( Waiting on clamps )
4.
5. Koiji M. ( SHIPPED)
6. Heydrich ( Waiting on clamps )
7. Skywalker (Shipped!)
Facebook Comissions List to be update again soon (6/22/2017)
1. Kraig A. ( SHIPPED )
2. Harry Stamas ( SHIPPED )
3. Lindsey J. (SHIPPED)
4. Noah ( Shipped!)
5. Adrian (Shipped!)
6. Mike P. S. (Shipped!)
Update 12/22/2016
Several hilts have been shipped and received to those requested static display pieces only.
Following options available:
1. Led choice, RGB, GGW. Feel free to post here if you have changed your minds. By default I will be installing Tri-cree XPe2 RGBs in these unless otherwise informed. Ryo's video inspired the color mixing version, what can I say.
2. Paint, unless otherwise noted these will receive the super accurate stencil job, including black wash AND DINGED EMITTER. What is this, Shane? well, it's the dent in the emitter which is on screen accurate ( not just int the celebration photos). By default on the display emitter will have this done to it. Some of you have requested a V2/Yuma/V3 hybrid paint ( you know who you are), this has been notated in your build invoices.
3. Chassis paint. by default I will leave the chassis the way they are unless asked to paint them , ( the plastic, Not the metal).
4. Clear, natural quartz crystals will be used, unless YOU provide a synthetic. ( please make sure it fits first if you decide to go this route).
The following pics are taken with my camera phone as the first wave of sabers is currently being painted. These will give you a good idea of what to expect, but don't really do the piece justice. They will all come with the correct screen accurate tape on the neck as well. This is also on-screen accurate.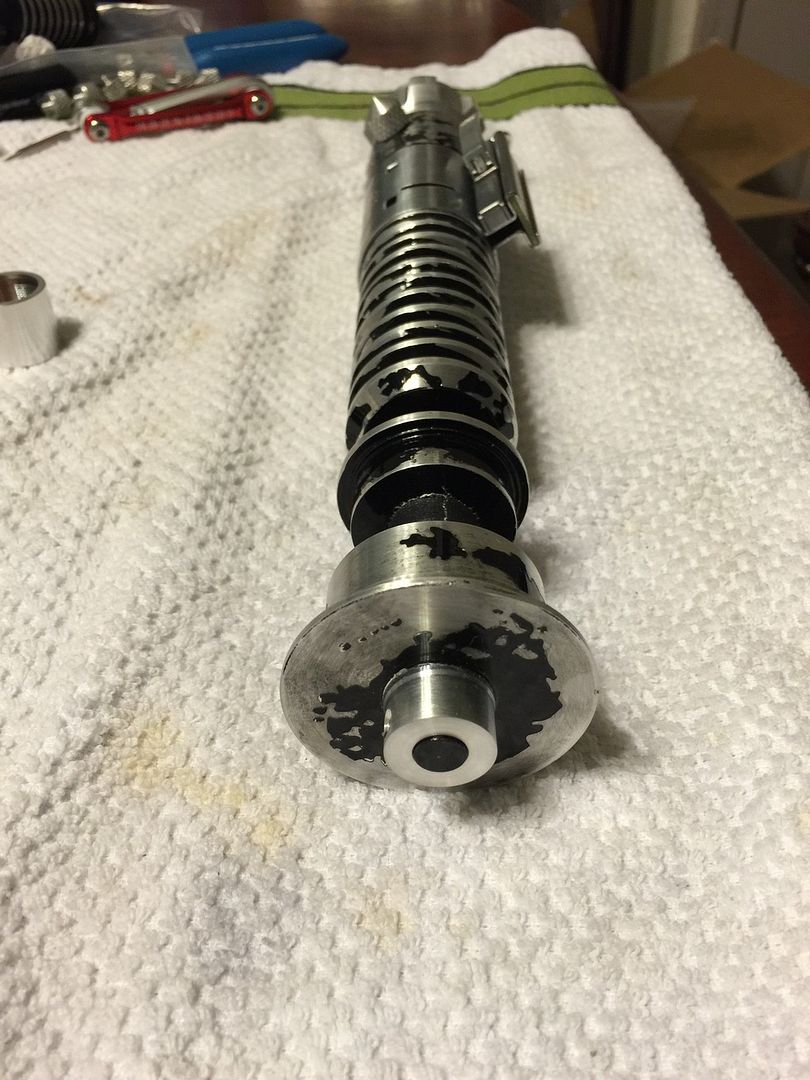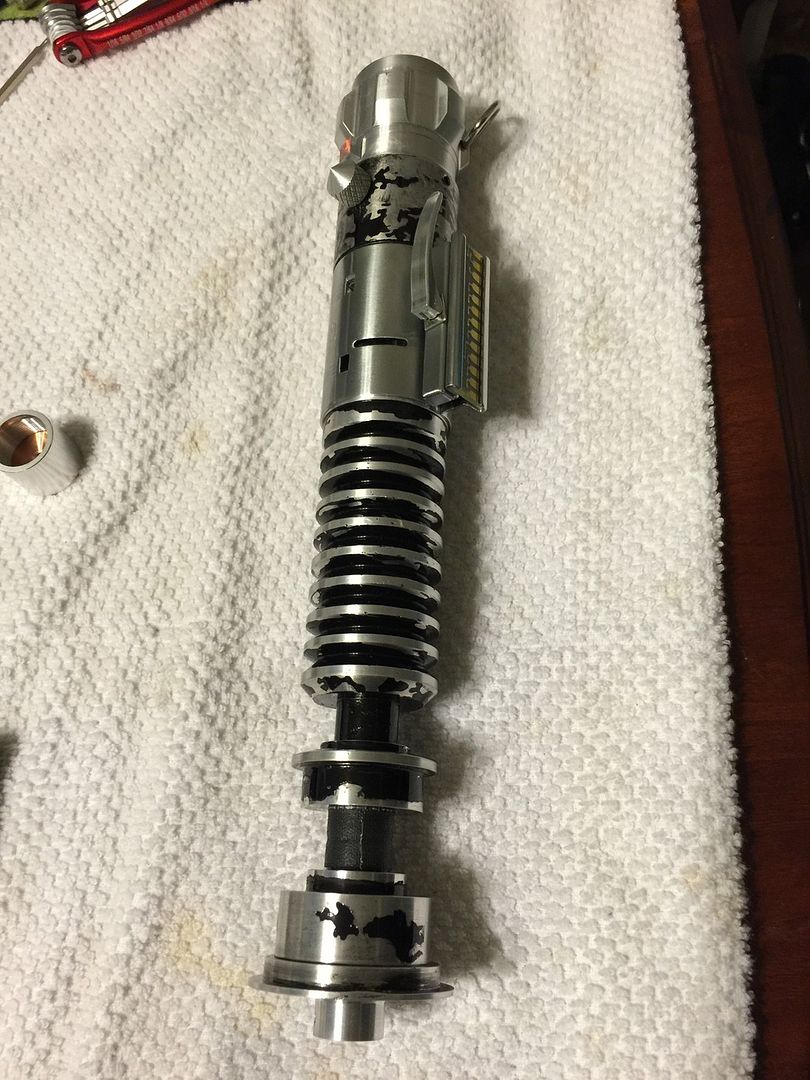 I want to say thanks to my customers for being patient. I've been so occupied with things I haven't even had the chance to post my last three saber builds that have already shipped. The time is closing in when I will be able to hammer these out. I only have one more commission before the installs begin on these. Expect a lot of build pics in the future.
I had a request to do something completely different lately and wanted to share. A V3/yuma/V2 hybrid variant of a Solo's Hold V2. This will be installed by it's new owner. What do you guys think? I like the idea and have received a few more requests for similar styles.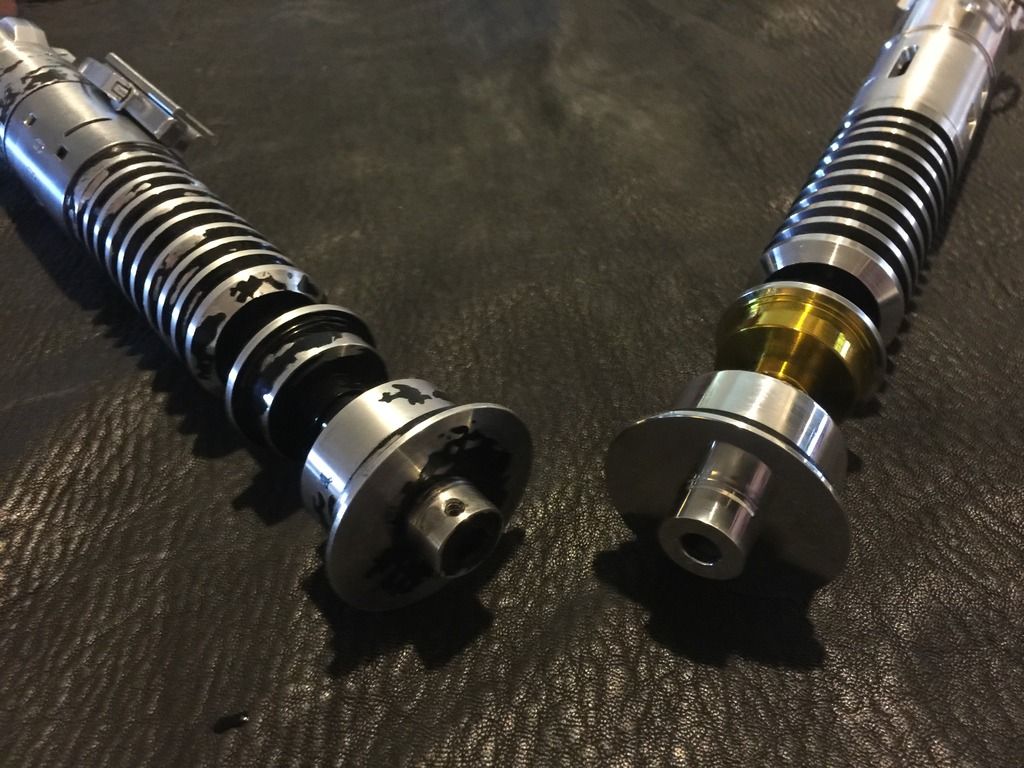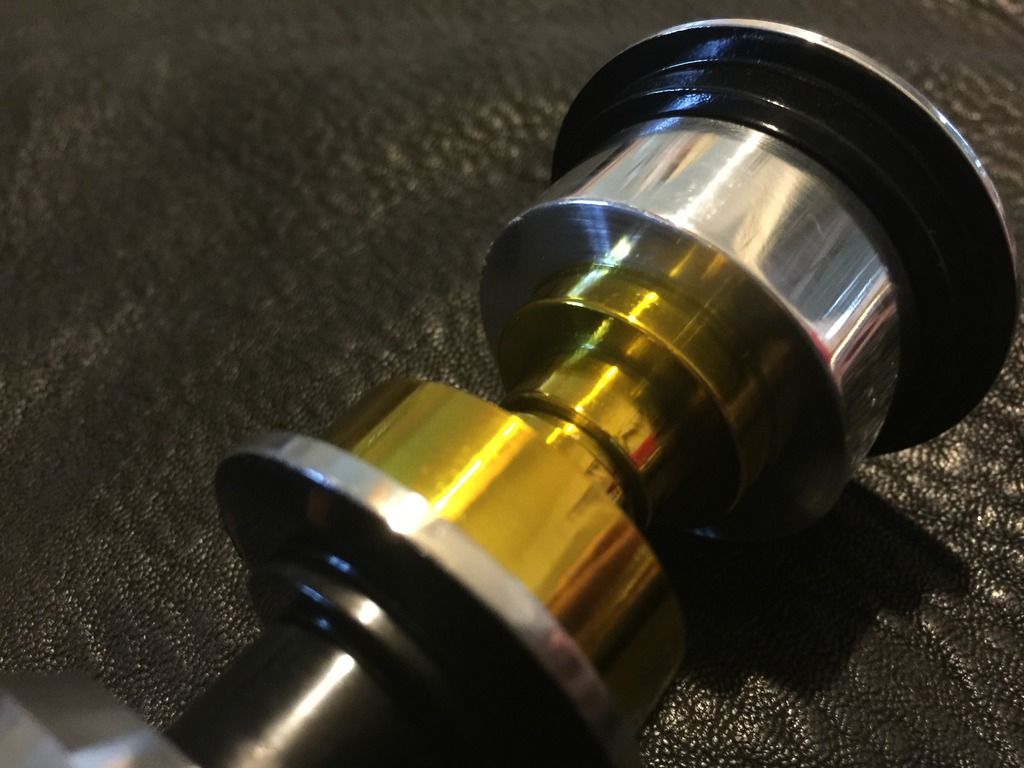 And something more traditional now..