Post by Darth Ryô on Dec 6, 2016 8:51:55 GMT -5
Hello! Here we go again folks!

Another interest thread for the next NerforXlab project!
Collaboration at its best!
We continue to work hard to bring the best collector props:
------------------------------
GRAFLEX GRAND MASTER
------------------------------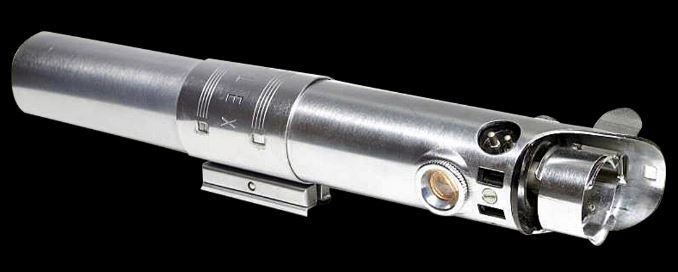 this one will offer an install service for a top of the line Graflex.
Based on either vintage flashguns or replicas flashgun.


----------------------------------------------------------
RUN DETAILS:
----------------------------------------------------------- Vintage Graflex or Replica GraflexOption 1:
fully installed
------------
1.A - Replica
------------
1.B - Vintage
(obviously Vintage builds will be quite limited)
Option 2:
send-in your own
------------
2.A - Replica
------------
2.B - Vintage- Grand Master Chassis
We are working on making an amazing chassis for this! A NerworXlab exclusive!
For design protection reason, we will not show work in progress pictures, but we can already share these information:
=> it will combine the
best of our technologies and materials
(machined parts, cast metals parts and 3D printed parts).
=> it will include the top of the line electronics, with
Plecter Labs Crystal Focus
,
Tri-Cree led
and our new
Micro-USB recharge / RICE Combo
!
=> it will use the most
accurate blade holder
(which we've already released).
----------------------------------------------------------
We will release more details about this run as soon as we can.
We cannot disclose the prices yet either as this is also being worked out,
but I can already tell you that we're aiming to make it "buyable"
with an as reasonable prices as we can (as all our past projects).
Important and exciting update
(Obi-Shane - 17/06/03)
:
You guys have been very patient and we can't thank you enough for that. A little explanation on why things have taken this long, other then the usual "we are so busy and doing lots of things". The truth is that as we went back and forth on designs, Ryo and I have noticed that a lot of what we see is an echo of things we've already done. In our quest to do something different for this particular venture we didn't seem to be taking things to where we wanted them to be, it seemed like it was time for another collaboration.
Enters
harp
. Not only am I a huge fan of his work but he's also a super positive guy who's high energy comes through every time we message. He also loves to push his designs, and clearly has a passion for Star Wars. It seemed like a no-brainer!
Long story short, he's been on board for some time now and We're all pretty excited to have him working with us.
The Prototype chassis for this run will be machined by Harp and then sent to Aaron for the file work and production. Materials will change somewhat to some exotics such as titanium, with brass, copper, steel parts as well. It will be all metal. Ryo and I have been engineering the electronics solution and agree that a 3.7V hacked CF solution is what we would want. It allows us to keep high run times, the crystal chamber large and detail, and able to use a USB recharge interface. Very nifty for people wanting to charge their sabers via portable battery packs when on the go at Cons or trooping events. Ryo prototype the working version ages ago, but it wasn't until now that it seemed time to use it. Magnetic adapters as the usb interface is what we will go with. Caz showed me one in action last weekend and it worked flawlessly. We will also be engineering that as the RICE interface too to make the chassis as elegant as possible.
----------------------------------------------------------
This is a SERIOUS Interest thread for those who want to be a part of this run.
Please indicate in your interest what would be your option.


UPDATE:
With many project to take care in parallel, this one is in delay, but definitely happening.
One of the reason is also because we're perfecting the chassis design,
we've gone through various versions already and still pursuing to make the design better.
----------------------------------------------------------
1- Obi-Shane / 2.A
2- Dart Ryô / 2.A
3- darthben123 / 2.B
4- fonzie / 2.B
5- arrtamyrdhyn / 2.B
6- nirraven / 1.A (1.B?)
7- shadycanuck / 2.B
8- lordofthesquids (1.A)
9- rey / 1.A (1.B?)
10- 04eblue / 2.A
11- Revanchist / 2.B
12- skywalkerscion / 2.A
13- ulldar / 2.A
14- biggs79 / 2.A
15- darthpool / 2.A
16- krow555 / 1.A (1.B?)
17- nunes / 1.A
18- mtizzle777 / 1.A
19- heman / 1.B (1.A)
20- dracku / 1.A
21- kusaka / 2.B
22- drartoo / 2.B
23- jamielov / 1.A
24- keyang /1.A
25- darkblade / 2.B
26- warayn / 2.B
27- martinsabers / 2.B
28- wolf69 / 2.A
29- avrin / 2.A
30- mattbio / 1.B (1.A)
31- sarge930 / 1.A (1.B)
32- coldvizjerei / 2.A
33- nobfett / 1.A (1.B?)
34- Kobra Fett / 1.B (2.A)
35- jamiemp / 2.A
36- pepperpete / 1.A
37- djcbooks81 / 2.B
38- Bruce Wayne / 1.A (1.B)
39- timbuktu / 2.A
40- kotaro / 1.A
41- choos / 1.A
42- savadude / 2.B
43- daishan / 1.A
44- lazid / 1.B
45- fightercaptured / 2.B
46- keeperoftherancor / 2.A
47- zjunlimited / 1.A
48- mvtfrmchi / 2.B
49- watchmaker / 1.A
50- coldvizjerei / 2.A
51- superserg / 2.A or 2.B
52- so3gonzalez / 1.A (1.B)
53- padawan311 / 1.A (2.A)
54- mariokart64 / 1.A (1.B)
55- saberjunkie / 2.B (1.A)
56- pistolpetah1 / 2.B
57- livekbolo / 1.A
58- cjo128 / 1.A
59- drthompson65 / 1.A
60- mandalorelives / 2.B
61- psycoscgv / 2.B
62- psycoscgv / 2.B
63- ahsoka / 1.B
64- kublaiboy / 2.B
65- saberjunkie / 2.B
66- dyscrazia / 1.A
67- darthpastrami / 1A (1.B)
68- el1 / 2.A (2.B)
69- wretched / 1.A
70- jml5308 / 1.A
71- daisyridbae / 1.A
72- treansorturi / 1.A
73- icesaber / 1.A
74- nightmoss / 1.A
75- boochydog / 2.A
76- terranova / 1.A
77- nemesis / 1.B
78- sunjeevp / 2.B
79- padawan311 / 1.A (2.A)
80- /
81- /